Adaptive Digital Content | Digital Content | Digital Learning Solutions | Digital content selection | EdTech | Education Elements | Partners | Personalized Classroom | Personalized Learning | Personalized Learning 101 | Personalized Learning Platform
Data-driven decision making is a foundation of personalized learning. From the grouping of students, to strategic assignment of content, to keeping track of each student's personalized learning paths, data is essential for making every decision along the way. When it comes to data and decision-making, digital content providers offer an array of reports. The number of reports can be overwhelming and how to use them can be confusing. Below are five of the most common types of content provider data and how to use them to drive your personalized learning classroom.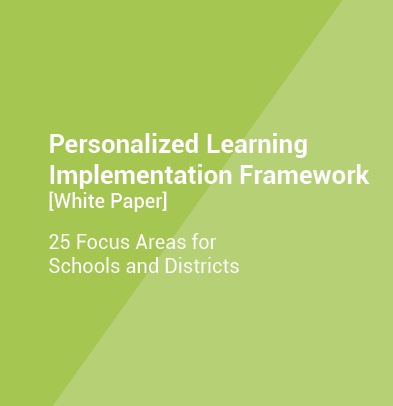 Considering Personalized Learning But Don't Know Where to Start?
Subscribe to the blog to get this resource to find out the essential areas to effectively launch, support and sustain personalized learning.
Achievement Gap | Adaptive Digital Content | Blended Learning | Common Core | Education Technology | Partners | Personalized Learning
Take a look at your smartphone. You can't live without it, right? In two years, not having an adaptive assessment tied to individualized instruction for children will be as ridiculous as not having a smartphone. Imagine having data in one place that tells you if and how students are progressing from year-to-year versus having to cobble together data from different assessments, administered by different teachers in different grades that still give an incomplete view of student achievement. Advanced technology is now available which provides a deep, customized evaluation of student performance and tracks student growth consistently and continuously over a student's entire K–12 career. This technology is an adaptive diagnostic.
Adaptive Digital Content | Blended Learning | Competency-Based Education | CompetencyWorks | Digital Content | Education Elements | MetisNet | Personalized Learning | RISC | Re-Inventing Schools Coalition | Students | Teachers | iNACOL
Last week, Justin DeLeon and I attended the Competency Based Education Convening in Los Angeles, held by CompetencyWorks, an initiative led by iNacol and MetisNet. The goal of the convening was to bring together technical assistance experts in the field around competency-based education and blended learning to better understand how blended, competency-based programs can facilitate personalized learning (which emphasizes student voice and choice). The technical assistance providers in attendance were comprised of competency-based learning organizations, such as Re-Inventing Schools Coalition (RISC), recent authors of papers on pertinent topics including Liz Glowa and Julia Freeland, in addition to practitioners of competency-based programs like Boston Day and Evening Academy. The group visited USC Hybrid High and further developed practices pitches to superintendents on what ideal steps we would take to achieve a blended, competency-based program to achieve personalization across a set of schools. Over two intense days, we determined a current roadblock to understanding how blended learning could better facilitate competency based learning was the glaring need to clarify for the field how digital content providers' pedagogy is designed to personalize.