Education Elements hosts a variety of webinars around various topics, such as school leadership development, personalized learning implementation, strategic planning, and more. Keep up to date with all the Ed Elements webinars and be sure to join us to get your learning going!
---
UPCOMING LEARNING OPPORTUNITIES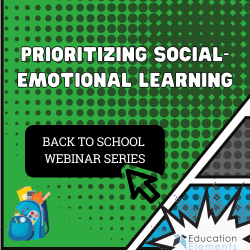 Prioritizing Social-Emotional Learning
September 26, 2023 | 8am PT/ 11am ET
We will discuss an overview of SEL and its impact on student well-being and success. Participants will leave with a deeper understanding of the key indicators of emotional health and learn to identify signs of social-emotional challenges in students.
All of our on-demand webinars can be found on our Learning Center.