Let's just be clear: there is a very short honeymoon period for a new superintendent. From day one, people have expectations of you as the new superintendent. They want you to be exactly the same or completely different than your predecessor. They have their hopes pinned on you bringing new ideas or have their fingers crossed that you won't. They are wondering how long you will stay and what you will do during your tenure. They both expect you to know everything about the district right away, and yet know that you don't and are frustrated by it. They have so many things they want to say to you, and yet voice few of them, as if you can read minds.
Through my career, I have had the opportunity to work with a number of exceptional leaders in the private sector, including Amazon CEO Jeff Bezos, and in the public sector, including Ted Mitchell, Former CEO of Newschools Venture Fund. My father, Leonard, was a dedicated, hardworking city manager and county administrator.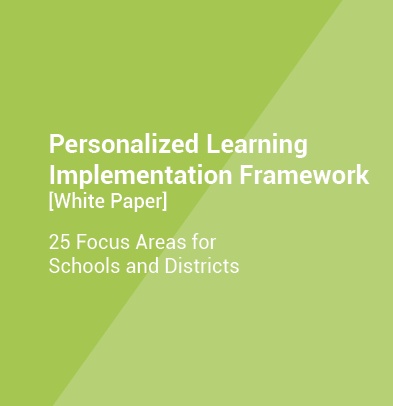 Considering Personalized Learning But Don't Know Where to Start?
Subscribe to the blog to get this resource to find out the essential areas to effectively launch, support and sustain personalized learning.
If Blockbuster was still around today, and you had to take out your life savings and invest in that company or Netflix, which one would you choose? The answer is obvious. But what about five years ago? Ten years ago? Now it would be easy to say that Netflix would be the obvious choice, which would mean you are smarter than the leadership of Blockbuster at the time who turned down an offer to acquire Netflix. The trick with leadership is to understand not only where they are, but the world around them, and what that means for where they have to go.
Transformational leadership is about using your actions to elevate others and put them on their path to greatness. - Terina Allen The superintendent holds a lonely, yet transcendent position in public education. The position tends to isolate the leader because of the growing divisions in our society. We all know that every decision we make will make someone unhappy. It also provides the opportunity for a superintendent to make extraordinary progress in how to prepare our students for their future.
As the 2018-2019 school year begins, I can't help but think back to my years in the classroom and the days and weeks leading up to a new school year. The feeling of getting back in my classroom after recharging during summer break, the excitement of unpacking book boxes, decorating the walls, and way too many trips to Target for those must-have new supplies. The moment that made it feel most real was getting my class list, picturing the faces that would soon fill the empty desks. Try as I might to set up my classroom for those students, it never failed that once I got to know them, I'd redesign the learning environment to better meet their needs. Sometimes that meant adding a seat near me to provide some extra support to a student, and other years it meant shifting from rows to clusters of desks. Regardless, the way I set up my classroom was entirely dependent on the needs, interests, and personalities of the learners inside.
Leaders | Personalized Learning
August is an important month for school leaders; it is the last opportunity to reflect, recharge, and realign on your personal and shared goals before the school year officially kicks off. While there is no debate that we all want better student outcomes, many discussions occur during this period regarding the best methods to employ. One of the most important systems to take into account is how your leadership team will structure the professional development (PD) curriculum and options that are presented to your staff this upcoming school year. As educators, we understand the importance of modeling our thinking and actions, and this is no different when it comes to PD. During my time as a school leader, it was important for me to acknowledge that if I was going to demand that our teachers be empathetic and innovative in their implementation of personalized learning, then we as school leaders must provide those same personalized qualities in the development opportunities we offer.