Classrooms | Competency-Based Education | Personalized Learning | School Districts
One of the most common questions I answer about Education Elements is, "So what do you guys do?" If we have an elevator ride that goes to, say, the top of the world's tallest building, I can give a fairly satisfying and comprehensive answer. If, on the other hand, we are just waiting in a short line for a cup of coffee, I tend to say something like, "We help districts solve their biggest challenges," which, judging by the reaction I often get, is not nearly the level of detail people are looking to hear. So in the age of TL;DR and Buzzfeed lists that always come in odd numbers, I decided to try to put pen to paper and explain what we do in a way that gets more head nods and doesn't have anyone thinking, "For the love of God will she ever stop talking?" (Don't worry, you can just read the bold parts)
We're so excited to share another episode of Elements of Change with you, this time highlighting the importance of building responsive, dynamic organizations. We're all familiar with the traditional hierarchy of a school district, but what if this structure is inadvertently holding back motivated, capable people with great ideas? Alexis Gonzales-Black, co-author of The NEW School Rules: 6 Vital Practices for Thriving and Responsive Schools, describes her experience adopting a distributed management system at Zappos and provides tips for getting started at your own school or district.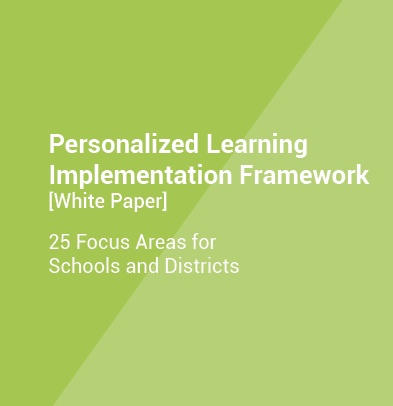 Considering Personalized Learning But Don't Know Where to Start?
Subscribe to the blog to get this resource to find out the essential areas to effectively launch, support and sustain personalized learning.
Competency-Based Education | Leaders | Personalized Learning
We published The NEW School Rules: 6 Vital Practices for Thriving and Responsive Schools this winter to help leaders make a shift toward being more effective, responsive leaders. Since the book's release in February we have had dozens of requests for webinars and presentations about The NEW School Rules. Demand has been so great that we've developed a leadership course based on the rules. This summer we kick off leadership courses across five districts and four states.
It is important for schools and districts to remember that in our ever-evolving world, they now need to compete for students, administrative and teaching talents, and community perception. Like other competitive organizations, schools need to set themselves apart from other schools in the country.
Classrooms | Leaders | Personalized Learning | School Districts
There are even more ways to tell a story than there are to bake a cake. A recent article in Edsurge told a story about million dollar consultants (us) and some of the districts we support in their efforts to transform teaching and learning through personalization (including Charleston County SC and Fulton County GA). It was one version of the story, with one set of facts and data, and we'd like to take this opportunity to re-tell that story in a way we feel more accurately captures the work, and accomplishments, of those districts, as well as others across the country.
I have led several companies but the workplace and teams today are uniquely more interconnected than they were in past organizations. So three years ago I decided I needed a new approach to how I organized our team and approach at Education Elements, the education consulting company I founded in 2010.