As a 25 year veteran in education leadership, I can't remember when hiring has never not been a thing. Every year brings sometimes significant turnover in teaching staff, and leaders come and go as superintendencies shift. But as is true in so many other domains, this year is markedly different. In January 2021, school leaders across the country were hopeful that the pandemic would have been entirely behind us. And by July 2021 with the rates of people contracting COVID-19, the new Delta and Lambda variants, the reality is that COVID is most certainly not behind us. With the increased responsibilities for educators brought on by the pandemic and health concerns, there has been a rise in retirements, resignations and vacancy postings. And as is also so often the case in education, the classrooms and schools that are impacted the most are those that are historically highest in need, serving our most vulnerable student populations.
Two common misconceptions about personalized learning are that it requires technology and that it must involve significantly more independent work. We know instinctively that a room full of students working silently on computers is not necessarily personalized, even though there are powerful digital tools and programs that can make personalized learning simpler. And yet, an adaptive program still requires a teacher to facilitate learning that empowers students and builds their ownership of learning.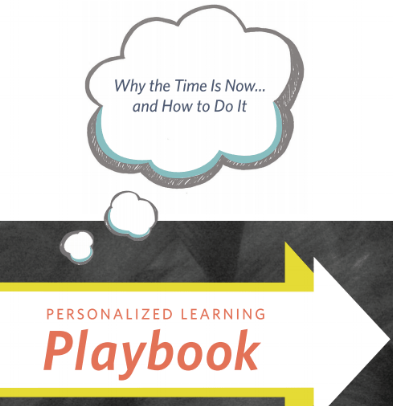 Interested in Personalized Learning But Don't Know Where to Start?
Subscribe to the blog to get your free copy of our Personalized Learning Playbook. A Playbook that will help you make the case for personalized learning, and reflect on the important elements to take in consideration.
District Leadership | Social and Emotional Learning
Every first day of school is a new opportunity for a fresh start. As the first day of the 2021-2022 school year approached, teachers across the country were grappling with the question: How do I start fresh when faced with so much uncertainty?
In 2014, Education Elements promoted the notion of "Integrated Digital Content" as a core component of blended learning. In 2017 we changed this term to "Flexible Content and Tools," recognizing that both online and offline content have an important role to play when personalizing learning. This change also represented a shift from blended learning, which focuses on the integration of technology into the classroom, to personalized learning, which is an instructional approach that empowers students to build ownership of their learning, making sure they get the instruction they need, when they need it. This year, we are taking things one step further by introducing "Flexible Path and Pace."
Classrooms | Personalized Learning | Teachers
Reflection and goal-setting is the simplest way to begin personalizing learning because it mirrors a practice we engage in every day of our lives. Sometimes this shows up in small ways, like aiming to show gratitude more often, taking the stairs instead of the elevator, or reading more. Technology is playing a larger role in this practice, especially as it applies to our health. This can be as simple as checking your steps on a smartwatch to signing-up for an exercise and diet app. We reflect and set-goals at church, in a therapy session, at the gym, when we go shopping, or around the dinner table. It is one primary format in which we aim to improve ourselves. And it's one reason why reflection and goal-setting is often the first step educators take to personalize learning.
Instructional Coaching | Professional Development
With an influx of ESSER funds, many districts are choosing to invest in instructional coach positions. That's not just a recent trend. From 2000 to 2015, the number of coaches in school districts doubled. It makes sense - multiple research studies point to strong evidence for increased quality of instruction and improvements in student achievement as a result of instructional coaching. In fact, a meta-analysis of 60 randomized controlled trials that looked at students' standardized tests scores and teacher instructional practices found that coaching had a greater impact than most school-based interventions (e.g., pre-service training, student incentives, merit-based pay, generic professional development, data-driven instruction, and extended learning time).