According to the US Department of Education, over six million students (14% of the population, or about one in seven students) missed 15 or more days of school in a recent school year. And the results on student achievement and future career opportunities are devastating. What are school districts doing to improve student attendance? In Education Elements' new infographic, we compiled seven steps to improving school attendance. Here, we will highlight three of those steps.
I believe that personalized learning is imperative; it is essential that school systems focus on learning for every student. The shift to personalized learning represents a deep change for schools and their leaders. What can a leader do to capitalize on this shift? As a middle school principal who recently led a personalized learning implementation, I know that it requires strong collaborative leadership in your district. Our shift has had both peaks and valleys, but my school continues to move towards embracing learning for all. Here are some suggestions that have worked well for us so far.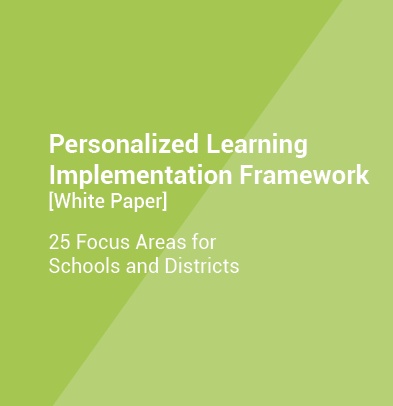 Considering Personalized Learning But Don't Know Where to Start?
Subscribe to the blog to get this resource to find out the essential areas to effectively launch, support and sustain personalized learning.
Imagine you're exploring a new place. It's exciting, but unfamiliar and so remote that you've lost cell service. How do you get where you're going? Chances are, you'll seek out an expert - someone who knows the lay of the land and can give you directions. Once you've found the corner gas station and asked for assistance, what will your expert guide tell you?
"You can't buy personalized learning…" I read this statement by Richard Culatta recently and it really resonated with me because personalizing learning is about skilled teachers, not students working on computers for a large part of a day. Yes technology can support and enhance the learning, but what it actually comes down to is good teaching practices, implemented by teachers who are prepared to learn, collaborate and reflect, and take risks (and sometimes fail) to improve the learning process for their students. Good teachers are a crucial element of personalized learning.
Interest in personalized learning continues to surge all across the country. However, not everyone understands what personalized learning looks like or the changes it will necessitate, and people are often wary of what they don't understand. So how we talk about personalized learning can either engage families or push them away.
Three years ago, I received a call from an excited district leader who wanted to chat about student data (of all things)! He dreamt of building a digital "learning ecosystem," (think instruction/LMS, assessment, IEPs, grading, attendance, transportation, etc.) to serve as the information backbone for his district's vision to personalize the learning environment for every student. What he didn't know was how to make that ecosystem a reality.