As a part of an education consulting team I'm often hired to support schools and districts solve complex challenges-- from redesigning teaching and learning, to building leadership capacity, aligning initiatives, increasing staff retention, and restructuring professional development. In all of this work the underlying, often unspoken, need that most teams want our help with is improving team and organizational culture. They want to know how to make schools and districts more effective, engaged, fun, collaborative, creative, and innovative so that they can make transformative and lasting change.
Several years ago I observed a highly effective veteran teacher during her annual formal observation. She had incorporated many elements of personalized learning into her classroom practices and her learners were demonstrating evidence that they were capable of being actively involved in their own learning. Unfortunately, this teacher's years of being in charge of the classroom and the need to control each aspect did not allow her to enjoy the empowerment she had gifted to her learners. Over the past several years, I have continued to urge her to pause, let go, get out of the way and let the learning happen. She continues to challenge herself to let go of the fear of losing control as well as changing deeply embedded past practices as she transforms her classroom to a truly learner centered learning experience.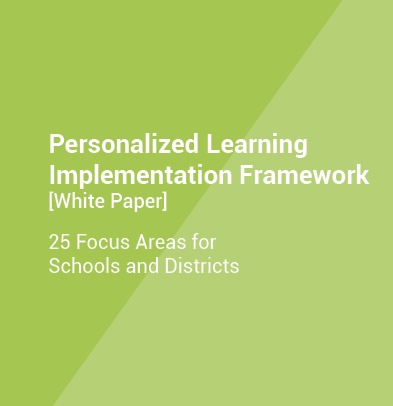 Considering Personalized Learning But Don't Know Where to Start?
Subscribe to the blog to get this resource to find out the essential areas to effectively launch, support and sustain personalized learning.
Creating a strong relationship between an instructional coach and teacher is not a simple task. In fact, starting off a successful coaching relationship is a lot like blind dating. Two people who don't know each other get paired up in hopes that a special bond can be formed. You have similar networks of people that believe it will be a good match and both parties experience mixed emotions – excited but nervous. But coaches don't get to walk away at the end of the night and never see that person again if chemistry isn't immediately ignited. Like any new relationship, there is a lot of potential, and how the relationship begins makes a huge impact. Luckily, there are some things a coach can do in order to form a positive connection quickly and avoid common relationship bumps! Here are a few tips to make sure the coaching relationship starts strong:
One of the pitfalls of being new to any situation is the mistake of being quick to rush to judgment. Entertaining the idea that what you see as a problem has actually been vetted to be the most viable solution by someone who came before you is a skill that requires patience, understanding and respect. When this core tenet is dismissed, and you assume too quickly that you know better, it often can lead to a downward spiral from which there is no return.
At Starbucks we always said, "It's not about the coffee, it's about the people." No matter what type of work you do, putting people first – your team, your customers, your partners, your family – will do more for your long-term personal happiness and professional success than any short-term "wins."
In education reform, the focus is often on the sexy idea-of-the-day—the vision that lights donors up and causes them to give, that can grab headlines, that can give policymakers a political win. All too often we—thought leaders, foundations, policymakers, and, yes, some educators—forget about the real work that has to happen to put these things into action. The actual operations.