At Education Elements, we pride ourselves on being a responsive organization. Like many organizations, we can fall short of true responsiveness, but we are proud of how nimble, engaged, and positive our team is as a result of responsive practices. Our true north lies in seeking feedback to best understand the experiences of our community members. Feedback, in every way it is offered, allows us to make improvements suggested by those who have a stake in the work. Obvious, right? This may be an easy concept to grasp, but the gathering and processing of feedback from all relevant stakeholders can be a complicated, time-consuming, and confusing process – and that's in a small company with a team aligned around the idea. For schools and districts looking to implement change, whether it be by the introduction of new or additional technology, shifting pedagogical approaches, curriculum adoption, team reorganizations, or strategic planning, stakeholder engagement can be a paralyzingly large task.
The back to school season is upon us. While teachers are busy setting up, and students are anxiously awaiting the news of teacher assignments and class schedules and being welcomed into classrooms, Design Principals at Educations Elements are gearing up to support over 140 districts in the 2019-2020 school year with the rollout or continued implementation of Personalized Learning. We are eager to get back into schools and see the innovative ways that teachers are personalizing learning for their new students. Last year we published the First 20 Days of Personalized Learning, an infographic accompanied by a blog post with tips and tricks for implementation week by week within various instructional models. We had many teachers share with us throughout the first twenty days how they used the tool and the impact that it had on instruction and learning all year round.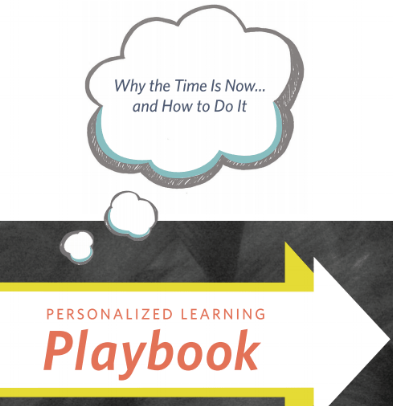 Interested in Personalized Learning But Don't Know Where to Start?
Subscribe to the blog to get your free copy of our Personalized Learning Playbook. A Playbook that will help you make the case for personalized learning, and reflect on the important elements to take in consideration.
Classrooms | Personalized Learning
Last year, a group of educators sat down with engineers from a well-known technology company. The first question the educators asked was what the engineers look for in potential candidates. Adaptability was their immediate response. The way these engineers code today is different than how they coded ten years ago and will be different ten years from now. Discrete knowledge isn't important because it will soon be outdated. The ability to learn and grow in an ever-changing world is what defines the very best candidates.
As any great leader pursuing innovation in education knows, having a clear "why" for pursuing the "what" of change is critical to success. But equally important, often less emphasized, and incredibly hard is the "how" of making and managing that change in a classroom, school, or system. At The Learning Accelerator (TLA), a national nonprofit that learns alongside educators and system leaders at the forefront of blended and personalized learning, we're often asked about common change management pathways and learnings about how to do it well. Our team has compiled a series of illustrative case studies of district stories and practices, but we wanted to learn more to help answer these questions. We conducted a deep study with 100 leaders from 60 systems across the country to understand how they are making decisions about how to lead innovation work in their communities. Through interviews and a national survey, we asked them to tell us about the most important decisions they had to make when taking innovations to scale. We published results in both a white paper, Look Both Ways, and series of strategy modules on our Blended and Personalized Learning At Work site.
Equity and personalized learning share quite a bit of common ground. They each require an ongoing commitment from all stakeholders. Both are built on the premise that each person's needs are unique, and both recognize that no one set of tools and responses will support everyone. Peter Olson-Skog is drawing these connections concretely through his work as Superintendent at District 197 in West St. Paul. We recently interviewed him to learn more about how he connects equity and personalized learning in his district.
Classrooms | Personalized Learning
Take a look inside a high school physics teacher's classroom. In her fifth year, Ms. Valdez is popular with nearly all of her students. They appreciate her energy and sense of humor. Her ambition is to engender in her students the enthusiasm for and wonder about physics that motivated her to devote her career to teaching the subject. She has told you that she wants to teach her students to think like physicists. Unfortunately, your observation reveals that Ms. Valdez is far from her goal. Students will do the work, but except for a few particularly eager participants, most seem to be soldiering through the course hoping to get good enough grades to get into the college of their choice. With student engagement and communication at the center of Common Core and Next Generation Science Standards, you ask yourself, "How can Ms. Valdez take steps to get more of her students truly engaged in physics?"