Classrooms | Personalized Learning
If Adam Savage and Jamie Hyneman of Mythbusters looked deep into the world of personalized learning, they would quickly note that one of the biggest misconceptions schools and teachers have is that personalization equals technology. I was in high school prior to the advent of Facebook, the iPhone, the Chromebook, and the popularization of blogs (ironic, given the medium of this article), and to this day, my most personalized educational experiences happened as a high school senior. I was a student in an Advanced Placement U.S. Government class, and I would frequently meet my peers and teacher, Mr. Allan, after school at a Starbucks.
Classrooms | Personalized Learning
School was never hard for me, it just wasn't engaging enough for us millennials. It felt prehistoric and bland, so I often doodled and wrote poetry. I was an average student until sports became my incentive to achieve academically. This wasn't due to lack of knowledge, but moreso a lack of interest. However, things changed once I got to college. College was the first time I was in charge of my educational path. It was a time I felt connected to school and empowered as a learner.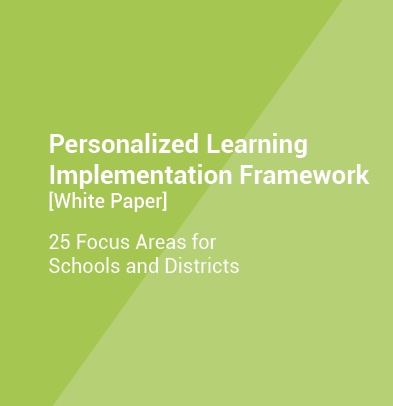 Considering Personalized Learning But Don't Know Where to Start?
Subscribe to the blog to get this resource to find out the essential areas to effectively launch, support and sustain personalized learning.
Sometimes I wish I were more like my mom. There are many reasons why, but many times it's because I wish I were a great cook. I used to watch her in the kitchen just glance at a picture of a dish from a cookbook, then create that without ever having to follow the step-by-step recipe that was next to the picture. It was like watching a magic show.
Lately I have been meditating. It is only somewhat by choice – we are doing a company-wide meditation challenge and I am usually up for competitions, especially when they get me out of my comfort zone. Within the course of a few days of the challenge I discovered that just sitting and breathing doesn't work for me – I have one of those brains that doesn't turn off. It is not always full of important things, thoughts range from how to support a certain school to what I should get at the grocery store to if it's going to be hot or cold tomorrow but you get the point, focus can be a challenge. So I started to do themed meditations and have recently been enjoying seven days of focusing on gratitude. Because while December may be the season of giving, November is the season of being grateful.
Leaders | Personalized Learning
One of the worst implementation mistakes school leaders make when they buy devices for their classrooms is allowing even one teacher to feel obsolete. Computers do not substitute for good teachers.
Ask any high school teacher or college professor about her biggest impediment in the classroom. The answers you hear will share a common theme. In the age of smart-everythings—from phones, to watches, to tablets, to connected specialty devices—the ubiquitous interloper and often unwelcome guest in any modern classroom has a screen.