Innovative Leadership | Return Planning | Strategic Planning
More than a year ago, I - like many others - was hunkering down for what I thought would be a two-week quarantine. Thirteen months later, I have found myself adapting to my circumstances. I have created a comfortable work-from-home space, embraced many home DIY projects. I've started a herb garden, purchased a inflatable baby pool (I don't have a baby) and I have had enough time to get in and out of shape...multiple times. I have learned a whole lot about things I never questioned before "the great pause." For instance, my perception of time is completely arbitrary: some days seem never-ending while in others, 24 hours do not feel like enough. I've also rediscovered the magic of a full-night's sleep and what a blessing and privilege it is to have my health. There are some things I plan to forever eliminate from my life (I'm looking at you, non-stretchy jeans) and some things I hope to incorporate in the next phase of life (hello, neighborhood walks). I am also seeing many district partners grapple with the tensions of identifying what we want to take with us and leave behind in our next phase.
About a year ago, we dealt with one of the largest supply shortages we've faced as a modern country. While toilet paper was certainly in high demand, it was actually active dry yeast that had people scrambling. New and aspiring bakers that found themselves with additional time at home were inspired to learn a new skill: how to make homemade bread amidst the backdrop of a global pandemic.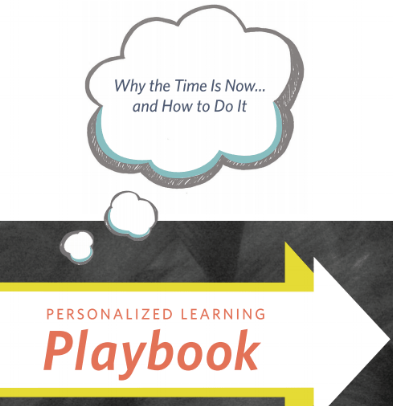 Interested in Personalized Learning But Don't Know Where to Start?
Subscribe to the blog to get your free copy of our Personalized Learning Playbook. A Playbook that will help you make the case for personalized learning, and reflect on the important elements to take in consideration.
Crisis Management | District Leadership | Organizational Leadership & Change Management | School Leadership | Teams & Culture
We have been reading, discussing, and reflecting quite a bit on the topic of leadership recently, and one of the products of this deep dive is a video series all about what leaders have learned this year. In his interview, Dr. Patrick Ward from Mayfield City Schools in Ohio mused on the fact that school leaders are trained to manage acute crises, but for the past year they have been managing a chronic crisis, with several acute crises emerging as the chronic crisis continued. We've been thinking about the phrase "chronic crisis" and drawing from some inspiring resources to consider the best way to rally your community through it. With the end of the school year in sight, now is the time to re-energize your teams so you can finish strong. To do that, you need to address three interrelated dimensions: Emotions, Mindsets, and Behaviors.
Personalized Learning | School Districts | Schooling Loss | Virtual Learning
This school year made clear the need to redesign our existing systems to ensure that meaningful learning can continue even when our brick and mortar school buildings close. Most schools and districts had only days to prepare to close school buildings and move learning to students' homes. Fast forward 12 months and remote learning has had time to grow from an emergency measure to a format of learning that invites growth and innovation in new ways. So how can you ensure that meaningful learning can happen anywhere?
District Leadership | School Leadership | Virtual Learning
Our team has spent months discussing the best term to use to describe the challenge education currently faces. We brought it up in team meetings, shared it with district partners, and sought out recent publications on the subject. We came together around five beliefs that helped us choose the term "schooling loss":
Remote Work | School Leadership | Teacher Retention
There are 88 million opportunities in the human genome for trait variations to make us unique, but when it comes to what we seek in the workplace, neuroscience suggests most humans crave the same three things – safety, belonging, and a sense of mattering. This is hardly news; Abraham Maslow wrote about these same needs in his 1943 paper on human motivation, and a quick scan of nearly any company's Glassdoor reviews will highlight these variables. The past year challenged the way nearly every organization approached these needs. Lack of personal connection, the inability to 'disconnect' from work, and whose health and safety are prioritized rank among a laundry list of complaints with today's employee experience. And when it comes to the field of education, the pandemic doubled down on pre-existing conditions within the teacher experience.