A few years ago, Detroit Public Schools Community District (DPSCD) took a big bet on talent. Despite the city's legacy of divesting in educators, the District's new leaders believed that Detroit teachers have the power to chart a new future for the city's children. As part of an ambitious five-year plan, leaders sought to forge a new legacy for the District: one where teachers received the trust, compensation, professional development, and resources to achieve their highest aspirations, and to deliver the learning opportunities students need to succeed.
In an economically disadvantaged part of Charlotte, N.C., there is a public school with the highest percentage of Title 1 students in the district. Less than a mile away is a charter school that could have become its competition, luring away students and leaving the district school with fewer funds to tackle the same set of challenges. Across the country, that's how district and charter relationships often play out. They are competitive, rather than collaborative. But that's not what happened in Charlotte.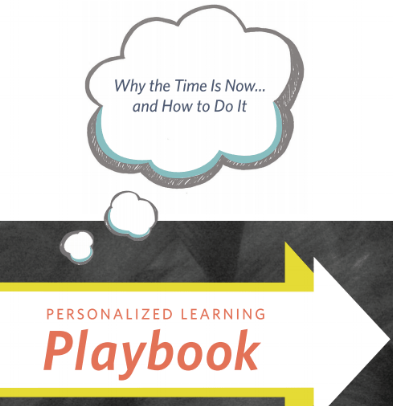 Interested in Personalized Learning But Don't Know Where to Start?
Subscribe to the blog to get your free copy of our Personalized Learning Playbook. A Playbook that will help you make the case for personalized learning, and reflect on the important elements to take in consideration.
After selling our D.C. area home and looking for more than a year to buy what we would call our "forever home," my husband Mike and I finally closed on our dream piece of property. It checks off all of our boxes. More than an acre of flat, usable yard space for our kids. A pool with a diving board (my 4-year-old's only requirement). A Harry-Potter-esque cupboard under the stairs for our dog (my 3-year-old's only requirement). And room to grow. It's perfect. It's also stuck in the 1990s in terms of decor and layout. So minutes after closing, we did what any couple who watches way too much HGTV would do: we began making our list of renovation projects.
As Thanksgiving approaches and 2019 nears an end, I'm taking some time to reflect on what I'm grateful for this year. When I zoom out and think about the past 11 months, I realize that I am especially grateful for all the ways that teams have shown up in my life this year.
Education Elements and Tennessee Organization of School Superintendents (TOSS) came together to design an experience for adult learners that would make a difference in their lives as innovative leaders. Both organizations wanted to create an experience that would inspire them, that would change mindsets and drive different results.
Why Pursue Personalized Learning? In October 2017, AdvancEd conducted our five-year district accreditation review. At the conclusion of the review process, we received a couple of recommendations that were spot on and aligned with our district comprehensive needs assessment's (CNA) overarching needs. Two specific recommendations the review team provided really hit home. First, we needed to strengthen and monitor our professional learning communities in an effort to evaluate, interpret and utilize data for personalized learning and differentiated instruction to increase learning and growth. Secondly, we had to identify and implement professional development strategies that focus on the utilization of digital resources as an integral component of content delivery. With the AdvancED Review Team's recommendations validating our district and school improvement needs and the focus on student use of technology in classrooms, we believed personalized learning would be an effective improvement strategy to pursue.