Classrooms | Leaders | Personalized Learning | School Districts
There are even more ways to tell a story than there are to bake a cake. A recent article in Edsurge told a story about million dollar consultants (us) and some of the districts we support in their efforts to transform teaching and learning through personalization (including Charleston County SC and Fulton County GA). It was one version of the story, with one set of facts and data, and we'd like to take this opportunity to re-tell that story in a way we feel more accurately captures the work, and accomplishments, of those districts, as well as others across the country.
I have led several companies but the workplace and teams today are uniquely more interconnected than they were in past organizations. So three years ago I decided I needed a new approach to how I organized our team and approach at Education Elements, the education consulting company I founded in 2010.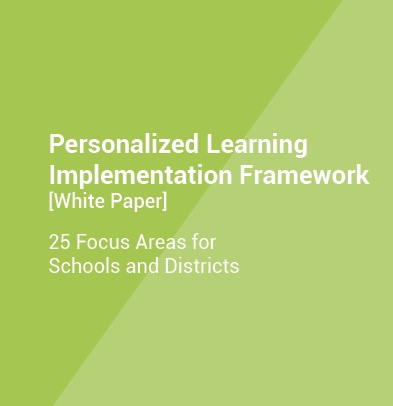 Considering Personalized Learning But Don't Know Where to Start?
Subscribe to the blog to get this resource to find out the essential areas to effectively launch, support and sustain personalized learning.
Innovation often requires leading, not following, in technology advancement. I was involved in two important decisions in 2007 while serving as the Assistant Superintendent for Curriculum and Instruction at Maine Township High School District 20 in Illinois. First, needing a new Director of Technology to help us advance technology into an essential role to improve learning, I hired a talented young man named Dr. Hank Thiele.
Personalized learning, like so much of what we value most in our schools, should be aligned to the particular educational needs of individual learners – that's what it's all about. Success depends on the ways schools support teachers: providing them with effective professional development focused on making the plan work; embracing their iterations and experiments as they work to continually improve their practices; and ultimately putting them in the position to succeed in targeting instruction, interventions and enrichment, including with actionable information to support personalizing learning for all students. Personalizing learning in this way, and to scale, has great promise to transform our educational practices and substantially improve outcomes.
If recent Halloweens have taught us anything aside from the absurd amount of money spent on candy for one day, it's that those involved in child rearing must address cultural sensitivity. The young white boy who wanted to dress as a Polynesian hero named Maui or the young white girl who wanted to dress as Princess Jasmine are caught in the middle of a debate on what is acceptable. Princesses and heroes that represent all races are important, but what does this discourse look like in the classroom? Left unaddressed, bias can lead to lasting harm. Consider this story shared by parents that I recently overheard at a dinner party.
In the three-plus years since introducing Personalized Learning (PL) in individual schools within a large public school system, the Imaginarium, Denver Public Schools' (DPS) innovation lab, has been studying the conditions that help and hinder the implementation of PL at scale.