Stories are all around us. Researchers found that personal stories and gossip make up 65% of our conversation. Some stories are as small as 6 words or 280 characters, and others are the length of a book or a movie. Your best stories are told in multiple lengths and forms.
Since 2010 Education Elements has supported more than 150 districts, 600 schools, and 550,000 students with personalized learning implementations. Through our work with schools and districts across the country, we established the Core Four of Personalized Learning: four key elements that we believe ensure that personalized learning is implemented with high fidelity and success.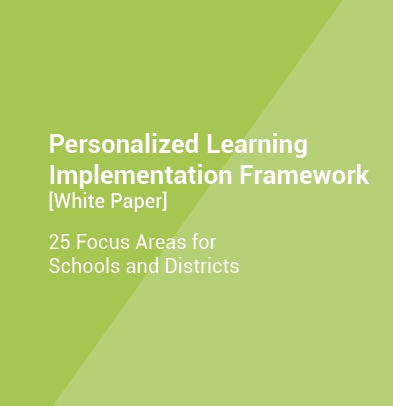 Considering Personalized Learning But Don't Know Where to Start?
Subscribe to the blog to get this resource to find out the essential areas to effectively launch, support and sustain personalized learning.
Classrooms | Personalized Learning
One of the major complaints that I have heard in my community as we have adopted personalized learning relates to the idea that personalized learning means that we are adopting technology and getting rid of teachers. There may be some places that are doing that, but my vision for personalized learning doesn't include removing teachers – instead, it requires asking even more of teachers.
Our company is known for having a unique organizational culture. We have eliminated the traditional organizational hierarchy of direct managers; we employ a self-organizing team structure; and if you attended this year's Personalized Learning Summit, you know we also view trivia and dancing to 80's music as valuable team-building time. Something that is not as widely known is that we also have internal monthly challenges. During the month of November, our CEO challenged us to meditate for five minutes every day. That was the entire challenge. Five, uninterrupted minutes of silence where we took time to pause and reflect. Resources were shared. Apps were downloaded. An accountability chat room was created. On the first day of the challenge, nearly 20 team members meditated. Two weeks in, there were less than 10 people meditating with fidelity. And by day 30, very few had continued the practice.
Classrooms | Competency-Based Education | Personalized Learning | School Districts
One of the most common questions I answer about Education Elements is, "So what do you guys do?" If we have an elevator ride that goes to, say, the top of the world's tallest building, I can give a fairly satisfying and comprehensive answer. If, on the other hand, we are just waiting in a short line for a cup of coffee, I tend to say something like, "We help districts solve their biggest challenges," which, judging by the reaction I often get, is not nearly the level of detail people are looking to hear. So in the age of TL;DR and Buzzfeed lists that always come in odd numbers, I decided to try to put pen to paper and explain what we do in a way that gets more head nods and doesn't have anyone thinking, "For the love of God will she ever stop talking?" (Don't worry, you can just read the bold parts)
We're so excited to share another episode of Elements of Change with you, this time highlighting the importance of building responsive, dynamic organizations. We're all familiar with the traditional hierarchy of a school district, but what if this structure is inadvertently holding back motivated, capable people with great ideas? Alexis Gonzales-Black, co-author of The NEW School Rules: 6 Vital Practices for Thriving and Responsive Schools, describes her experience adopting a distributed management system at Zappos and provides tips for getting started at your own school or district.