Have you ever caught yourself working deadline to deadline without coming up for air? I have and I've sworn to myself it would be the last time, only to return to that place and wonder, how did I get here again? Inertia is a property of matter by which it remains in uniform motion within its existing state. I've seen many versions of "working inertia" in my time in education: teachers planning lesson to lesson, coaches jumping from PD to PD, leaders thinking from meeting to meeting, schools operating from year to year. While the scale of this phenomenon varies, the pattern is consistent: over time, our repeated habits slowly mold us into ways of working that don't leave room to step out of ourselves, reflect, and question our approach. Wondering 'how did I get here again?' now signals to me that my working inertia has built up a disconnect between how I want to work and how I am working. It is in those moments that I can feel trapped in a habit loop of working, where I lose sight of my purpose and my pursuit of innovation.
"What's it like in other schools? In other districts? In other states?" After eight years in the classroom as a math teacher and another seven as a school leader, I transitioned into a role at Education Elements just over a year ago in part because I wanted answers to those questions. The field of education has that head-down, just-keep-digging quality to it, where we're so far down in our trenches that it often feels impossible to pause, lift one's head, and get a sense of the landscape. I wanted to see what factors were supporting successful innovation, reform, outside-the-box thinking, and school change around the country, even if doing so meant leaving a school I loved and had helped build. A year in, I've worked directly with teams from close to a hundred schools and visited dozens of their campuses. In just 12 months I've collaborated with ten districts in six states. I certainly can't pretend to have anywhere near a complete picture or complete answer, but as I think about what drives successful future-focused education, some factors are abundantly clear. The districts and teams I've seen doing it well seem to have certain approaches in common.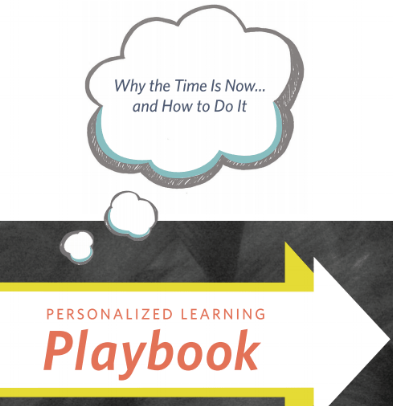 Interested in Personalized Learning But Don't Know Where to Start?
Subscribe to the blog to get your free copy of our Personalized Learning Playbook. A Playbook that will help you make the case for personalized learning, and reflect on the important elements to take in consideration.
The start of a new school year often brings with it discussions about new vision statements, improvement plans, yearlong initiatives and sweeping changes in the name of increasing student success. Yet in our work with school districts across the country, we've learned that it's the smaller, individual leadership practices and team habits that lead to larger systems changes.
We all experience the world in different ways. I know that, as a white person, my experiences are different than those of a person of color – in ways both big and small – such as a feeling of belonging and safety, or the knowledge that I am implicitly trusted by others. As a woman, my experiences are different than those of a man; yes, sometimes physical doors are opened for me, but I also know my male friends have metaphorical ones often opened for them. So then when, a few months ago, a teammate shared an article about the pay inequities that often exist for both women and people of color, it gave me an opportunity to reflect, think, and discuss with others how we, at Education Elements, might need to change.
Leadership | Teacher Retention
In a 2018 study conducted by TINYPulse, a company specializing in employee engagement, it was reported that the top 5 reasons employees choose to leave their jobs are: poor performance management, lack of recognition, feeling overworked, company culture isn't a priority, and lack of growth opportunities.
Late August is a lovely time to visit Northeastern Ohio, and as educational leaders around the country are asking, "How might we transform the learning experiences for all students in our district?" a visit to Mayfield City Schools is a must-do if you find yourself in the Cleveland area. As a learning organization, we seek out innovators who are impacting the educational landscape, and our hope is to help connect them with each other, and to share what they have learned with partners in our network. Dr. Patrick Ward, Director of Curriculum & Instruction at Mayfield City Schools, is one such innovator.