After interviewing hundreds of parents, teachers, and students across the country, we've found almost everyone wants the same things for the kids they care about. We want "our" kids to flourish – to have productive work, meaningful relationships, creative self-expression, good health, and to participate civically in their communities.
In Forest Hills School District (FHSD) there have been pockets of innovation and personalized learning (PL) for some time. However, when the district came to Education Elements, they sought to scale PL in each and every classroom, district-wide. To accomplish this goal, the district strategically slowed down in year one. They spent the first year focusing on establishing a shared definition of PL and letting teachers generate a clear vision for PL in each school across the district. They've done this because they've seen how confusion and uncertainty can influence a program in their district. To ensure the success of their PL implementation, they've used a grass roots approach - creating conditions and structures for teachers to provide input and drive this work forward.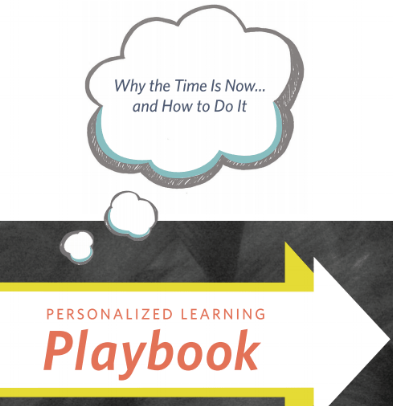 Interested in Personalized Learning But Don't Know Where to Start?
Subscribe to the blog to get your free copy of our Personalized Learning Playbook. A Playbook that will help you make the case for personalized learning, and reflect on the important elements to take in consideration.
In the early month of December, Anthony Kim and I had the opportunity to visit Mason City Schools outside of the city of Cincinnati to ask the question, "How might we use responsive practices to know we are on track to exceeding our goals?" The initial relationship between Education Elements and Mason City Schools started over a casual conversation of the sharing of what books they were reading. One book being Measure What Matters by John Doerr. As a learning organization, we are always on the quest to learn from others who are impacting the educational landscape, and our hope is to help connect them to other innovators, and to share what they are learning with partners in our network. Christine McCormick, Innovative Systems Officer at Mason City Schools, is a disruptor, dreamer and visionary of what the potential of what a school district could look like.
The best conferences are generally those that expand your thinking, reframe a current problem, provide practical recommendations, and encourage networking. At Education Elements, we not only attend conferences on a regular basis to expand our thinking, but we also keynote, and host our own regional and national events as well as our Summit in May – all of which get outstanding reviews. That makes us a bit of an expert on which conferences rise to the top.
Every team meeting we have at Education Elements begins with a check-in question. Sometimes it takes me a while to come up with my answer, but on a call recently it was a no-brainer: "What trait do you most value in a leader?" To me, that's simple – it's courage, for two key reasons. First, because courage in leadership is rare, or at least more rare than it should be. And second, because courage is a superpower when it comes to leading innovation, building culture, and enabling transformation. My colleagues and I do a lot of work with leaders, and our framework for innovative leadership is built around a set of competencies that directly feed, strengthen, and enrich leaders' courage, a mission-critical element of their leadership. While the list could go on and on, here are seven leadership superpowers that courage can activate.
What is the definition of innovation? It turns out that most people can't agree. I'm not surprised! It's one of those words we use so much, but we rarely pause to think about what it really means. Now that I've read over 100 different definitions of "innovation," I'm going to lean on this one: