Leaders | Personalized Learning | School Districts
When our team partners with a school district to tackle its toughest education leadership challenges, relationships are built at all levels of the organization. We may encounter superintendents and cabinet staff first, but we tend to find ourselves learning in many nooks and crannies of an organization over time, listening to content area specialists, IT staff, teachers and school leaders, and even attending parent nights or school board meetings.
I recall one distinct shocking moment as a new teacher. It was when a mentor teacher was onboarding me. She walked me to my classroom, opened a cabinet door rather proudly, showed me two shelves filled with textbooks and supplementary materials (worksheets, assessment guides, etc.) and said, "This is your 6th grade math curriculum."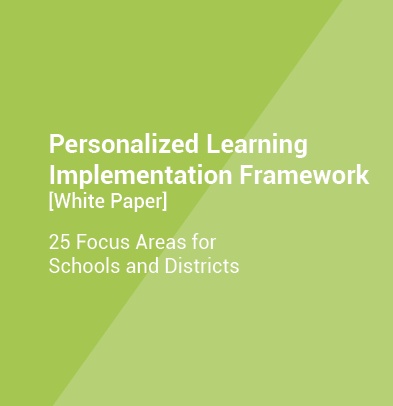 Considering Personalized Learning But Don't Know Where to Start?
Subscribe to the blog to get this resource to find out the essential areas to effectively launch, support and sustain personalized learning.
Personalized Learning | School Districts
Well, it's a little about Twitter. Twitter provides an amazing social media tool for teacher collaboration. Twitter provides an innovative platform for professional development. Twitter promotes an engaging forum that excites and drives teachers. 3 years ago we were inspired by Jimmy Fallon to launch discussions on Twitter around a hashtag. Our understandings about leading and participating in TwitterChats have evolved into a practice that promotes growth and has become the cornerstone of teacher collaboratin across our district.
Curriculum | Personalized Learning | School Districts
Just like online dating or buying a new car, choosing a new digital content provider can often feel overwhelming, complicated, and like a shot in the dark. Thankfully, Education Elements created a 9 step process, and compiled tips and tricks from district leaders across the country in our new curriculum white paper: "Phase Three: Review, Demo, and Select Digital Content and Tools." You can also get Phase 1 and Phase 2 if you want to catch up first. But here are some highlights from Phase 3:
Personalized Learning | School Districts
Yuma Elementary School District ONE began the journey of Personalized Learning over two years ago and we went all in --17 schools and 9000 students all at once. At the start of school, iPads were distributed to all students and 490 teachers -- many staff and students had never even held an iPad prior to the distribution. Not only were devices deployed, but digital programs were ready to go. Teachers were learning how to use the devices, navigate programs and personalize instruction while also getting to know their students and teach them content in a new way. A massive undertaking was underway. Teachers worked hard to understand the digital programs and to use them faithfully to begin the steps of integrating technology and personalizing instruction. This was a new vision for many of our teachers and it required them to rethink their pedagogy of teaching. It wasn't easy, but from the start it was powerful.
Classrooms | Curriculum | Personalized Learning
The world of work is changing. As we integrate into a global community, we're tasked to work together to solve complex problems. Our solutions can be innovative and represent multiple perspectives if we know how to maximize group work. With so many benefits to a collaborative environment, why is it so challenging? Through my work as a classroom teacher and now as an education consultant, I have noticed a few common barriers to collaboration and identified ways that school district leaders and classroom teachers can overcome them.