Education Elements | Organizational Leadership & Change Management | Teams & Culture
The pitter-patter of toes on our wooden floors, reminiscent of a spring rain pinging against a tin roof, grow louder as they approach our bedroom door. A moment of silence occupies the space as our door slowly opens. Seconds later, we hear a soft breath pressed against my wife's ear that says, "Good morning Mom, the sun is up." My youngest son stumbles across the bed to nestle his buttery brown cheek against mine and mutters to me, "I love you so much, dad". He has a way to melt his parents' hearts first thing in the morning (and avoid being told to go back to his bed). His older brother lumbers in, stiff legs resembling the Frankenstein impression he uses to terrorize his brother at Halloween. Thankfully, he "sleeps in" until 7:45 am most days before he graces us with his presence. His deliberate steps thump against the floor as he makes his way to my side of the bed with silence and morning grumpiness. His little brother is now aware his big brother is in the room and meets him with the same daily surprise as if this is the first time they have met. Unfortunately for the little guy, his exuberance is not met with the same zeal by my oldest son who can do nothing but let his lanky seven-year-old body collapse on my chest as he tries to find his way back to sleep.
District Leadership | Organizational Leadership & Change Management | School Leadership
The Education Elements team, like the rest of the world, has been adapting to life-during-COVID-19, striving to serve our partners and our mission with a set of unplanned-for constraints. In short, we have had to walk the walk – living by our own New School Rules and practicing our best New Team Habits as we have tried to find ways to connect as a team and with our partners through times that, on a good day, could be described as turbulent. We've experimented with how to best operate in a virtual world, and want to share with you five lessons that we've learned in adapting to life during COVID-19.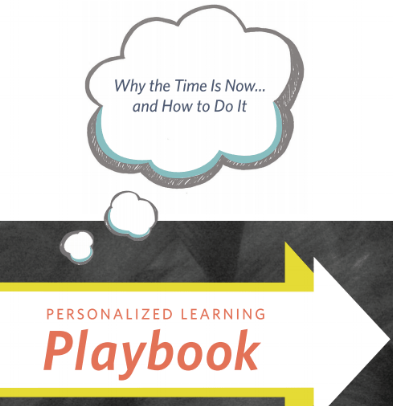 Interested in Personalized Learning But Don't Know Where to Start?
Subscribe to the blog to get your free copy of our Personalized Learning Playbook. A Playbook that will help you make the case for personalized learning, and reflect on the important elements to take in consideration.
Communication | School Leadership
This is a special blog post because not only am I interviewing an expert in family outreach but I am interviewing my mom, Aleida Goetchius, who is truly my first mentor and forever hero. This is a translation of a conversation she and I had about her role as a Parent Liaison in Northern Virginia. Aleida has been a Parent Liaison for 16 years supporting all families with a specialty in supporting families from international backgrounds who are navigating the American school system for the first time. Aleida was named the 2017 Region 4 Outstanding Hourly Employee and one of five finalists for this year's Outstanding Secondary Teacher Award in her district. In this conversation, we talk a lot about support for families in general and most specifically for international families whose first language is not English. I hope you enjoy reading this conversation as much as I enjoyed having it.
District Leadership | Innovative Leadership | School Leadership
At Education Elements, we know that a leader is critical in navigating a school system through change. This has become abundantly clear as we've navigated the COVID-19 pandemic - schools and leaders have undergone and continue to experience a period of immense uncertainty and change. School and district leaders have to rise to the occasion and lead their schools through previously unconceived circumstances almost daily. We have seen leadership emerge in the creative ways you all are celebrating students, connecting with families, and adjusting to new norms and methods of instruction.
District Leadership | Virtual Learning
Fenestration, in architecture, is the way windows, doors, and openings are placed and arranged on a building. In medicine, fenestration refers to a new opening in the body made through surgery. There is another meaning of the word and it is used to describe openings in the leaves of plants. Where I live in South Florida, there are a number of plants with leaf fenestrations, perhaps the most common of which is the monstera deliciosa. Some of you might have it next to you, as it has become a very popular houseplant. Here in the subtropics, it is planted in many people's landscapes including my own. Some people believe that the leaves have formed holes to help the plant survive the strong winds of tropical storms and hurricanes, a common occurrence in this part of the world. Others think the leaf fenestrations exist to let sunlight filter through to "understory" leaves so that they can grow and thrive (in its natural habitat, the jungle, monstera grows like a vine up very tall trees). Each of these is a theory to explain the adaptations, but no one knows for sure. Right now, in our reality of unknowns, students, teachers, and school communities across the country are adapting too–so that the sunlight of new ideas and concepts reach every learner and the turbulent wind of changing pandemic conditions, stress, and anxiety do not prevent learners from growing and thriving.
On January 28, 1986, the space program experienced one of its most catastrophic events to date when the Space Shuttle Challenger broke apart just over a minute after launch. All seven crew members died, including Christa McAulliffe, a school teacher who would have been the first teacher in space. If you're familiar with the event at all, you know the accident was caused by a failed O-ring seal in the solid rocket booster. What's less widely known is that, according to the recently released Netflix documentary, Challenger: The Final Flight, NASA and the company that manufactured those O-rings had information available to them that day that could have led to a different outcome. For example: The O-rings were a known problem. In many of the successful launches using solid rocket boosters prior to the Challenger, there was evidence of damage to the O-rings during launch. The temperature the day of the launch was much colder (by at least 20 degrees) than typical launch days. More than one expert at the O-ring manufacturer voiced concern that the part had not been tested at that temperature and could fail. NASA made choices about the data they used that day. They went into their decision-making process with a bias (they were motivated to launch after a series of delays), and they failed to see how that bias motivated their choices and in turn influenced their behavior. In education, we make choices about our data, too.