As the 2018-2019 school year begins, I can't help but think back to my years in the classroom and the days and weeks leading up to a new school year. The feeling of getting back in my classroom after recharging during summer break, the excitement of unpacking book boxes, decorating the walls, and way too many trips to Target for those must-have new supplies. The moment that made it feel most real was getting my class list, picturing the faces that would soon fill the empty desks. Try as I might to set up my classroom for those students, it never failed that once I got to know them, I'd redesign the learning environment to better meet their needs. Sometimes that meant adding a seat near me to provide some extra support to a student, and other years it meant shifting from rows to clusters of desks. Regardless, the way I set up my classroom was entirely dependent on the needs, interests, and personalities of the learners inside.
Leaders | Personalized Learning
August is an important month for school leaders; it is the last opportunity to reflect, recharge, and realign on your personal and shared goals before the school year officially kicks off. While there is no debate that we all want better student outcomes, many discussions occur during this period regarding the best methods to employ. One of the most important systems to take into account is how your leadership team will structure the professional development (PD) curriculum and options that are presented to your staff this upcoming school year. As educators, we understand the importance of modeling our thinking and actions, and this is no different when it comes to PD. During my time as a school leader, it was important for me to acknowledge that if I was going to demand that our teachers be empathetic and innovative in their implementation of personalized learning, then we as school leaders must provide those same personalized qualities in the development opportunities we offer.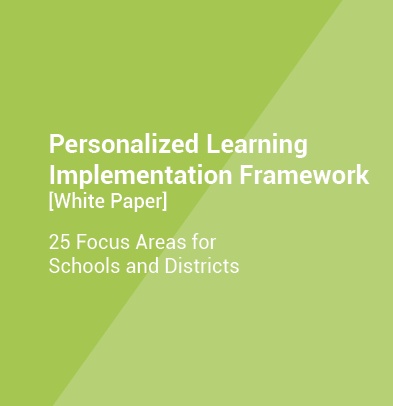 Considering Personalized Learning But Don't Know Where to Start?
Subscribe to the blog to get this resource to find out the essential areas to effectively launch, support and sustain personalized learning.
Since 2010 Education Elements has supported more than 150 districts, 600 schools, and 550,000 students with personalized learning implementations. Through our work with schools and districts across the country, we established the Core Four of Personalized Learning: four key elements that we believe ensure that personalized learning is implemented with high fidelity and success.
Classrooms | Personalized Learning
One of the major complaints that I have heard in my community as we have adopted personalized learning relates to the idea that personalized learning means that we are adopting technology and getting rid of teachers. There may be some places that are doing that, but my vision for personalized learning doesn't include removing teachers – instead, it requires asking even more of teachers.
Classrooms | Competency-Based Education | Personalized Learning | School Districts
One of the most common questions I answer about Education Elements is, "So what do you guys do?" If we have an elevator ride that goes to, say, the top of the world's tallest building, I can give a fairly satisfying and comprehensive answer. If, on the other hand, we are just waiting in a short line for a cup of coffee, I tend to say something like, "We help districts solve their biggest challenges," which, judging by the reaction I often get, is not nearly the level of detail people are looking to hear. So in the age of TL;DR and Buzzfeed lists that always come in odd numbers, I decided to try to put pen to paper and explain what we do in a way that gets more head nods and doesn't have anyone thinking, "For the love of God will she ever stop talking?" (Don't worry, you can just read the bold parts)
Competency-Based Education | Leaders | Personalized Learning
We published The NEW School Rules: 6 Vital Practices for Thriving and Responsive Schools this winter to help leaders make a shift toward being more effective, responsive leaders. Since the book's release in February we have had dozens of requests for webinars and presentations about The NEW School Rules. Demand has been so great that we've developed a leadership course based on the rules. This summer we kick off leadership courses across five districts and four states.