PBL | Personalized Learning | Project Based Learning
Recently, I had the opportunity to facilitate a workshop with our partners at Loudoun County Public Schools and the Buck Institute for Education to do some deep thinking about the connections between project-based learning and personalized learning. I am very passionate about these two pillars of instruction, and I'm doubly passionate about their intersection.
PL Summit | Personalized Learning | School Districts
For many, being an innovator conjures a vision of being the one out in front, alone, and it can certainly feel that way at times. All at once it seems like a big adventure and a scary proposition with uncertain rewards, but known risks. You may have a lot of questions to ask about your path but worry no one else is on it. It feels like something you kind of want to tell everybody about, but also don't want anybody to know. The teacher who is trying something new may purposely close his door and not talk about it in case it fails. The school leader who is working on new strategies may keep quiet about them in a meeting with others, in case her peers try to dissuade her. The superintendent who wants to make her district radically different may feel like she is the only one trying to do this big thing or if she isn't the only one, not know how to find others who think like her. So at a time when the support and ideas of others would help the most, we often are the least likely to receive them.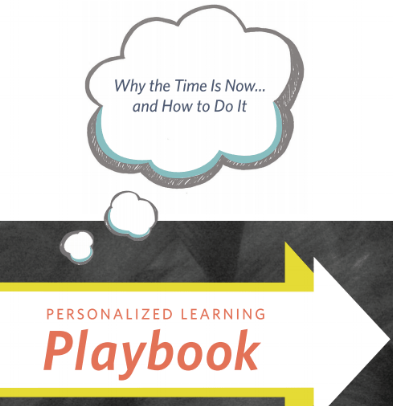 Interested in Personalized Learning But Don't Know Where to Start?
Subscribe to the blog to get your free copy of our Personalized Learning Playbook. A Playbook that will help you make the case for personalized learning, and reflect on the important elements to take in consideration.
Leadership | Personalized Learning
As we work with schools and policy-makers to successfully implement student-centered learning models, we often hear concerns around building community support. Time and again we come back to the idea that communicating to others the why, the how, the what, and the when is key to a successful and sustainable transition to new, innovative learning environments. We also nearly always come back to the challenge that knowing communications is important is one thing, but doing it effectively is another thing entirely.
Blended Learning | Digital Content | Personalized Learning
As a learning organization, we are always improving and iterating School leaders often ask us: "How do I select the right content for my blended classroom?" To help answer this question, we've developed an infographic and guide to "Selecting Curriculum to Support Personalized Learning".
This blog post was originally published on the CompetencyWorks website, based on data from former Ed Elements team member Mike Wolking. Mike Wolking, currently completing an Axford Fellowship, sent me a summary of a short investigation he completed in how a student spends their day. He followed a student in a New Zealand secondary school for a day and tracked her activities. As I read through the summary, I thought it might be a helpful way to begin to think about the quality of personalized, competency-based education. This type of data could be useful for reflection and opening up conversations about where there might be opportunities for strengthening instruction, assessment, and learning experiences as well as identifying where operational policies or organizational habits are getting in the way. One would have to also consider the question: How do we think a student should spend their time in order to optimize learning and development?
In his book Striving for Equity: District Leadership for Narrowing Opportunity and Achievement Gaps, co-author and former Arlington County Public Schools Superintendent Robert Smith provides the following explanation of educational equity: "You don't have equity in conditions in which all students are receiving the same amount of support, ... You are getting equity if you have a situation in which every student is getting the amount of support to be successful."