Two common misconceptions about personalized learning are that it requires technology and that it must involve significantly more independent work. We know instinctively that a room full of students working silently on computers is not necessarily personalized, even though there are powerful digital tools and programs that can make personalized learning simpler. And yet, an adaptive program still requires a teacher to facilitate learning that empowers students and builds their ownership of learning.
In 2014, Education Elements promoted the notion of "Integrated Digital Content" as a core component of blended learning. In 2017 we changed this term to "Flexible Content and Tools," recognizing that both online and offline content have an important role to play when personalizing learning. This change also represented a shift from blended learning, which focuses on the integration of technology into the classroom, to personalized learning, which is an instructional approach that empowers students to build ownership of their learning, making sure they get the instruction they need, when they need it. This year, we are taking things one step further by introducing "Flexible Path and Pace."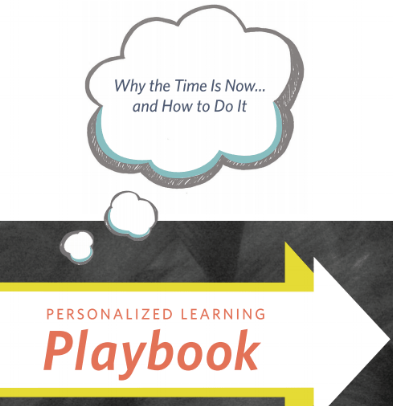 Interested in Personalized Learning But Don't Know Where to Start?
Subscribe to the blog to get your free copy of our Personalized Learning Playbook. A Playbook that will help you make the case for personalized learning, and reflect on the important elements to take in consideration.
Classrooms | Personalized Learning | Teachers
Reflection and goal-setting is the simplest way to begin personalizing learning because it mirrors a practice we engage in every day of our lives. Sometimes this shows up in small ways, like aiming to show gratitude more often, taking the stairs instead of the elevator, or reading more. Technology is playing a larger role in this practice, especially as it applies to our health. This can be as simple as checking your steps on a smartwatch to signing-up for an exercise and diet app. We reflect and set-goals at church, in a therapy session, at the gym, when we go shopping, or around the dinner table. It is one primary format in which we aim to improve ourselves. And it's one reason why reflection and goal-setting is often the first step educators take to personalize learning.
Coaches | Personalized Learning | School Leadership
There isn't a lot of convincing you need to do to get these two former English teachers talking about the power of stories. Whether it was unpacking The Danger of a Single Story, weaving together narratives into a photo essay about the Children's Crusade, or crafting original 6 word memoirs, our classrooms were built around stories. Stories are a powerful tool to connect, teach, and inspire. Organizations are full of complexities and oftentimes making sense of that complexity is daunting. Our classrooms are full of stories, but often we don't have opportunities beyond quick anecdotes in passing to share them with our colleagues.
Personalized Learning | School Districts | Schooling Loss | Virtual Learning
This school year made clear the need to redesign our existing systems to ensure that meaningful learning can continue even when our brick and mortar school buildings close. Most schools and districts had only days to prepare to close school buildings and move learning to students' homes. Fast forward 12 months and remote learning has had time to grow from an emergency measure to a format of learning that invites growth and innovation in new ways. So how can you ensure that meaningful learning can happen anywhere?
Virtual schools in the K-12 environment have been a popular topic for discussion for many years. Recently I have noticed an increased level of interest by online charter school leaders, district- or state-run virtual schools, and program leaders in regards to how they can improve their virtual schools. Almost ironically, I also find myself having frequent conversations about virtual school opportunities with brick-and-mortar school leaders. With many school districts adopting blended learning as a major priority