Stories are all around us. Researchers found that personal stories and gossip make up 65% of our conversation. Some stories are as small as 6 words or 280 characters, and others are the length of a book or a movie. Your best stories are told in multiple lengths and forms.
Classrooms | Competency-Based Education | Personalized Learning | School Districts
One of the most common questions I answer about Education Elements is, "So what do you guys do?" If we have an elevator ride that goes to, say, the top of the world's tallest building, I can give a fairly satisfying and comprehensive answer. If, on the other hand, we are just waiting in a short line for a cup of coffee, I tend to say something like, "We help districts solve their biggest challenges," which, judging by the reaction I often get, is not nearly the level of detail people are looking to hear. So in the age of TL;DR and Buzzfeed lists that always come in odd numbers, I decided to try to put pen to paper and explain what we do in a way that gets more head nods and doesn't have anyone thinking, "For the love of God will she ever stop talking?" (Don't worry, you can just read the bold parts)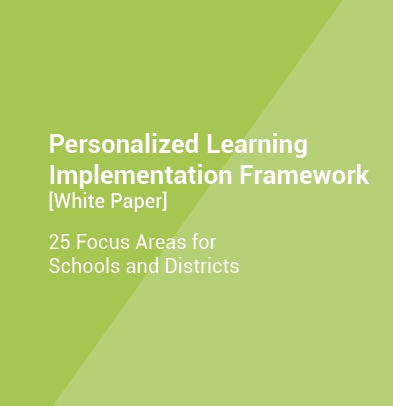 Considering Personalized Learning But Don't Know Where to Start?
Subscribe to the blog to get this resource to find out the essential areas to effectively launch, support and sustain personalized learning.
It is important for schools and districts to remember that in our ever-evolving world, they now need to compete for students, administrative and teaching talents, and community perception. Like other competitive organizations, schools need to set themselves apart from other schools in the country.
Classrooms | Leaders | Personalized Learning | School Districts
There are even more ways to tell a story than there are to bake a cake. A recent article in Edsurge told a story about million dollar consultants (us) and some of the districts we support in their efforts to transform teaching and learning through personalization (including Charleston County SC and Fulton County GA). It was one version of the story, with one set of facts and data, and we'd like to take this opportunity to re-tell that story in a way we feel more accurately captures the work, and accomplishments, of those districts, as well as others across the country.
Leaders | Personalized Learning | School Districts
The Education Elements team logs thousands of hours on the road through snow storms and hurricanes, mechanical issues, and flight delays. We travel across the country (and around the world) to work with amazing school and district leaders. Because of our nomadic lifestyle, we get a lot of questions. "How many rewards points do you have?" "How do you stay fit?" And the dreaded, "Do you know what time zone you're in?"
Last week I heard a district leader say, "In God We Trust - everyone else, bring data." I chuckled - because we talk out of both sides of our mouth when it comes to data. In the same breath we demand "data driven instruction" instruction in our classrooms but it's also clear that we don't understand (and many times don't trust) the technology that captures this very data needed to drive instruction. Also last week, Ed Week highlighted this dichotomy in the survey results of school leaders on the use of technology with their students. A majority (57%) believe that 'digital technologies are an important supplemental resource used to personalize the learning experience based on each student's strengths, weaknesses, and preferences.' Yet an even higher percentage of school leaders still have valid concerns with how technology companies collect data and influence what and how we teach students.