"Working with consultants isn't cheap - how do we know if it's what we need?" We hear that one a lot as we talk to districts considering whether they should hire a consultant to help them personalize learning in their schools. There's no right or wrong answer as to whether you should seek support or go it alone, but there are some questions that are worth thinking about as you consider your path.
Imagine a school in which every classroom you enter, you'll find curious, joyful students engaged in meaningful learning, and teachers who are responsive to the needs of all learners. All teachers are instructional and cultural leaders of their own classrooms, and students are safe and cared for in their classrooms. Sounds pretty great, right? Now imagine the same school, with the same high levels of rigor, engagement, and psychological safety, with the added element of teacher leadership that extends beyond the walls of individual classrooms. While this may seem like a subtle change, the potential impact is tremendous. In order to provide an excellent education for all students, we must develop excellent schools, not just strong individual classrooms. And in order to achieve this ambitious and important goal, school leaders must view and support all teachers to serve as true leaders within their school communities.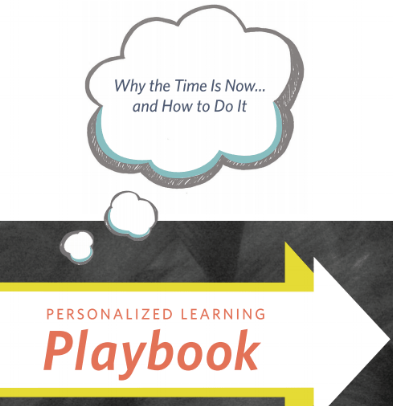 Interested in Personalized Learning But Don't Know Where to Start?
Subscribe to the blog to get your free copy of our Personalized Learning Playbook. A Playbook that will help you make the case for personalized learning, and reflect on the important elements to take in consideration.
In 2018, the Wall Street Journal reported that educators were leaving the teaching profession at the highest rate on record. As teacher protests about fair wages and adequate resources are on the climb, districts aim to staunch the flow of the teaching exodus. And while pay and resources are certainly worth prioritizing, a 2018 Gallup poll shared that teachers who left the classroom cited one overwhelming reason as to why: lack of career advancement. If you ask teachers about opportunities to forge a career path in education, most would share that you either stay in the classroom, or you move into administration. Yet, not everyone wants to be a school principal.
It's that time of year again. Wildflowers are blooming (at least here in Texas!). The sun is setting later. Winter jackets are being retired. The season is changing around us, just as it is in our schools. Around the country, test prep and standardized testing season are in full swing. End-of-year projects and field trips are approaching – and teacher appreciation week is coming up in the second week in May! As a teacher, it warmed my heart to receive kind words and tokens of appreciation from students, families, and administrators during teacher appreciation week, and I especially valued these thoughtful expressions as my emotional gas tank was running on empty during this stressful time of year. As a school leader, I organized massage chair appointments and sweet treats delivered to classrooms with the goal of making sure our teachers knew how much their work and contributions mattered to our school and community. While these gestures are important, thoughtful, and uplifting, one week of appreciation is simply not enough to propel the kind of lasting culture that truly highlights and amplifies the profound work of our teachers year-round.
As Education Elements continues to grow, I've been privy to the hiring process. I think it would be helpful to explain what exactly Design Principals do...after all, a job description can only tell so much. For those interested in joining our consulting team, this article serves as a brief introduction to the role. For clients, this is a peek into the work we do both on and off-site!
Planning and opening a new school is an exciting yet daunting task. As a leader of a brand new school, you are involved in every aspect of what the school day will look and feel like, and how it will be remembered. When you begin to design experiences that equip students with the skills to fulfill your school's mission and vision, consider what your strategic priorities should be to get your goals accomplished. Think about yourself as a 6th grader on the first day of school: what carefully planned academic and non-academic experiences would you need to best prepare you for the rest of middle school? What instructional skills would your teachers need to engage you and your peers in rigorous work throughout the day? What type of environment would allow you to grow and reflect on your progress in a meaningful way?