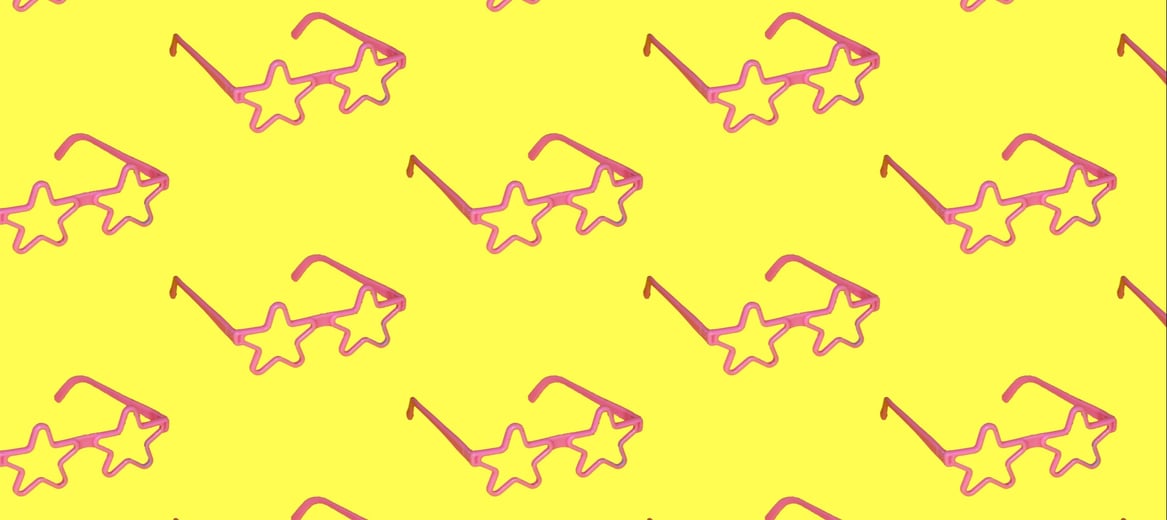 Subscribe
Solving Curricular Challenges: Driving Change through a Clear Vision
Curriculum Strategy & Adoption | Organizational Leadership & Change Management | Strategic Planning
In our work with districts across the country, we frequently hear questions about instructional materials–from how to select high quality programs that match their needs, to building processes that are inclusive of key stakeholders, to developing sustainable processes for regularly reviewing and refining curriculum, just to name a few. Oftentimes, we see teams wanting to jump directly into reviewing materials or selecting a new program. But where we have seen the most success is in beginning with a clear instructional vision and using that to drive future work with curriculum or academics.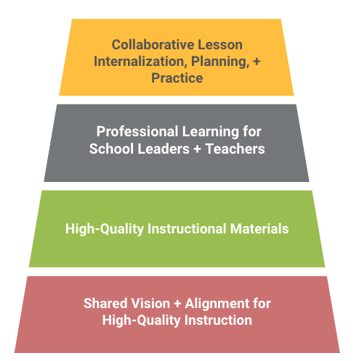 Focusing on the WHY - establishing a shared vision
Beginning with the instructional vision is key: "An instructional vision helps to communicate the expectations for teaching and learning and creates a common language for what effective instruction looks like in a classroom. The vision should guide the instructional materials adoption process, and serve as a critical lens through which all potential materials are viewed" (EdReports, "How to Articulate an Instructional Vision").
There may be an instructional vision that you already have, or one that you want to refine, or this could be an opportunity to start fresh. Begin by gathering relevant documents that outline your shared beliefs about instruction. Spend time reviewing these artifacts to see what still holds true and what needs to be adjusted to best match what you want to be true for students and teachers.
Guiding Questions:

What are your shared beliefs about the instructional experience for students and teachers?
What do you expect to see when you go to classrooms?
Are there nonnegotiables that must be a part of the instructional vision?
What local context is important to this vision of instruction?

Related Blogs:
Bringing together the WHO - forming the team
Alongside the need to clearly define the vision for instruction is another key priority: gathering the right team for this work. This is an opportunity to build on the expertise of teachers, leaders, and curriculum experts in your context. Additionally, this is a moment where you can bring in previously underrepresented voices to this process – for instance, having teachers at the table for key decisions throughout can create buy-in, enrich understandings, and create leadership opportunities for staff.
In order to create new opportunities and not replicate old patterns of engagement, consider beginning with a reflection using a stakeholder engagement matrix to identify those who are highly impacted by this process and those who have the highest level of influence. The way you engage each of these groups should be targeted to their needs and context; tailoring your approach to getting them to the table will be important for creating investment throughout the process.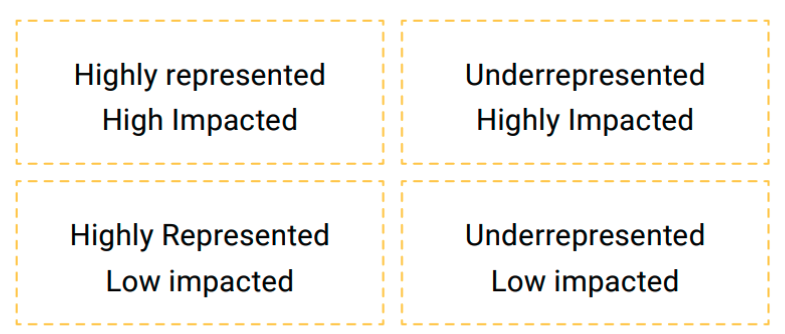 Stakeholder engagement matrix from Connect: Equitable Engagement Guide, Education Elements
Guiding Questions:
How do you get representation from key stakeholders who will be impacted by the work?
What is the value of participating in this process for stakeholders?
How will you communicate the about the process and the vision?
After you confirm your Instructional Vision with a team that includes key stakeholders, this is when you might turn your attention to the instructional materials phase. The work ahead includes identifying guardrails and look-fors based on your Instructional Vision, developing an understanding of your current state (what materials are you using now?), and naming any district or school specific constraints necessary to keep in mind, to name a few pieces.