Curriculum Strategy & Adoption | School Districts
A few years ago, Detroit Public Schools Community District (DPSCD) took a big bet on talent. Despite the city's legacy of divesting in educators, the District's new leaders believed that Detroit teachers have the power to chart a new future for the city's children. As part of an ambitious five-year plan, leaders sought to forge a new legacy for the District: one where teachers received the trust, compensation, professional development, and resources to achieve their highest aspirations, and to deliver the learning opportunities students need to succeed.
Classrooms | Curriculum Strategy & Adoption | Innovative Leadership | Personalized Learning | School Districts
Over the past year, we published 71 posts, and we'll probably manage to sneak in a couple more before the year is done! Here at the Bring Your Own Thoughts blog, it's always been our goal to create space for a wide range of perspectives and experiences so that as many educators as possible can find content which is useful and relatable to their own challenges and goals. We're proud to say that every year, the B.Y.O.T. blog includes diverse voices – from teachers to administrators to coaches and consultants – and this year was no different. With thought leaders from schools, districts, and education organizations across the country, as well as our own team, we talked about everything from PL to equity to curriculum to leadership to organizational practices and beyond, in the form of blog posts and multiple new blog series, podcast episodes, downloadable tools and resources, and comments from our readers! You can learn more about our work over the past year in our reflection on 2018, and today, we're sharing this year's most popular posts on the blog.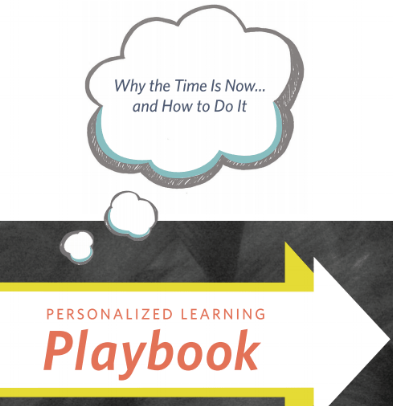 Interested in Personalized Learning But Don't Know Where to Start?
Subscribe to the blog to get your free copy of our Personalized Learning Playbook. A Playbook that will help you make the case for personalized learning, and reflect on the important elements to take in consideration.
Blended Learning | Curriculum Strategy & Adoption | Personalized Learning
As a learning organization, we are always improving and iterating School leaders often ask us: "How do I select the right content for my blended classroom?" To help answer this question, we've developed an infographic and guide to "Selecting Curriculum to Support Personalized Learning".
Classrooms | Competency-Based Education | Curriculum Strategy & Adoption | Personalized Learning | Teachers
In some ways, creating a successful personalized learning classroom is similar to winning a basketball game. To give us direction, my high school basketball coach consistently focused on three key areas, which he called the Big Three:
Curriculum Strategy & Adoption | Personalized Learning
Unexpected pairings are a common feature throughout history and culture; Dharma and Greg, Ruth Bader Ginsburg and Antonin Scalia, Frog and Toad, Martha Stewart and Snoop Dogg. Opposites attract when they have a shared purpose and their strengths complement one another. They can approach problems with a greater set of ideas and a broader range of perspectives. At first glance, personalized learning and high-quality curriculum may seem like opposing movements. However, they both aim to deepen student learning and approach that task with a variety of strategies that, when paired, are a powerful set of tools.
Curriculum Strategy & Adoption | School Districts
Sometimes I wish I were more like my mom. There are many reasons why, but many times it's because I wish I were a great cook. I used to watch her in the kitchen just glance at a picture of a dish from a cookbook, then create that without ever having to follow the step-by-step recipe that was next to the picture. It was like watching a magic show.