Classrooms | Leadership | Personalized Learning | School Districts
This summer I had the pleasure of working alongside my Education Elements colleagues to reflect on the incredible work our partner districts have accomplished in the past year. We had the opportunity to interview four districts, survey over 100 district leaders, and analyze thousands of data points. We also got to reflect on our own practices to see how we can improve.
Classrooms | School Districts | Teacher Retention
At Education Elements, we believe that sparking learning through creativity, reflection, and play is key to adult learning. So, let's start here by playing a game. The rules are simple. Read this list of things that real people have done and determine what these actions have in common. Ready? Go! Eat 65 M&Ms with chopsticks Travel 100 meters while seated and hopping on a large bouncy ball Complete 98 'around the world' soccer ball juggling tricks Clap your hands together 1,103 times (apparently this is a phenomenon known as speed clapping) Run nearly half a mile (if you are Usain Bolt) So, what do all of these impressive and/or bizarre human talents have in common? Each has been completed in 60 seconds or less. Before you reach for the M&Ms and chopsticks, there are important steps that you can take as a leader right now to impact teacher retention in 60 seconds or less. That's right – in under 1 minute today, you can impact teacher retention at your school.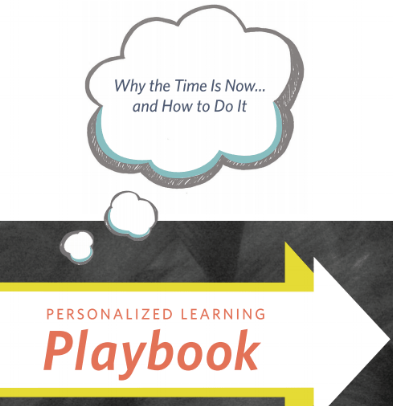 Interested in Personalized Learning But Don't Know Where to Start?
Subscribe to the blog to get your free copy of our Personalized Learning Playbook. A Playbook that will help you make the case for personalized learning, and reflect on the important elements to take in consideration.
Classrooms | Equity | Personalized Learning
I had a middle school science teacher once tell me she was surprised that I did well on a test because she assumed I was bad at science. She pointed to one of my classmates and said, "Her, I assume she'll do well, but you're just not very good at science." I remember being deeply hurt by that statement but not understanding why it hurt. Years later, I would try and remember that moment when I found myself making assumptions about which students I expected would do well on my tests. Why was I expecting some students to do well but not others? Past academic performance was one part, but I realized I had biases that were also impacting those assumptions.
Classrooms | Personalized Learning
Last year, a group of educators sat down with engineers from a well-known technology company. The first question the educators asked was what the engineers look for in potential candidates. Adaptability was their immediate response. The way these engineers code today is different than how they coded ten years ago and will be different ten years from now. Discrete knowledge isn't important because it will soon be outdated. The ability to learn and grow in an ever-changing world is what defines the very best candidates.
Classrooms | Personalized Learning
Take a look inside a high school physics teacher's classroom. In her fifth year, Ms. Valdez is popular with nearly all of her students. They appreciate her energy and sense of humor. Her ambition is to engender in her students the enthusiasm for and wonder about physics that motivated her to devote her career to teaching the subject. She has told you that she wants to teach her students to think like physicists. Unfortunately, your observation reveals that Ms. Valdez is far from her goal. Students will do the work, but except for a few particularly eager participants, most seem to be soldiering through the course hoping to get good enough grades to get into the college of their choice. With student engagement and communication at the center of Common Core and Next Generation Science Standards, you ask yourself, "How can Ms. Valdez take steps to get more of her students truly engaged in physics?"
Predicting the future of classroom technology trends empowers teachers and school districts to stay at the forefront of "the next big thing" in education. When you have an idea of which trends are sure to increase in popularity and functionality in the upcoming years, you can make informed decisions about the tools you should invest in and the trends that are likely to lose momentum.