Classrooms | Personalized Learning
If Adam Savage and Jamie Hyneman of Mythbusters looked deep into the world of personalized learning, they would quickly note that one of the biggest misconceptions schools and teachers have is that personalization equals technology. I was in high school prior to the advent of Facebook, the iPhone, the Chromebook, and the popularization of blogs (ironic, given the medium of this article), and to this day, my most personalized educational experiences happened as a high school senior. I was a student in an Advanced Placement U.S. Government class, and I would frequently meet my peers and teacher, Mr. Allan, after school at a Starbucks.
Classrooms | Personalized Learning
School was never hard for me, it just wasn't engaging enough for us millennials. It felt prehistoric and bland, so I often doodled and wrote poetry. I was an average student until sports became my incentive to achieve academically. This wasn't due to lack of knowledge, but moreso a lack of interest. However, things changed once I got to college. College was the first time I was in charge of my educational path. It was a time I felt connected to school and empowered as a learner.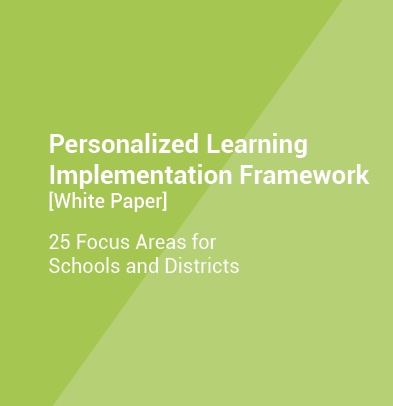 Considering Personalized Learning But Don't Know Where to Start?
Subscribe to the blog to get this resource to find out the essential areas to effectively launch, support and sustain personalized learning.
Classrooms | Personalized Learning | core four
When I was in high school I had a fantastic U.S. history teacher who demanded that we each complete an independent research paper on the 1960's at the end of the year. I got to choose the topic and knew that I'd have to develop a thesis, and I knew the defense of that thesis would have to be sourced from far more than textbooks - it had me scouring local libraries and whatever I could find on Webcrawler at the time (my friend told me about a site called Google that was pretty good but I thought the name was weird so I didn't use it for a while).
Classrooms | Personalized Learning | School Districts
Each year we receive hundreds of questions along the lines of, "Okay…so what does personalized learning actually look like?" We have a few answers to this question. One is that personalized learning always involves these core four elements - targeted instruction, data-driven decisions, flexible content, and student reflection and ownership. Check out our Core Four white paper for a more detailed description of these elements, as well as classroom examples.
I recall one distinct shocking moment as a new teacher. It was when a mentor teacher was onboarding me. She walked me to my classroom, opened a cabinet door rather proudly, showed me two shelves filled with textbooks and supplementary materials (worksheets, assessment guides, etc.) and said, "This is your 6th grade math curriculum."
Classrooms | Curriculum | Personalized Learning
The world of work is changing. As we integrate into a global community, we're tasked to work together to solve complex problems. Our solutions can be innovative and represent multiple perspectives if we know how to maximize group work. With so many benefits to a collaborative environment, why is it so challenging? Through my work as a classroom teacher and now as an education consultant, I have noticed a few common barriers to collaboration and identified ways that school district leaders and classroom teachers can overcome them.