Predicting the future of classroom technology trends empowers teachers and school districts to stay at the forefront of "the next big thing" in education. When you have an idea of which trends are sure to increase in popularity and functionality in the upcoming years, you can make informed decisions about the tools you should invest in and the trends that are likely to lose momentum.
During the last 100 years in the workforce, we needed farmers and factory workers; which is why our classrooms replicated the workforce, designed to have a teacher at the front of the room and desks in rows. Times have changed, and we must make shifts to the role of the teacher in order to prepare today's students for a different workforce. To succeed, students will need a different set of skills such as creativity, communication, critical thinking, and collaboration. They will also need to be able to adapt to change, be resilient, and to work effectively in a variety of environments – which is why we need to change the traditional role of teacher-as-expert standing and delivering content from the front of the room to a facilitator who designs customized approaches for students.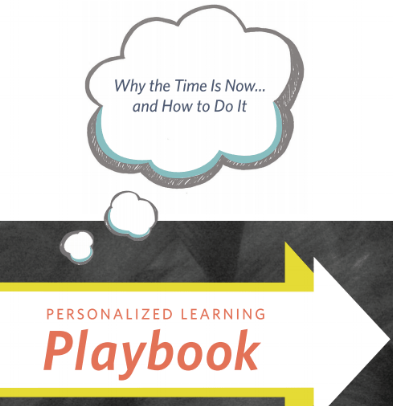 Interested in Personalized Learning But Don't Know Where to Start?
Subscribe to the blog to get your free copy of our Personalized Learning Playbook. A Playbook that will help you make the case for personalized learning, and reflect on the important elements to take in consideration.
Imagine a school in which every classroom you enter, you'll find curious, joyful students engaged in meaningful learning, and teachers who are responsive to the needs of all learners. All teachers are instructional and cultural leaders of their own classrooms, and students are safe and cared for in their classrooms. Sounds pretty great, right? Now imagine the same school, with the same high levels of rigor, engagement, and psychological safety, with the added element of teacher leadership that extends beyond the walls of individual classrooms. While this may seem like a subtle change, the potential impact is tremendous. In order to provide an excellent education for all students, we must develop excellent schools, not just strong individual classrooms. And in order to achieve this ambitious and important goal, school leaders must view and support all teachers to serve as true leaders within their school communities.
It's that time of year again. Wildflowers are blooming (at least here in Texas!). The sun is setting later. Winter jackets are being retired. The season is changing around us, just as it is in our schools. Around the country, test prep and standardized testing season are in full swing. End-of-year projects and field trips are approaching – and teacher appreciation week is coming up in the second week in May! As a teacher, it warmed my heart to receive kind words and tokens of appreciation from students, families, and administrators during teacher appreciation week, and I especially valued these thoughtful expressions as my emotional gas tank was running on empty during this stressful time of year. As a school leader, I organized massage chair appointments and sweet treats delivered to classrooms with the goal of making sure our teachers knew how much their work and contributions mattered to our school and community. While these gestures are important, thoughtful, and uplifting, one week of appreciation is simply not enough to propel the kind of lasting culture that truly highlights and amplifies the profound work of our teachers year-round.
Over the past several years, more and more schools across the U.S. have been implementing blended-learning strategies for their students. What is blended learning? It is a formal education program that must have three components: It must be part online, with students having some control over the time, place, path, or pace of their learning; it must occur, in part, in a brick-and-mortar location away from home; and the modalities along a student's learning path must be connected to provide an integrated learning experience.
There is a scene from the recent Star Trek movie reboot of a young alien named Spock at school. Spock and his classmates each stand in their own semi-circular pod, surrounded by screens while an automated "teacher" prompts them with questions. This eerie scene is what some fear will be the future of schooling. Students staring at screens, by themselves, while an artificial intelligence program delivers content and assessments. There is no doubt that digital programs, particularly adaptive ones, can be powerful tools in the classroom. However, that is all a digital program will ever be – a tool. A computer program can never replace a teacher. If anything, technology is making the role of teachers even more important and their job more complex.