Organizational Leadership & Change Management | Teams & Culture
Early in my career, when I was a middle school science teacher in Charlotte, North Carolina, I didn't think that the ritual of shaking my students' hands, fist bumping, or hugging my students as they entered our classroom meant anything. But now, I realize it's the opposite. The repetitive habit of checking in with your team means everything. It's a signal that your team is paying attention to the whole being of others, focusing on the little things, caring about the unity of the team, and so much more.
Education Elements | Equity | Organizational Leadership & Change Management
I was recently struck by a piece by Elena Aguilar, the "coach's coach," about acting in one's sphere of influence to create change. She writes that when looking at making change in the world, the best place to start is within one's sphere of influence. In other words, systemic change is not just a collective responsibility, it's also an individual responsibility.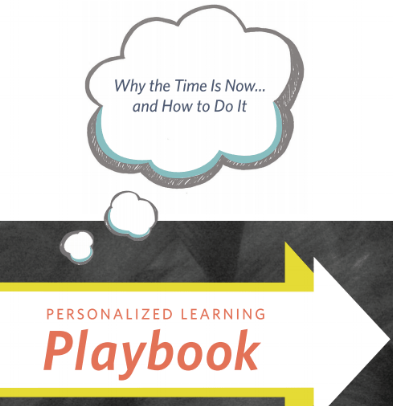 Interested in Personalized Learning But Don't Know Where to Start?
Subscribe to the blog to get your free copy of our Personalized Learning Playbook. A Playbook that will help you make the case for personalized learning, and reflect on the important elements to take in consideration.
Crisis Management | District Leadership | Organizational Leadership & Change Management | School Leadership | Teams & Culture
We have been reading, discussing, and reflecting quite a bit on the topic of leadership recently, and one of the products of this deep dive is a video series all about what leaders have learned this year. In his interview, Dr. Patrick Ward from Mayfield City Schools in Ohio mused on the fact that school leaders are trained to manage acute crises, but for the past year they have been managing a chronic crisis, with several acute crises emerging as the chronic crisis continued. We've been thinking about the phrase "chronic crisis" and drawing from some inspiring resources to consider the best way to rally your community through it. With the end of the school year in sight, now is the time to re-energize your teams so you can finish strong. To do that, you need to address three interrelated dimensions: Emotions, Mindsets, and Behaviors.
Education Elements | Organizational Leadership & Change Management | Teams & Culture
The pitter-patter of toes on our wooden floors, reminiscent of a spring rain pinging against a tin roof, grow louder as they approach our bedroom door. A moment of silence occupies the space as our door slowly opens. Seconds later, we hear a soft breath pressed against my wife's ear that says, "Good morning Mom, the sun is up." My youngest son stumbles across the bed to nestle his buttery brown cheek against mine and mutters to me, "I love you so much, dad". He has a way to melt his parents' hearts first thing in the morning (and avoid being told to go back to his bed). His older brother lumbers in, stiff legs resembling the Frankenstein impression he uses to terrorize his brother at Halloween. Thankfully, he "sleeps in" until 7:45 am most days before he graces us with his presence. His deliberate steps thump against the floor as he makes his way to my side of the bed with silence and morning grumpiness. His little brother is now aware his big brother is in the room and meets him with the same daily surprise as if this is the first time they have met. Unfortunately for the little guy, his exuberance is not met with the same zeal by my oldest son who can do nothing but let his lanky seven-year-old body collapse on my chest as he tries to find his way back to sleep.
District Leadership | Organizational Leadership & Change Management | School Leadership
The Education Elements team, like the rest of the world, has been adapting to life-during-COVID-19, striving to serve our partners and our mission with a set of unplanned-for constraints. In short, we have had to walk the walk – living by our own New School Rules and practicing our best New Team Habits as we have tried to find ways to connect as a team and with our partners through times that, on a good day, could be described as turbulent. We've experimented with how to best operate in a virtual world, and want to share with you five lessons that we've learned in adapting to life during COVID-19.
District Leadership | Organizational Leadership & Change Management | Strategic Planning | Teachers
When I was studying research methods as part of my doctoral degree, the running joke among our professors was that they would answer every question with "It depends." My favorite professor would answer an either/or question with "Yes." Should I use a survey to answer these research questions? Or would interviews be better? "Yes." So when school district leaders ask me if their data should drive their strategy, or if they should define their strategy (goals, priorities, actions) and then make decisions about data based on their strategy, my favorite answer is "Yes." Because honestly, it's both. Here's what I mean.