District Leadership | Innovative Leadership | School Leadership
"We all get caught up in the business of doing, and sometimes lose our place in the flow" (O Magazine, August 2011). Recently, we were spinning in circles trying to figure out a new process for an internal role we stepped into when Jason shared a way we might reframe our conversation. Shifting from trying to brainstorm as many solutions as possible or uncovering the perfect idea, we instead focused on the simple, yet powerful question: "What do we know for sure?"
District Leadership | Virtual Learning
Planning Amidst Change "Aim small, shoot small," is an old saying that many of us who occasionally enjoy a round of target practice embrace. But in our case, planning small for how to serve kids during this pandemic, simply was not going to work long-term. Our district Warren County is a rural county in Tennessee with a population of approximately 41,000 people. The entire district is considered economically disadvantaged and is served via the Community Eligibility Provision under the direction of the USDA.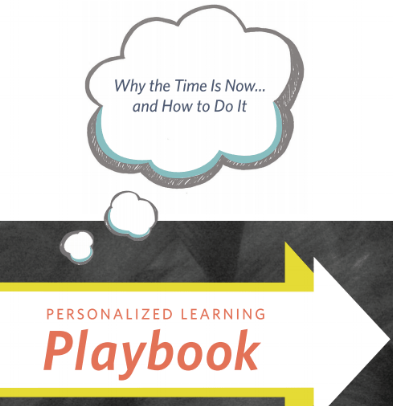 Interested in Personalized Learning But Don't Know Where to Start?
Subscribe to the blog to get your free copy of our Personalized Learning Playbook. A Playbook that will help you make the case for personalized learning, and reflect on the important elements to take in consideration.
District Leadership | Innovative Leadership
Leading While Grieving In The Wake of COVID-19 In the Fall of 2019, I lost my husband. After the dust settled from the initial crisis, I was inundated by having to make sense of what had happened, trying to figure out where I would live, and navigating what the future would look like for myself and my son. Overwhelmed by the sheer amount of stuff to process, my therapist gave me a frame to help me reflect on the experience and move forward: What's left? What's lost? What's possible?
Crisis Management | District Leadership | Organizational Leadership & Change Management | School Leadership
If you are anything like me, you are at a loss for how we are suddenly in the last week of July and barreling straight towards the new school year. After a spring spent in crisis triage mode and a tumultuous summer filled with political and social unrest, there haven't been many opportunities to recharge our batteries and reflect in the ways that we may have in past years. If you are feeling tired, you are not alone. If you are feeling afraid and overwhelmed, you are in good company.
District Leadership | Return Planning | School Leadership | Strategic Planning
"There has to be a better way!" I remember a character on a movie or TV show I watched as a youngster constantly repeating this phrase and it's been ingrained in my mind ever since. There's a chance I'm making this up and such a character with this common refrain does not in fact exist, but go with me for a second. Searching for a better way to do things has fueled my work and my passion for design — not "capital D design" but design in a more general sense. I've always loved making things, but it's not the final product that gets me the most excited, it's the pursuit to get there. When I think about the word "creation," I prefer the verb to the noun.
District Leadership | Return Planning | School Leadership | Strategic Planning
A bank teller, Jeff Bezos, and a Starbucks barista walk into a...school district reopening planning session. No, really. These may seem like disconnected personas, but in their book, Primed to Perform, authors Neel Doshi and Lindsey McGregor use all three real-life stories to explain how organizations should prepare their employees in planning a response to uncommon and changing situations. Each story, from the barista handling the inconvenience of running out of ice for a guest's iced coffee order to the bank teller keeping their calm in the middle of a bank robbery to Bezos dropping everything to work with a team responding to a customer's complaint in the early years of Amazon, illustrates a lesson that school and district leaders are facing now when it comes to reopening planning – the need for adaptability in an environment where the norm has been disrupted. There has been no greater global disruption in the 21st century than the one caused by the coronavirus. With school districts facing the long-term effects of the pandemic closures and planning for a reopening in the fall, the need to be adaptive becomes even greater.