CBE | Leaders | Personalized Learning | School Districts
This time of year is full of hope. Kids are excited for school and hoping they will get the best teachers and be with their best friends. Teachers are excited and hoping that this year their students will achieve great things and be more engaged than the year before. And leaders are hoping that the hard work that they are putting in against their strategic plans and initiatives will pay off with successful students and satisfied staff.
CBE | Personalized Learning | School Districts
When I'm on the road working with school districts across the country on everything from personalized learning to competency-based education (CBE), I often hear the same question: "Well how do other districts approach these issues?" Thankfully, this year Education Elements partnered with Digital Promise, a national non-profit authorized by Congress, to document and share lessons learned on CBE from school districts across the country. We can now easily answer that question by sharing our new toolkit and saying - "this is what other districts did."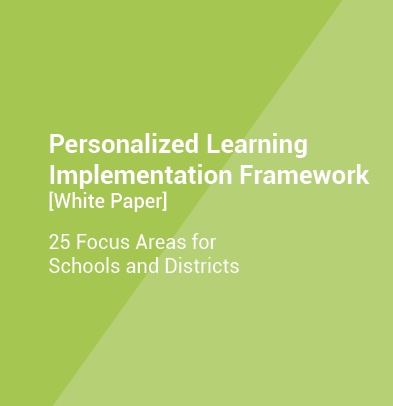 Considering Personalized Learning But Don't Know Where to Start?
Subscribe to the blog to get this resource to find out the essential areas to effectively launch, support and sustain personalized learning.
Blended Learning | CBE | Leaders | Personalized Learning | School Districts
Over the past several years, our organizations have been deeply involved in the national movement towards blended and personalized learning, both as implementation experts and catalysts for innovation. We have engaged with hundreds of districts between us and have witnessed a broad range of schools working to shift instructional practice to be more student-centered, data-driven, and mastery-based. What is the surprising "secret sauce" of their success? Communications.
The biggest frustration I hear from teachers who are implementing competency-based education (CBE, also known as mastery-based education or learning) is that students' motivation drops considerably when they realize they can retake tests until they get a passing score. It seems, much to the chagrin of the teachers, some students no longer take assessments seriously. How do you ensure your transition to a competency-based classroom results in an emphasis on learning and re-learning rather than testing and retesting?
Blended Learning | CBE | Education Elements | Personalized Learning
Over the course of 2016 we published more than 70 blog posts on our weekly blog, sharing ideas from our team, our districts, and thought leaders from across the country. We are amazed and inspired by all the passion, leadership and innovation in the personalized learning space reflected in the Bring Your Own Thoughts (BYOT) blog. While we can't say enough good things about every blog that's been shared, here are the top 10 most popular posts from the past year:
CBE | Classrooms | Personalized Learning
Time and again we have seen that assumptions or misconceptions can get in the way of progress and success. Personalized learning is no exception; misconceptions about it often lead educators away from strategies and practices that could help students succeed. Sometimes, misconceptions represent more than small gaps in knowledge--they can be ingrained into industry-wide best practices, with disastrous results. For example, for centuries, doctors believed that mothers would die during childbirth due to patient-specific issues such as inflammation, pain, or other factors. However, in 1847, Ignaz Semmelweiz, a Hungarian physician, hypothesized that