As we continue to progress through the 21st century we are compelled to ask whether current models of schooling are well designed for the world beyond classroom walls. In particular, it's worth reflecting on 3 essential questions in school model design, a term we use to refer to how schools are organized to deliver instruction to students.
Classrooms | Competency-Based Education | Leaders | Personalized Learning | School Districts
I've mentioned to a few people that I'm having my education mid-life crisis. After almost 20 years in education, I've seen various initiatives, software solutions, and programs come and go. Hundreds of millions are spent each year trying to move the needle, yet we continue to get similar results. It isn't without the sweat, blood, and tears of all the educators in the country that work so hard.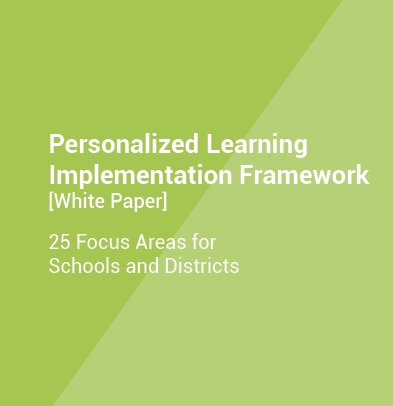 Considering Personalized Learning But Don't Know Where to Start?
Subscribe to the blog to get this resource to find out the essential areas to effectively launch, support and sustain personalized learning.
Lately I have been meditating. It is only somewhat by choice – we are doing a company-wide meditation challenge and I am usually up for competitions, especially when they get me out of my comfort zone. Within the course of a few days of the challenge I discovered that just sitting and breathing doesn't work for me – I have one of those brains that doesn't turn off. It is not always full of important things, thoughts range from how to support a certain school to what I should get at the grocery store to if it's going to be hot or cold tomorrow but you get the point, focus can be a challenge. So I started to do themed meditations and have recently been enjoying seven days of focusing on gratitude. Because while December may be the season of giving, November is the season of being grateful.
Leaders | Personalized Learning
One of the worst implementation mistakes school leaders make when they buy devices for their classrooms is allowing even one teacher to feel obsolete. Computers do not substitute for good teachers.
Ask any high school teacher or college professor about her biggest impediment in the classroom. The answers you hear will share a common theme. In the age of smart-everythings—from phones, to watches, to tablets, to connected specialty devices—the ubiquitous interloper and often unwelcome guest in any modern classroom has a screen.
Leaders | Personalized Learning
It is believed that if you build something, people will come to use it. This is exactly what has transpired with the creation of cross district collaboration for professional development and learning, a venture developed by the Dundee Central School District.