Leaders | Personalized Learning | School Districts
In 2015 we published the first edition of our Personalized Learning Implementation Framework (aka PL Framework) based on lessons learned from working with schools and districts over the previous five years. At that time I shared how the PL Implementation Framework was inspired by my Grandma Rose's love of bingo and the idea that, much like on a bingo board, there are many ways to "win" on the PL Framework. Since then, the framework has been used in hundreds of schools and districts around the country, downloaded more than 2,000 times, and leveraged as an invaluable tool to help teams articulate their strengths and areas of need when it comes to designing, launching, and scaling personalized learning.
Leaders | Personalized Learning
If you're like us, as you wind down another hectic school year, you're imagining yourself on a beach with a few good reads. But what books will make the cut? Education Elements put together a few of our favorites on personalized and blended learning just for you. You'll start the 2017-18 school year refreshed and full of great ideas to continue to move forward with personalized learning at your school and across your district.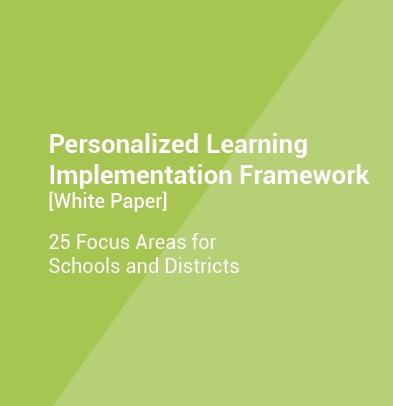 Considering Personalized Learning But Don't Know Where to Start?
Subscribe to the blog to get this resource to find out the essential areas to effectively launch, support and sustain personalized learning.
Aspiring superintendents face a difficult but worthwhile challenge to lead a school district. All school districts, for better or worse, are the subject to immeasurable scrutiny from internal and external stakeholders. More times than not the scrutiny comes in different forms and through various outlets- editorials, social media, TV, etc. It is important for any aspiring superintendent to remain grounded with these circumstances in mind. We all agree that serving as a superintendent is a tremendous honor and privilege. The following "tips" are simply designed to supplement your preparation for the superintendency…
Leaders | Personalized Learning
In the middle of January, with little daylight and plenty of snow, we began the process of bringing together the Fairbanks North Star Borough School District community to learn about personalized learning. With a week of workshops, board sessions and community nights behind us, we realized that over the course of a few days we significantly moved forward work that would impact our 14,000 students for the rest of their lives.
Leaders | Personalized Learning | School Districts
Have you ever stopped and looked around your school, your classroom, and asked yourself: "How did this all happen? Where did it all begin? How did we get to this point? When did the transformation occur?" In year one of being a personalized learning school, I have had many reflective moments like this at Trailside Middle School. I look back on what our classrooms looked like, sounded like, and felt like a few years ago - and the transformation is amazing. Students engage in selecting their pathway for learning, collaborating, questioning, and self-assessing all day long. Teachers have assumed the role of facilitator and students are owners of their learning.
Classrooms | Leaders | Personalized Learning | School Districts
When I reflect on how far we have come since last summer I am impressed by how much hard work everyone has done to begin to make personalized learning a reality. Our district PL council engaged in serious debate over our vision of PL, our roll out plan (cohort vs. all-in), and our areas of priority and focus. Our PL building leadership team collaborated on expectations and commitments, agreed on base model designs for PL in our classrooms, turn-key trained the core four, and started the process of developing a formal support structure for teachers transitioning to PL in their classrooms.