Do you ever have trouble falling asleep because you can't stop thinking about what you need to accomplish the next day? Maybe you're one of those people that has your best ideas for solving a problem while washing your hair? Have you found yourself half-listening to a loved one while saying, "Let me just finish one more email…"? What do all of these experiences have in common? They are familiar territory for professionals who never truly stop working during their waking hours, which is especially true of passionate and committed educators.
As an education consulting organization we work with hundreds of schools and districts to improve the way teaching, learning, work, and collaboration happen. In projects with clients, we rarely ask leaders to try something we haven't tried ourselves. In fact, when Anthony Kim and Alexis Gonzales Black published The NEW School Rules: 6 Vital Practices for Thriving and Responsive Schools, many of the lessons included in the book were drawn from our own teams at Education Elements. We are constantly seeking new learnings and ways of improving the way work happens at our company.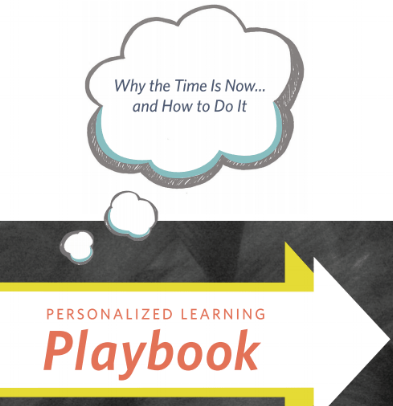 Interested in Personalized Learning But Don't Know Where to Start?
Subscribe to the blog to get your free copy of our Personalized Learning Playbook. A Playbook that will help you make the case for personalized learning, and reflect on the important elements to take in consideration.
Leaders | Personalized Learning | School Districts
Everyone is an innovator Within the last two decades, the barrier to entry to be innovative has dramatically decreased. Today, people can have multiple careers and innovations within a lifetime. Innovation has become so frequent that it's part of everyone's vernacular and a topic in many industries including healthcare, auto manufacturing, and education. Who doesn't want to be innovative? It's cool to be considered innovative and disruptive. Clayton Christensen wrote several best selling books on innovation and Clayton and Michael Horn put out a seminal book which in many ways shaped changes we have seen in education, "Disrupting Class: How Disruptive Innovation Will Change the Way the World Learns". This book made innovation cool even in education. Inspired by the practices of responsive organizations in other industries, Alexis Gonzales-Black and I co-wrote the book, "The NEW School Rules: 6 Vital Practices for Thriving and Responsive Schools", to help schools and districts become more innovative and agile.
Ideas come to me at very random times: in a dream, on a walk, or during my commute. I think "Wow, this is it...this is the idea that will land me a TED Talk!" Following these inspirations, I usually text my colleague and warn her: "This is going to be big! We should carve out a whole hour to talk about it." Within the first five minutes of our conversation, she has completely blown up my idea in all of the best ways. She preserves the spirit of the inspiration while somehow making it better. We then conference in another colleague who amps up our idea by helping us consider new perspectives. He encourages us to share it with our team to accelerate our learning. What we end up moving forward with is always beyond what I alone could have imagined!
Teachers love their jobs. That statement may strike you as untrue, simplistic, or ill-informed, given the current state of the teaching profession, in which many teachers will leave the classroom in the first five years, and teacher retention is a crisis on the horizon for schools, districts, and state boards of education. I stand by it, though. In my fifteen years in education, working in and with schools and teachers, I have had many conversations with teachers about their job satisfaction. On balance, teachers I've encountered love their students. They talk about "their" kids with pride, concern, and (sometimes) exasperation. They seek professional development to improve their abilities to reach students, and they sacrifice their personal time (and often money) to ensure their students get what they need to succeed in school.
Classrooms | Leaders | Personalized Learning | School Districts
September is in full swing, and it's the time of year that we start heading back into the classroom - some of us are already in school, and some of us are still counting down our last few precious days of summer vacation. Setting the stage for a new school year is crucial, but it can also be a complex undertaking. So we decided to round up some resources to help you start the school year off right! There's something here for everyone: whether you're a teacher, a school leader, a district administrator, or a learning coach; if you're exploring what personalized learning, competency-based education, or innovation in the classroom; if you are working on developing leadership, professional development, or strengthening communication and collaboration; and whether you need an overarching view of the education journey or help with one piece of the puzzle.