Leaders | Personalized Learning | School Districts
Years ago, Anthony Kim, CEO of Education Elements, remarked to me that "Blended learning accelerates a good culture and makes it great, but it will also accelerate a bad culture and make it terrible."
Leaders | Personalized Learning | School Districts
At Education Elements we are incredibly fortunate to work with so many exceptional, passionate, and extraordinarily talented people, including teachers, coaches, principals, and district leaders. These amazing people are going above and beyond to transform education, and are helping to write the future through the success of their students.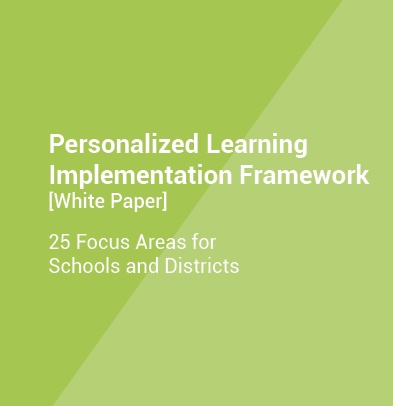 Considering Personalized Learning But Don't Know Where to Start?
Subscribe to the blog to get this resource to find out the essential areas to effectively launch, support and sustain personalized learning.
Leaders | Personalized Learning | School Districts
On Friday night America's top TV networks put aside the battle for ratings, when all four aired the XQ Super School Live special to address the question: What needs to change with American high schools? Cameos from an all-star lineup of celebrities, and cover songs from our favorite high school movies were an added bonus to the program's key message. Four of the 18 (and counting) XQ Super Schools were featured and given the opportunity to share their powerful stories on what happens when we ask the question, "What if?"
CBE | Leaders | Personalized Learning | School Districts
This time of year is full of hope. Kids are excited for school and hoping they will get the best teachers and be with their best friends. Teachers are excited and hoping that this year their students will achieve great things and be more engaged than the year before. And leaders are hoping that the hard work that they are putting in against their strategic plans and initiatives will pay off with successful students and satisfied staff.
Leaders | Personalized Learning | School Districts
Imagine you find yourself in an elevator for three minutes with Facebook founder Mark Zuckerberg and his wife Priscilla Chan, who together are giving up to $1 billion in each of the next three years to "advance human potential and promote equality." You can't believe your luck! You've been dreaming for years about a more personalized, blended model for your school, and now you actually have the chance to pitch the idea to the founders of the Chan Zuckerberg Initiative. What would you say in the next three minutes before that elevator door slides open?
Leaders | Personalized Learning | School Districts
In 2017, Corcoran High School implemented a new district alternate assessment, also known as a competency test. This test was required for any student who did not score Standards Met or Standards Exceeded on the California Assessment of Student Performance and Progress. Students who could not pass this assessment would be prohibited from participating in the graduation ceremony.