Teachers love their jobs. That statement may strike you as untrue, simplistic, or ill-informed, given the current state of the teaching profession, in which many teachers will leave the classroom in the first five years, and teacher retention is a crisis on the horizon for schools, districts, and state boards of education. I stand by it, though. In my fifteen years in education, working in and with schools and teachers, I have had many conversations with teachers about their job satisfaction. On balance, teachers I've encountered love their students. They talk about "their" kids with pride, concern, and (sometimes) exasperation. They seek professional development to improve their abilities to reach students, and they sacrifice their personal time (and often money) to ensure their students get what they need to succeed in school.
Classrooms | Leaders | Personalized Learning | School Districts
September is in full swing, and it's the time of year that we start heading back into the classroom - some of us are already in school, and some of us are still counting down our last few precious days of summer vacation. Setting the stage for a new school year is crucial, but it can also be a complex undertaking. So we decided to round up some resources to help you start the school year off right! There's something here for everyone: whether you're a teacher, a school leader, a district administrator, or a learning coach; if you're exploring what personalized learning, competency-based education, or innovation in the classroom; if you are working on developing leadership, professional development, or strengthening communication and collaboration; and whether you need an overarching view of the education journey or help with one piece of the puzzle.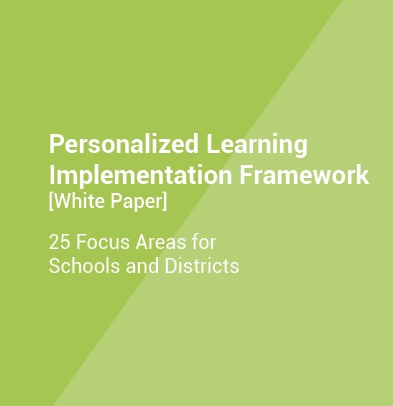 Considering Personalized Learning But Don't Know Where to Start?
Subscribe to the blog to get this resource to find out the essential areas to effectively launch, support and sustain personalized learning.
Leaders | Personalized Learning | School Districts
This week, we released our 2017-2018 Annual Report. The report marks eight years since Education Elements was founded, and our fifth such report. In the report, we highlight the incredible work of our district partners and share how our work is evolving to continue to build and support dynamic school systems that meet the needs of every learner, today and tomorrow.
The average person will work more than 90,000 hours in a lifetime. For most of us, work fills the majority of our waking hours, and yet Gallup reports that seventy percent of U.S. employees are disengaged at work. The cost of employee disengagement and turnover is enormous, for both individuals and organizations. This is especially true in the field of education. Tremendous effort and resources have been invested in improving K-12 employee engagement and retention, with minimal impact. The majority of district leaders I work with believe teacher retention is the greatest challenge they face.
Let's just be clear: there is a very short honeymoon period for a new superintendent. From day one, people have expectations of you as the new superintendent. They want you to be exactly the same or completely different than your predecessor. They have their hopes pinned on you bringing new ideas or have their fingers crossed that you won't. They are wondering how long you will stay and what you will do during your tenure. They both expect you to know everything about the district right away, and yet know that you don't and are frustrated by it. They have so many things they want to say to you, and yet voice few of them, as if you can read minds.
Through my career, I have had the opportunity to work with a number of exceptional leaders in the private sector, including Amazon CEO Jeff Bezos, and in the public sector, including Ted Mitchell, Former CEO of Newschools Venture Fund. My father, Leonard, was a dedicated, hardworking city manager and county administrator.