Sometimes I wish I were more like my mom. There are many reasons why, but many times it's because I wish I were a great cook. I used to watch her in the kitchen just glance at a picture of a dish from a cookbook, then create that without ever having to follow the step-by-step recipe that was next to the picture. It was like watching a magic show.
Curriculum | Personalized Learning | School Leaders
Yes, I said it in my title. Life-changing. Am I exaggerating? Maybe a little. But as a former teacher, I met too many students who "hated (insert any subject here)" because they thought their textbook, worksheet, or homework material was boring, too difficult, or did not make sense to them. I also met too many fellow teachers who thought their curriculum was simply their textbooks (which they often didn't like), and no more. For these students and teachers, learning and teaching was not a fun experience because their "curriculum" was horrible. Think about turning these people around and instilling joy in them through the right curriculum. Oh the things they will learn and teach! Isn't that a life-changing possibility?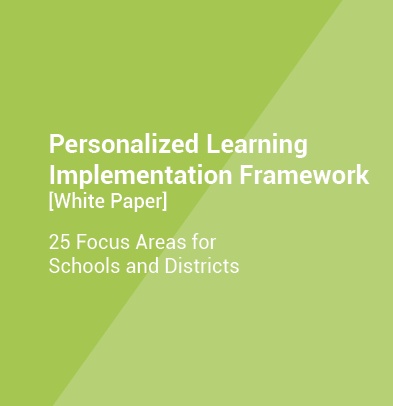 Considering Personalized Learning But Don't Know Where to Start?
Subscribe to the blog to get this resource to find out the essential areas to effectively launch, support and sustain personalized learning.
I recall one distinct shocking moment as a new teacher. It was when a mentor teacher was onboarding me. She walked me to my classroom, opened a cabinet door rather proudly, showed me two shelves filled with textbooks and supplementary materials (worksheets, assessment guides, etc.) and said, "This is your 6th grade math curriculum."
Curriculum | Personalized Learning | School Districts
Just like online dating or buying a new car, choosing a new digital content provider can often feel overwhelming, complicated, and like a shot in the dark. Thankfully, Education Elements created a 9 step process, and compiled tips and tricks from district leaders across the country in our new curriculum white paper: "Phase Three: Review, Demo, and Select Digital Content and Tools." You can also get Phase 1 and Phase 2 if you want to catch up first. But here are some highlights from Phase 3:
Classrooms | Curriculum | Personalized Learning
The world of work is changing. As we integrate into a global community, we're tasked to work together to solve complex problems. Our solutions can be innovative and represent multiple perspectives if we know how to maximize group work. With so many benefits to a collaborative environment, why is it so challenging? Through my work as a classroom teacher and now as an education consultant, I have noticed a few common barriers to collaboration and identified ways that school district leaders and classroom teachers can overcome them.
Curriculum | Personalized Learning
If you're an educator, my guess is that at some point in your career you've been to a workshop focusing on unpacking standards. Unpacking a standard refers to the practice of reviewing what is often a long, clause-ridden statement and breaking it down into component parts to identify what students should know and be able to do.