Education Elements | Professional Development
There's a line from You've Got Mail (yes, I've seen it hundreds of times) where Tom Hanks says, "Don't you just love New York in the Fall? It makes me want to buy school supplies. I would send you a bouquet of newly sharpened pencils if I knew your name and address." If you're an educator, September makes you think of new backpacks, colorful pens, clean lunch boxes. If you're an instructional coach, principal, or most central office staff members, July and August probably make you think of Back to School Professional Development and New Teacher Training. A little less sparkly than Lisa Frank, but alas, here we are.
Education Elements | Equity | Teams & Culture
In my 22 years in the K-12 education profession, I have worked for, and led organizations that run the gamut - from those that are very process and compliance driven, to those that multiply and engage creativity. And yet, after experiencing, what some consider the ultimate freedom of being my own boss, I am excitedly joining the Education Elements team.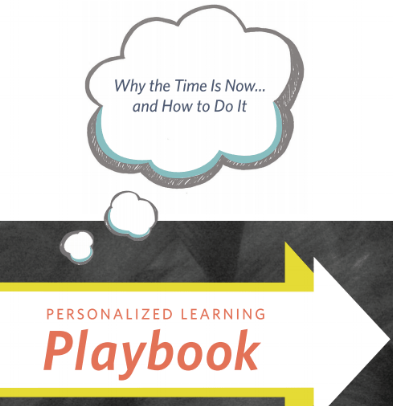 Interested in Personalized Learning But Don't Know Where to Start?
Subscribe to the blog to get your free copy of our Personalized Learning Playbook. A Playbook that will help you make the case for personalized learning, and reflect on the important elements to take in consideration.
Education Elements | Equity | Organizational Leadership & Change Management
I was recently struck by a piece by Elena Aguilar, the "coach's coach," about acting in one's sphere of influence to create change. She writes that when looking at making change in the world, the best place to start is within one's sphere of influence. In other words, systemic change is not just a collective responsibility, it's also an individual responsibility.
Whoa. 2020. I became a mom this year. My daughter Emily Ruth was born on April 1, 2020. My husband and I knew immediately that she was going to be a mix of wicked and wise, given the birthday she chose: April Fools Day - so perfect for 2020. She was born 2 weeks into the first COVID lockdown, and 4 days after my labor had started (she was in no rush to enter into these circumstances). So I spent all of April, May, and June hunkered down in a bubble of love and sleeplessness with my newborn, while the world outside was descending into the scariness and unknown of COVID.
Education Elements | Organizational Leadership & Change Management | Teams & Culture
The pitter-patter of toes on our wooden floors, reminiscent of a spring rain pinging against a tin roof, grow louder as they approach our bedroom door. A moment of silence occupies the space as our door slowly opens. Seconds later, we hear a soft breath pressed against my wife's ear that says, "Good morning Mom, the sun is up." My youngest son stumbles across the bed to nestle his buttery brown cheek against mine and mutters to me, "I love you so much, dad". He has a way to melt his parents' hearts first thing in the morning (and avoid being told to go back to his bed). His older brother lumbers in, stiff legs resembling the Frankenstein impression he uses to terrorize his brother at Halloween. Thankfully, he "sleeps in" until 7:45 am most days before he graces us with his presence. His deliberate steps thump against the floor as he makes his way to my side of the bed with silence and morning grumpiness. His little brother is now aware his big brother is in the room and meets him with the same daily surprise as if this is the first time they have met. Unfortunately for the little guy, his exuberance is not met with the same zeal by my oldest son who can do nothing but let his lanky seven-year-old body collapse on my chest as he tries to find his way back to sleep.
Education Elements | Innovative Leadership | School Leadership | Teams & Culture
There has been a lot of research done on what makes teams great. Google committed an entire research team to answering the question: What makes a team effective? Daniel Coyle explored the ins and outs of some of the world's most successful teams in his book The Culture Code. And, leaders right here at Education Elements have compiled some of their learnings in The New Team Habits. I have found – ever since I started thinking about how teams work and what makes certain teams great – that I haven't been able to stop thinking about this question; even when I was 7,620 miles from home, 5,895 meters (or 19,341 feet) above sea level, on the trip of a lifetime.