New School Design | School Leadership | Virtual Learning
To support the planning of opening a virtual school, leaders can be overwhelmed with the volume of questions to consider — logistics, strategy, and purpose to name a few. To guide the planning process, we offer the following table with phases of implementation with related questions. While the guide is set up sequentially, each phase may trigger a deeper articulation of previous phases to refine or reimagine the virtual school.
District Leadership | School Leadership | Virtual Learning
School schedules and use of time are one of the few remaining relics of the industrialized learning model. Even when most schools moved to virtual learning in March 2020, many organizations replicated the existing bell schedule and instructed teachers to move their onsite instruction online. The school leaders believed it would hold teachers and students more accountable and create more predictability to help families plan their own schedules. But pre-pandemic, some schools began to look across the systems that were set up and consider more flexible and agile options that were more in tune with designing learning that is more compelling, personalized, and appropriately challenging for their students.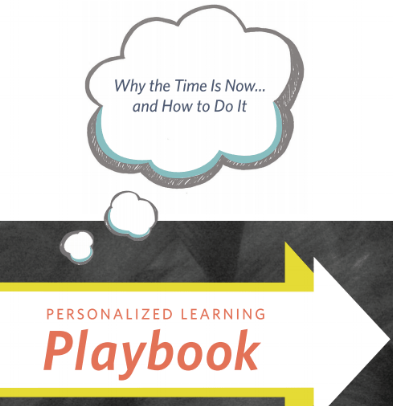 Interested in Personalized Learning But Don't Know Where to Start?
Subscribe to the blog to get your free copy of our Personalized Learning Playbook. A Playbook that will help you make the case for personalized learning, and reflect on the important elements to take in consideration.
Crisis Management | School Leadership | Virtual Learning
Learning loss is the baby elephant in the room. It's an issue that is currently small enough to briefly acknowledge, deprioritize, or ignore completely. Yet this elephant will continue to grow as the size and scale of learning loss due to the pandemic is better understood. The vaccine has returned a sense of hope that life will get back to "normal." But educators must recognize that a return to "normal" will only reinforce the widening opportunity gap and systems that support institutionalized racism. Instead, structural changes will need to be made if learning loss is to truly be addressed. This conversation is critical as schools transition from virtual learning to in-person (and maybe back) this year, and begin planning for the summer and 2021-22 school year.
Crisis Management | District Leadership | School Leadership | Virtual Learning
From North Carolina to California to Alaska, public schools around the United States are planning to preserve a virtual school option for students after the pandemic is over. The constant drumbeat of getting all students back to school as quickly as possible does not tell the whole story of learning in the pandemic. Singing the praises of virtual learning was not something many students, educators, and families would see themselves humming along to twelve months ago. But from the early and draining days, there has been a rhythm and stability that has flourished in expected and unexpected ways.
District Leadership | Innovative Leadership | Personalized Learning | School Leadership | Teams & Culture | Virtual Learning
I got started with this tradition of predictions in 2010 after reading Disrupting Class, a book by Clayton Christensen and Michael Horn. In their book, they predicted that by 2019, 50% of all high school courses will be online in some blended learning model. That was a pretty bold prediction in 2008 when the book was published, but their model for cycles of innovation seems pretty accurate now that we have hindsight. Even as of May 2019, there were people pointing out the failure of this prediction. Now at the end of 2020, I'd estimate that +95% of all K-12 students took some form of an online class, and most likely this trend will continue into 2021.
District Leadership | Remote Work | School Leadership | Teachers | Virtual Learning
This Fall, Education Elements hosted our first ever virtual Distance Learning Road Race. The rationale was simple - we wanted to create a space to promote mental and physical wellness, model best practices for virtual community building, and give back to our partners and community. Admittedly, the 'race' was more of a running challenge, encouraging participants to commit to running a final distance of their choosing and engage with us over six weeks of challenges between September to November.