School Leadership | Teachers | Virtual Learning
In February, my husband and I bought our first home in Pasadena, Maryland, right on a creek that leads into the Chesapeake Bay. What we've learned since moving in is that a good number of our neighbors are sailing fanatics, which has led to my husband trying to convince me to buy a small sailboat (a 40-50-year-old Sunfish to be exact). My response was that we needed to build up at least a few skills and knowledge about sailing before making a purchase because the few classes I had taken in the past on a small lake were not going to cut it in the Chesapeake Bay.
District Leadership | Innovative Leadership | School Leadership
"We all get caught up in the business of doing, and sometimes lose our place in the flow" (O Magazine, August 2011). Recently, we were spinning in circles trying to figure out a new process for an internal role we stepped into when Jason shared a way we might reframe our conversation. Shifting from trying to brainstorm as many solutions as possible or uncovering the perfect idea, we instead focused on the simple, yet powerful question: "What do we know for sure?"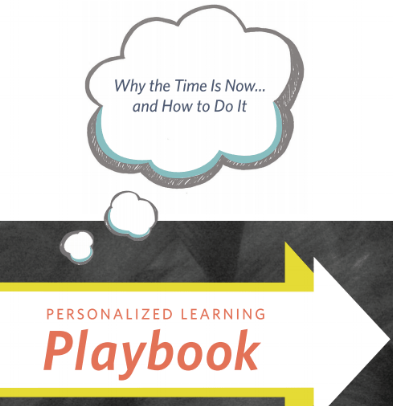 Interested in Personalized Learning But Don't Know Where to Start?
Subscribe to the blog to get your free copy of our Personalized Learning Playbook. A Playbook that will help you make the case for personalized learning, and reflect on the important elements to take in consideration.
Classrooms | School Leadership | Virtual Learning
There is no question that our lives have been flipped around over the last few months. For many of us, we are adjusting to redefining our workspace and even our roles. Our work has changed and so has how we interact. One role that has significantly changed is the role of the parent or guardian of school-aged children. We know that active adults make a huge difference in a child's success in school but the level to which this is needed has been redefined. While teachers navigate a new normal, the "job" they now must lean on guardians for is to assist in supporting students. This upcoming school year is going to require a level of flexibility from all parties involved and we want to support the parents and guardians as they collaboratively navigate the year with their child's educators.
Classrooms | School Leadership | Virtual Learning
Regardless of where students are physically learning this school year, educators must orient their instruction towards distance learning. An orientation towards distance learning allows for continuity of meaningful learning experiences despite changing circumstances or disruptions to the school calendar, whether it be an isolated power outage or a global pandemic. It is important to note that highly-effective distance learning doesn't just happen with the flip of a switch. It requires thoughtful, intentional design decisions fueled by a desire to empower students to drive their own learning. Ultimately, distance learning requires a student-centered approach to ensure more impactful and equitable learning outcomes for all students.
Blended Learning | Classrooms | Return Planning | School Leadership | Virtual Learning
Through most of the spring and summer, we at Education Elements have intensely focused on helping school districts prepare for returning to school. As we've gotten closer to the start of school, and school leaders return to prepare their campuses, one of the most common questions we get is how to think about instructional staff assignments when some students will be learning remotely and some will be onsite. To explore this topic further, we convened a group of school and district leaders in Texas to participate in a design sprint. Here's what we learned:
Return Planning | School Leadership | Teachers
"To admit uncertainty is to admit to weakness, to powerlessness, and to believe in yourself despite both. It is a frailty, but in this frailty there is a strength: the conviction to live in your own mind, and not in someone else's." -Tara Westover, Educated How do you set a vision when the only certainty is uncertainty? How can you lead a staff team or a cohort of students without knowing where you are headed? The return to school this fall presents a chasm of uncertainty for teachers, students, families, and administrators. This can be perceived as a loss of control over our schools and classrooms - and contribute to anxiety and fear. While I don't have any answers to the and can't assure you that this year will go fine and dandy, I can provide two exercises to help you envision and mentally prepare for the upcoming school year.