District Leadership | Organizational Leadership & Change Management | School Leadership
The Education Elements team, like the rest of the world, has been adapting to life-during-COVID-19, striving to serve our partners and our mission with a set of unplanned-for constraints. In short, we have had to walk the walk – living by our own New School Rules and practicing our best New Team Habits as we have tried to find ways to connect as a team and with our partners through times that, on a good day, could be described as turbulent. We've experimented with how to best operate in a virtual world, and want to share with you five lessons that we've learned in adapting to life during COVID-19.
Communication | School Leadership
This is a special blog post because not only am I interviewing an expert in family outreach but I am interviewing my mom, Aleida Goetchius, who is truly my first mentor and forever hero. This is a translation of a conversation she and I had about her role as a Parent Liaison in Northern Virginia. Aleida has been a Parent Liaison for 16 years supporting all families with a specialty in supporting families from international backgrounds who are navigating the American school system for the first time. Aleida was named the 2017 Region 4 Outstanding Hourly Employee and one of five finalists for this year's Outstanding Secondary Teacher Award in her district. In this conversation, we talk a lot about support for families in general and most specifically for international families whose first language is not English. I hope you enjoy reading this conversation as much as I enjoyed having it.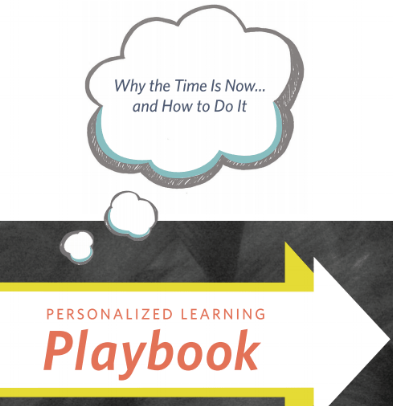 Interested in Personalized Learning But Don't Know Where to Start?
Subscribe to the blog to get your free copy of our Personalized Learning Playbook. A Playbook that will help you make the case for personalized learning, and reflect on the important elements to take in consideration.
District Leadership | Innovative Leadership | School Leadership
At Education Elements, we know that a leader is critical in navigating a school system through change. This has become abundantly clear as we've navigated the COVID-19 pandemic - schools and leaders have undergone and continue to experience a period of immense uncertainty and change. School and district leaders have to rise to the occasion and lead their schools through previously unconceived circumstances almost daily. We have seen leadership emerge in the creative ways you all are celebrating students, connecting with families, and adjusting to new norms and methods of instruction.
Equity | School Leadership | Teacher Retention
This year has exacerbated the national crisis of staffing in schools. Attrition was already a looming challenge, but with all of the changes in education this year alone teachers are leaving schools and the profession en masse. That, combined with the racial reckoning taking place this year has prompted many leaders to reflect on their hiring processes and look for ways to recruit more Black teachers. If you are looking to diversify your teacher workforce or are assessing your hiring process, here are 9 things you must consider.
Equity | School Leadership | Teacher Retention
We've talked a lot about the need to improve teacher retention. During the pandemic, teachers are feeling burned out, unsupported, and dissatisfied with their jobs and lack of recognition. A survey this summer showed that nearly 30% of teachers are more likely to leave the profession now due to the pandemic. To add to the problem, there's been a 35% decrease in the number of college students preparing to be a teacher over the past decade. So the supply of potential teachers is going down at the same time that the demand for teachers is potentially going to skyrocket. This happens for a variety of reasons that we could spend a whole week writing about. While that problem is enough to raise some eyebrows, we want to dig in beneath the surface a bit to talk about an even more pressing problem: equity, or the lack thereof, and its impact on teacher attrition.
School Leadership | Strategic Planning
At the core of innovation in companies leading the way in developing solutions for the future is a Research and Development team, more commonly known as R&D. This is where insight and inspiration are translated into creative and impactful solutions. In short, R&D is the process by which an organization obtains new knowledge to develop applicable solutions to present or future challenges. Companies leverage R&D for the following primary goals: