The start of a new school year often brings with it discussions about new vision statements, improvement plans, yearlong initiatives and sweeping changes in the name of increasing student success. Yet in our work with school districts across the country, we've learned that it's the smaller, individual leadership practices and team habits that lead to larger systems changes.
I was on a phone call with two principals earlier this week who shared a concern I hear often in working with school districts through large change management initiatives. Three years into their personalized learning journey, there are still at least a few teachers in their building who are resistant to the instructional shifts necessary to make learning personalized for each child. If you are a leader facing a similar situation, here are four key strategies for moving forward.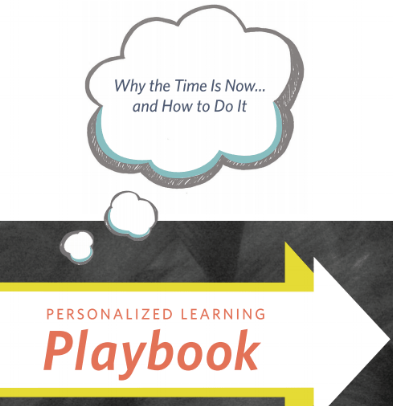 Interested in Personalized Learning But Don't Know Where to Start?
Subscribe to the blog to get your free copy of our Personalized Learning Playbook. A Playbook that will help you make the case for personalized learning, and reflect on the important elements to take in consideration.
Innovative Leadership | School Districts | Teams & Culture
How are you? What is bringing you to this blog post today? What is top of mind for you as you're reading this? Would you rather have the ability to fly or read minds? Did those questions interest or engage you? Are you now mulling over your current feelings or intentions? Or did you stop reading entirely to properly dedicate your attention to choosing between superpowers? Regardless of your actions, the questions I posed required you to pause for a moment, consider your thoughts, and engage with your imagination. These abilities are vital to our roles as educators - we are consistently tasked with keeping calm through perceived chaos, being conscientious of the numerous needs of others, and maintaining a level of creativity to capture the attention of students. Yet in schools and districts across the country, very little time – our most precious resource as educators – is dedicated to the exploration and development of those skills.
Innovative Leadership | Teams & Culture
Think back to a recent meeting you were in when you pondered why you were a part of the conversation. Or better yet, you thought about the 10 items in your inbox that needed your decision-making power but instead, you were stuck in a meeting where it wasn't clear what you were making a decision about. We have districts this year that have created the "it" factor for running meetings that tap into everyone's energy in better ways than ever. While it may seem like these district teams "just have the right people," they have actually taken on a methodical approach to how to run team meetings. Based on The NEW School Rules, written by Anthony Kim, CEO of Education Elements, we have found over the last eight years that every leader wants to effectively make changes and create environments in team meetings that celebrate growth, excitement, and decision-making.
Communication | District Leadership | Teams & Culture
One of the major issues that schools face is engaging with parents, community, and stakeholders. It is not about educational changes and innovative initiatives, but about the everyday work such as field trips, after-school programs, counseling, volunteering opportunities, sports events, snow days, drop-off and pick-up, fundraisers, and more. Education is an ever-changing and ever-evolving landscape, and communications is no different. The ways in which we communicate have evolved, and many new ways to communicate effectively have emerged and improved over time. The way we access information today is very different from the way we used to just a few years ago: we read our morning news from our smartphones, we look up restaurant menus online, we keep up with our friends through Facebook Live and Instagram Stories, and we seek customer support from companies on Twitter.
Blended Learning | Education Elements | Innovative Leadership | Personalized Learning | Teams & Culture
This year, at iNACOL's annual conference on blended and online learning, we were honored to host and celebrate the launch of Michael Horn's and Heather Staker's book, "Blended: Using Disruptive Innovation to Improve Schools." For a special edition of the book, they allowed me to write a preface focused on how superintendents should think about blended learning, and I'm grateful for that. If you didn't make it to the book launch party in Palm Springs, you missed some good fun, but don't worry, you can still get a copy of the preface here. Both Michael and Heather are two amazing people who truly care about innovation in education. I'm thankful for the work they do to provide thought leadership in making blended learning and innovation a way of life for all educators and students.