Innovative Leadership | School Districts | Strategic Planning
So, you've completed a round of stakeholder engagement activities. You clarified your 'why behind engagement' and have identified a group of stakeholders to target. Maybe you hosted forums, sent out surveys to various stakeholder groups, conducted interviews, and even shadowed students. With the rich data sources at your disposal, you may be wondering – how do I pull trends from my data? How do I elicit feedback and input from my community throughout to ensure I'm making the right data-driven decisions? How do I honor my community's perspective and my own insider knowledge as I continue to build my strategic plan? Keep reading for a few suggestions on how to do just that.
Innovative Leadership | School Districts | Strategic Planning
"One bag of peanut butter M&Ms, please." It's the first step I take as I enter a movie theater before selecting the perfect middle-center seat – a ritual I began with my mom as a child. On this day, instead of rushing to the front of the line, I took a moment to look around. There was a buzz in the room as kids and adults of all ages lined up to see the first black superhero. There is no doubt that Black Panther was a major milestone for the United States and the world. Throngs of people viewed the film multiple times, relishing the opportunity to be represented in such an empowering way. A couple of years later I noticed a similar sense of pride at the release of Captain Marvel, a film featuring a female superhero. I knew the Avengers was a well-regarded team but it was clear that these additions were crucial. It's difficult to imagine a complete team without the most recent additions because of the unique perspectives they bring. It is the first step in a longer commitment to inclusion and empowerment.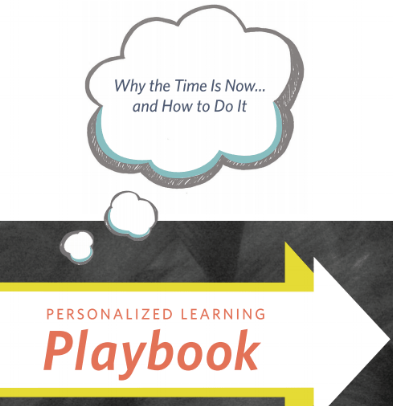 Interested in Personalized Learning But Don't Know Where to Start?
Subscribe to the blog to get your free copy of our Personalized Learning Playbook. A Playbook that will help you make the case for personalized learning, and reflect on the important elements to take in consideration.
Innovative Leadership | School Districts
"And we both hit our goal weight!" "That's amazing! So how did you celebrate?" "We ate an entire box of donuts! And then gained all of it back." On an August visit with a group of teachers I've been partnering with for over a year, our conversation steered toward the idea of setting goals. In the education world, goals are set all the time, and often displayed or communicated prominently. A teacher may set the goal of 10 consecutive perfect attendance days, 90% of students showing mastery on an upcoming unit exam, or 100% of students growing 1-2 reading levels in a single year. Outside of the education world, too, we set goals all the time. Many of these are health-related – eat more greens, lose weight, drink more water, get more sleep. Some are financial goals – get a raise, save for a vacation, make a million dollars. And still others are achievement-based goals – write a book, buy a house, run a marathon. As the teachers I spoke with this summer shared, they set a goal to lose a set amount of collective pounds, and they did! But there was a huge problem with their apparent success. Two weeks later, they had gained it all back...and then some. They had hit their goal, but had failed to build a habit.
Innovative Leadership | School Districts | Strategic Planning
At Education Elements, we pride ourselves on being a responsive organization. Like many organizations, we can fall short of true responsiveness, but we are proud of how nimble, engaged, and positive our team is as a result of responsive practices. Our true north lies in seeking feedback to best understand the experiences of our community members. Feedback, in every way it is offered, allows us to make improvements suggested by those who have a stake in the work. Obvious, right? This may be an easy concept to grasp, but the gathering and processing of feedback from all relevant stakeholders can be a complicated, time-consuming, and confusing process – and that's in a small company with a team aligned around the idea. For schools and districts looking to implement change, whether it be by the introduction of new or additional technology, shifting pedagogical approaches, curriculum adoption, team reorganizations, or strategic planning, stakeholder engagement can be a paralyzingly large task.
Innovative Leadership | School Districts
As any great leader pursuing innovation in education knows, having a clear "why" for pursuing the "what" of change is critical to success. But equally important, often less emphasized, and incredibly hard is the "how" of making and managing that change in a classroom, school, or system. At The Learning Accelerator (TLA), a national nonprofit that learns alongside educators and system leaders at the forefront of blended and personalized learning, we're often asked about common change management pathways and learnings about how to do it well. Our team has compiled a series of illustrative case studies of district stories and practices, but we wanted to learn more to help answer these questions. We conducted a deep study with 100 leaders from 60 systems across the country to understand how they are making decisions about how to lead innovation work in their communities. Through interviews and a national survey, we asked them to tell us about the most important decisions they had to make when taking innovations to scale. We published results in both a white paper, Look Both Ways, and series of strategy modules on our Blended and Personalized Learning At Work site.
Innovative Leadership | School Districts
Equity and personalized learning share quite a bit of common ground. They each require an ongoing commitment from all stakeholders. Both are built on the premise that each person's needs are unique, and both recognize that no one set of tools and responses will support everyone. Peter Olson-Skog is drawing these connections concretely through his work as Superintendent at District 197 in West St. Paul. We recently interviewed him to learn more about how he connects equity and personalized learning in his district.