PL Summit | Personalized Learning | School Districts
For many, being an innovator conjures a vision of being the one out in front, alone, and it can certainly feel that way at times. All at once it seems like a big adventure and a scary proposition with uncertain rewards, but known risks. You may have a lot of questions to ask about your path but worry no one else is on it. It feels like something you kind of want to tell everybody about, but also don't want anybody to know. The teacher who is trying something new may purposely close his door and not talk about it in case it fails. The school leader who is working on new strategies may keep quiet about them in a meeting with others, in case her peers try to dissuade her. The superintendent who wants to make her district radically different may feel like she is the only one trying to do this big thing or if she isn't the only one, not know how to find others who think like her. So at a time when the support and ideas of others would help the most, we often are the least likely to receive them.
As an education consulting organization we work with hundreds of schools and districts to improve the way teaching, learning, work, and collaboration happen. In projects with clients, we rarely ask leaders to try something we haven't tried ourselves. In fact, when Anthony Kim and Alexis Gonzales Black published The NEW School Rules: 6 Vital Practices for Thriving and Responsive Schools, many of the lessons included in the book were drawn from our own teams at Education Elements. We are constantly seeking new learnings and ways of improving the way work happens at our company.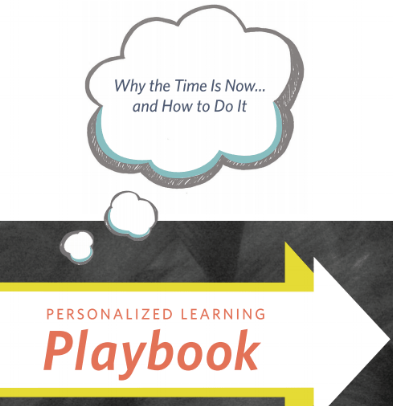 Interested in Personalized Learning But Don't Know Where to Start?
Subscribe to the blog to get your free copy of our Personalized Learning Playbook. A Playbook that will help you make the case for personalized learning, and reflect on the important elements to take in consideration.
Leaders | Personalized Learning | School Districts
Everyone is an innovator Within the last two decades, the barrier to entry to be innovative has dramatically decreased. Today, people can have multiple careers and innovations within a lifetime. Innovation has become so frequent that it's part of everyone's vernacular and a topic in many industries including healthcare, auto manufacturing, and education. Who doesn't want to be innovative? It's cool to be considered innovative and disruptive. Clayton Christensen wrote several best selling books on innovation and Clayton and Michael Horn put out a seminal book which in many ways shaped changes we have seen in education, "Disrupting Class: How Disruptive Innovation Will Change the Way the World Learns". This book made innovation cool even in education. Inspired by the practices of responsive organizations in other industries, Alexis Gonzales-Black and I co-wrote the book, "The NEW School Rules: 6 Vital Practices for Thriving and Responsive Schools", to help schools and districts become more innovative and agile.
Classrooms | Leaders | Personalized Learning | School Districts
September is in full swing, and it's the time of year that we start heading back into the classroom - some of us are already in school, and some of us are still counting down our last few precious days of summer vacation. Setting the stage for a new school year is crucial, but it can also be a complex undertaking. So we decided to round up some resources to help you start the school year off right! There's something here for everyone: whether you're a teacher, a school leader, a district administrator, or a learning coach; if you're exploring what personalized learning, competency-based education, or innovation in the classroom; if you are working on developing leadership, professional development, or strengthening communication and collaboration; and whether you need an overarching view of the education journey or help with one piece of the puzzle.
Classrooms | Personalized Learning | School Districts
Measuring your personalized learning journey is now easier than ever with the new Kiddom + Education Elements partnership Personalized learning is a buzz phrase we hear often in education. This pedagogical style is inspirational, and may serve students well, but it often lacks direction. Many professional development sessions begin with: "Let's define personalized learning," because the term is thrown around so often. At Kiddom, we've had the privilege to witness many excellent strides toward personalized learning in different environments, but many haven't yet seen it in practice. So how does an administrator or community measure the pursuit of this practice without knowing exactly how it looks or where to focus their efforts to improve?
Leaders | Personalized Learning | School Districts
This week, we released our 2017-2018 Annual Report. The report marks eight years since Education Elements was founded, and our fifth such report. In the report, we highlight the incredible work of our district partners and share how our work is evolving to continue to build and support dynamic school systems that meet the needs of every learner, today and tomorrow.