Classrooms | Personalized Learning | School Districts
Each year we receive hundreds of questions along the lines of, "Okay…so what does personalized learning actually look like?" We have a few answers to this question. One is that personalized learning always involves these core four elements - targeted instruction, data-driven decisions, flexible content, and student reflection and ownership. Check out our Core Four white paper for a more detailed description of these elements, as well as classroom examples.
Personalized Learning | School Districts | School Leaders
All districts have strategic plans. For many districts, they are the most expensive document created in a given year. Getting to a final draft usually takes several months or more and requires the time of many staff and community members. There are committees, meetings, surveys, reviews, discussions and multiple rounds of revision.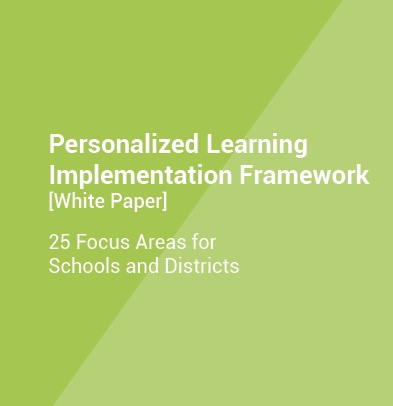 Considering Personalized Learning But Don't Know Where to Start?
Subscribe to the blog to get this resource to find out the essential areas to effectively launch, support and sustain personalized learning.
Leaders | Personalized Learning | School Districts
Close your eyes and imagine yourself in an all-purpose room with uncomfortable chairs and a trainer lecturing to a whole-group about the latest small-group teaching strategies. We've all been there, right? Stuck in PD sessions with facilitators who don't practice what they preach.
Leaders | Personalized Learning | School Districts
We hear all the time "You've seen districts implement personalized learning all across the country - give it to us straight - how do we compare?" Whether districts are just getting started and dipping a toe into personalized learning, or are reflecting on several successful years of implementation and searching for ways to go deeper, district leaders want to know how their progress compares to national benchmarks. It isn't enough to look inward; they need data from the outside too.
Leaders | Personalized Learning | School Districts
At Education Elements we are incredibly fortunate to work with so many exceptional, passionate, and extraordinarily talented people, including teachers, coaches, principals, and district leaders. These amazing people are going above and beyond to transform education, and are helping to write the future through the success of their students.
Leaders | Personalized Learning | School Districts
Years ago, Anthony Kim, CEO of Education Elements, remarked to me that "Blended learning accelerates a good culture and makes it great, but it will also accelerate a bad culture and make it terrible."