Last week I heard a district leader say, "In God We Trust - everyone else, bring data." I chuckled - because we talk out of both sides of our mouth when it comes to data. In the same breath we demand "data driven instruction" instruction in our classrooms but it's also clear that we don't understand (and many times don't trust) the technology that captures this very data needed to drive instruction. Also last week, Ed Week highlighted this dichotomy in the survey results of school leaders on the use of technology with their students. A majority (57%) believe that 'digital technologies are an important supplemental resource used to personalize the learning experience based on each student's strengths, weaknesses, and preferences.' Yet an even higher percentage of school leaders still have valid concerns with how technology companies collect data and influence what and how we teach students.
Three years ago, I received a call from an excited district leader who wanted to chat about student data (of all things)! He dreamt of building a digital "learning ecosystem," (think instruction/LMS, assessment, IEPs, grading, attendance, transportation, etc.) to serve as the information backbone for his district's vision to personalize the learning environment for every student. What he didn't know was how to make that ecosystem a reality.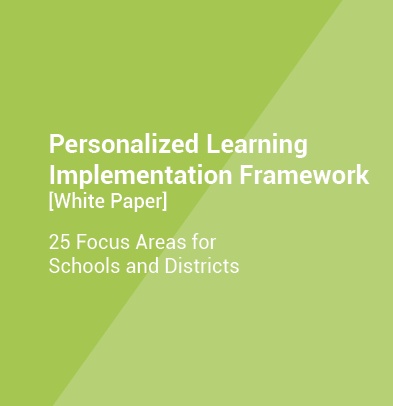 Considering Personalized Learning But Don't Know Where to Start?
Subscribe to the blog to get this resource to find out the essential areas to effectively launch, support and sustain personalized learning.
Classrooms | Competency-Based Education | Leaders | Personalized Learning | School Districts
I've mentioned to a few people that I'm having my education mid-life crisis. After almost 20 years in education, I've seen various initiatives, software solutions, and programs come and go. Hundreds of millions are spent each year trying to move the needle, yet we continue to get similar results. It isn't without the sweat, blood, and tears of all the educators in the country that work so hard.
Sometimes I wish I were more like my mom. There are many reasons why, but many times it's because I wish I were a great cook. I used to watch her in the kitchen just glance at a picture of a dish from a cookbook, then create that without ever having to follow the step-by-step recipe that was next to the picture. It was like watching a magic show.
Classrooms | Personalized Learning | School Districts
Each year we receive hundreds of questions along the lines of, "Okay…so what does personalized learning actually look like?" We have a few answers to this question. One is that personalized learning always involves these core four elements - targeted instruction, data-driven decisions, flexible content, and student reflection and ownership. Check out our Core Four white paper for a more detailed description of these elements, as well as classroom examples.
Personalized Learning | School Districts | School Leaders
All districts have strategic plans. For many districts, they are the most expensive document created in a given year. Getting to a final draft usually takes several months or more and requires the time of many staff and community members. There are committees, meetings, surveys, reviews, discussions and multiple rounds of revision.