A few months ago I attended ICLE's Leadership Academy in Atlanta and heard Dr. Tyrone Howard speak. His talk was a powerful one, addressing the differences between equity and equality, the need to support all students, and a call to action to have difficult conversations, call out bias and microaggressions, and make sure that we see our students, understand and empathize with them, and educate every single one of them. One of the things that stood out the most was the idea of the Pedagogy of Poverty vs Pedagogy of Plenty.
I recently read Chip and Dan Heath's new book, The Power of Moments: Why Certain Experiences Have Extraordinary Impact and was struck by the impact that expressing gratitude and appreciation has on both the receiver of the message, as well as on the giver. According to research, the feel-good benefits of sending or saying a sincere thank you can last up to a month. So as I sit here, outside on a balmy evening on vacation with my family, I recognize how much I have to be grateful for and know that I should write about it more than once a year...for my own benefit as well as for the benefit of others. And as always, my potential list is long but I recognize our average attention span is short and getting shorter, so here it is - just 7 of the many things we are grateful for this season.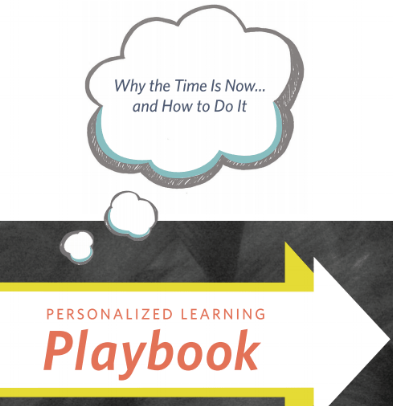 Interested in Personalized Learning But Don't Know Where to Start?
Subscribe to the blog to get your free copy of our Personalized Learning Playbook. A Playbook that will help you make the case for personalized learning, and reflect on the important elements to take in consideration.
PL Summit | Personalized Learning | School Districts
For many, being an innovator conjures a vision of being the one out in front, alone, and it can certainly feel that way at times. All at once it seems like a big adventure and a scary proposition with uncertain rewards, but known risks. You may have a lot of questions to ask about your path but worry no one else is on it. It feels like something you kind of want to tell everybody about, but also don't want anybody to know. The teacher who is trying something new may purposely close his door and not talk about it in case it fails. The school leader who is working on new strategies may keep quiet about them in a meeting with others, in case her peers try to dissuade her. The superintendent who wants to make her district radically different may feel like she is the only one trying to do this big thing or if she isn't the only one, not know how to find others who think like her. So at a time when the support and ideas of others would help the most, we often are the least likely to receive them.
Let's just be clear: there is a very short honeymoon period for a new superintendent. From day one, people have expectations of you as the new superintendent. They want you to be exactly the same or completely different than your predecessor. They have their hopes pinned on you bringing new ideas or have their fingers crossed that you won't. They are wondering how long you will stay and what you will do during your tenure. They both expect you to know everything about the district right away, and yet know that you don't and are frustrated by it. They have so many things they want to say to you, and yet voice few of them, as if you can read minds.
Classrooms | Competency-Based Education | Personalized Learning | School Districts
One of the most common questions I answer about Education Elements is, "So what do you guys do?" If we have an elevator ride that goes to, say, the top of the world's tallest building, I can give a fairly satisfying and comprehensive answer. If, on the other hand, we are just waiting in a short line for a cup of coffee, I tend to say something like, "We help districts solve their biggest challenges," which, judging by the reaction I often get, is not nearly the level of detail people are looking to hear. So in the age of TL;DR and Buzzfeed lists that always come in odd numbers, I decided to try to put pen to paper and explain what we do in a way that gets more head nods and doesn't have anyone thinking, "For the love of God will she ever stop talking?" (Don't worry, you can just read the bold parts)
PL Summit | Personalized Learning Summit | Professional Development
It is hard to make something better each year and yet, somehow, as I reflect on the Education Elements Personalized Learning Summit 2018, it feels like we have done it. It's five days since the Summit ended and I am still energized by the energy and passion of every one of the 750 people who attended. I am still excited about the ideas I heard and looking forward to talking more to the people I met. I am still amazed that we pulled it off. 750 people is a lot of people for a conference that four years ago had less than 150!