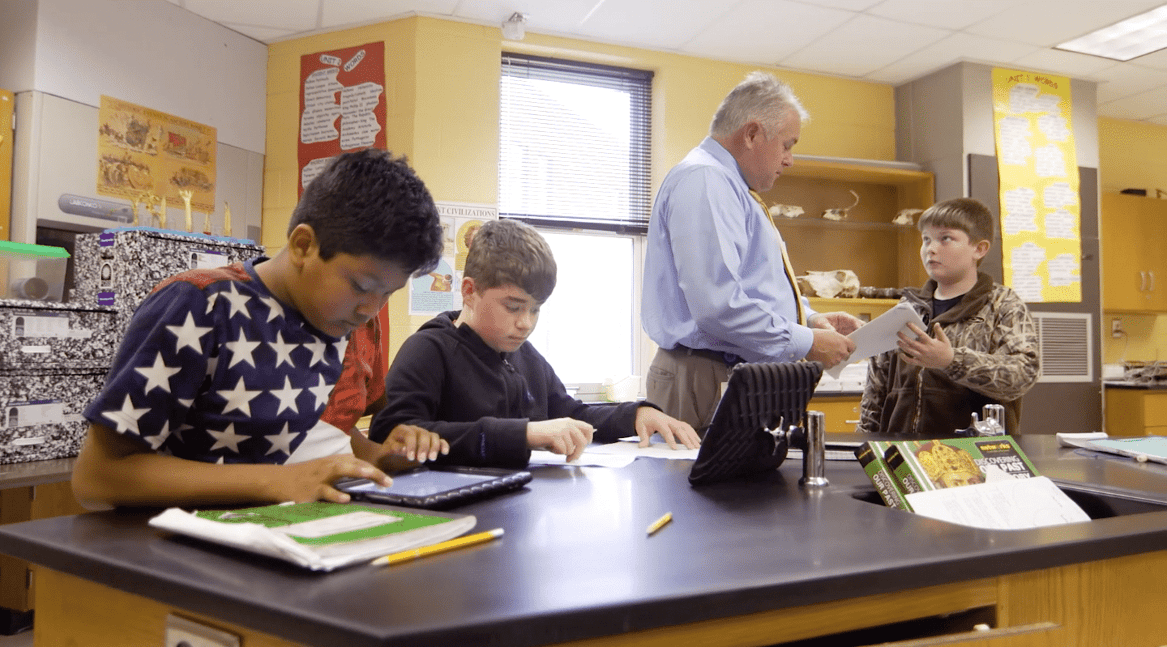 Subscribe
Six Examples of What Personalized Learning Looks Like
Personalized Learning | School Districts | Classrooms
Each year we receive hundreds of questions along the lines of, "Okay…so what does personalized learning actually look like?"
We have a few answers to this question. One is that personalized learning always involves these core four elements - targeted instruction, data-driven decisions, flexible content, and student reflection and ownership. Check out our Core Four white paper for a more detailed description of these elements, as well as classroom examples.
Another answer is that, "it depends" - we believe strongly in the design thinking process, and that school leaders and teachers are in the best place to put together instructional models that meet the needs of their students. Check out this great blog post on the process by my colleague, Kelly!
That being said, we realize that we can never answer this question enough. In response to this demand, here is a short collection of videos, photos, artifacts, and teacher testimonies that we hope will help illustrate what personalized learning could look like at your school or district. Some of these examples are from Education Elements districts and schools, and some are from other places!
Personalized learning is: Incorporating Self-Reflection and Goal-Setting


In Middletown, NY, the school culture incorporates student reflection and goal-setting starting with the youngest grades. Check out these classroom photos of goal-setting artifacts.
From a Middletown teacher: "[Students] use a Google form, and t
he forms are sent to me automatically so I am able to instantaneously see how they are self-assessing. It gives them a sense of accountability and it also lets me be aware of how they think they did… I use their self-assessment to help guide my instruction and to help group them for math and ELA."
Check out this classroom teacher as she talks about her approach to Student Ownership & Reflection
Personalized Learning is: Flexible & Intentional Master Schedules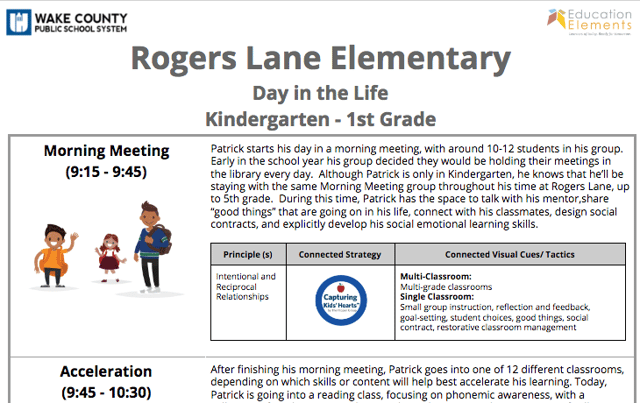 In Wake County, NC, school leaders at Rogers Lane Elementary School have created a master schedule that's aligned to their three core principles: Agents of Change, Out of this World Learning, and Intentional and Reciprocal Relationships. While it's still a work in progress, the schedule does a wonderful job of showing the back-end work it takes to explicitly incorporate co-teaching, multi-level classrooms, student choice, and blocks for targeted small-group instruction.
Additionally, to help parents and students better understand how this schedule would affect a student's daily experience, Rogers Lane created a "Day in the Life of" Primer.

Personalized Learning is: Using Digital Content and Tools in a Purposeful Way - Flexible Path and Pace
Check out this classroom teacher as she talks about her approach to Flexible Path and Pace
Check out this video from a high school teacher, where she describes how she has students use a digital tool to demonstrate their ability to collect and analyze data from a field exercise.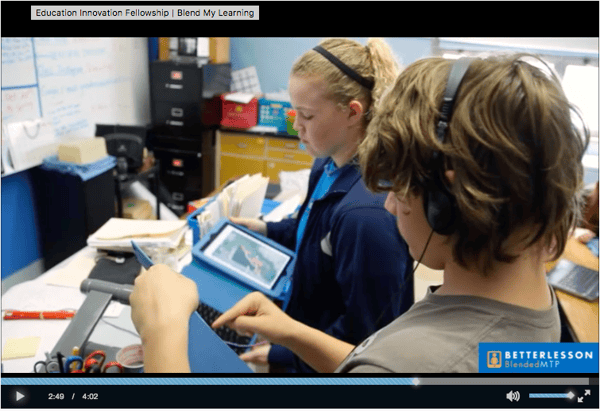 Check out this video from an elementary school teacher about how he uses a portfolio of digital content tools in his classes. These last 2 videos are part of a larger collection of great videos from BetterLesson on blended learning strategies.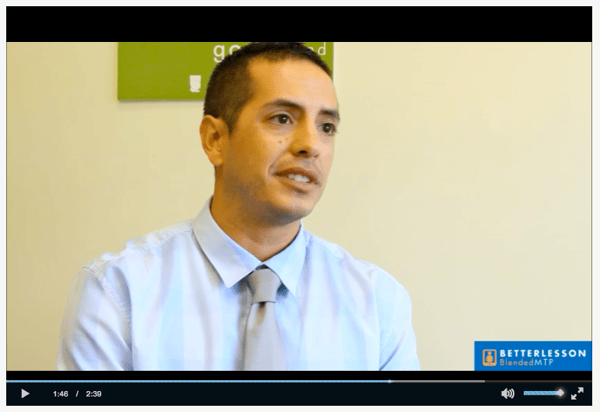 Personalized Learning is: Incorporating Personalized Playlists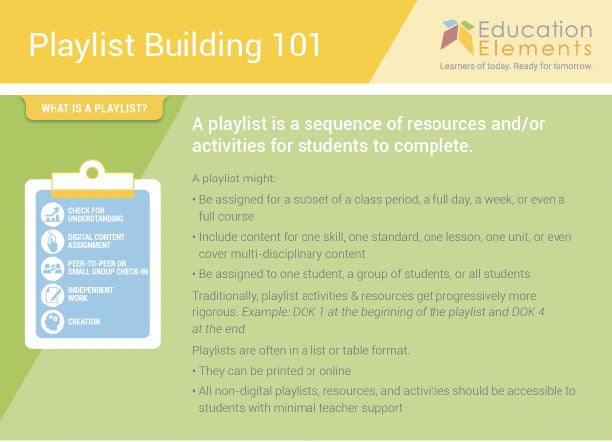 Many personalized learning classrooms incorporate flexible pacing by having students go through content via playlists. However, not all playlists are personalized.
My colleague Brittany, in partnership with teachers and school leaders at Rochester School District, NH, put together this helpful Playlist Building 101 Guide that describes how to build a personalized learning playlist.
Personalized Learning is: Planning for Flexible Seating
Photo: Loudoun County Public Schools (VA), Twitter #LoudounPL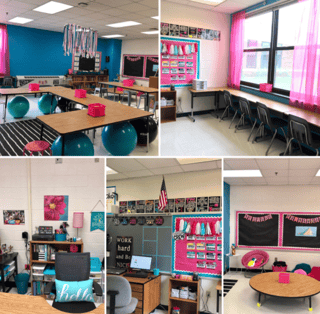 Photo: Loudoun County Public Schools (VA), Twitter #LoudounPL
Flexible seating is a popular strategy because it is a physical manifestation of targeted, fluid instruction. With a focus on student choice and comfort, flexible seating is a great way to convey to students, "You matter."
Edutopia has a terrific article specifically focused on flexible seating at the high school level, including classroom photos and teacher testimonies. Ashley Rice Broomfield, a 1st grade teacher, shares, "I am in my 13th year of teaching, but this is my first year incorporating flexible seating into my classroom. I will never go back to traditional seating."
EdSurge also has a great post on 10+ brain-based methods to redesign your classroom, and how to include your students in the redesign process. We love this quote: "A good friend of mine often reminds me that we aren't raising a class of second graders, but in fact, we are raising future adults. She says, 'If they're old enough to do it for themselves, they should not only be allowed to, but expected to do so.'"
Finally, see these pictures above from our awesome partners in Loudoun County Public Schools, VA!
BONUS: check out the #LoudounPL hashtag for more amazing pictures of how Loudoun County schools are personalizing learning.
Personalized Learning is: Involving Students in Grading Conversations
Prolific blogger Catlin Tucker offers another great strategy – including "grade interviews" with students. Tucker shares, "As grade reporting approaches, I sit down with every single student for a grade interview. Students come to these grade interviews prepared with a formal argument. These conversations are invaluable. Students walk away knowing exactly what they need to work on or what they are doing well. Also, I feel like I know my students so much better because we sit down and chat about their learning every 5-6 weeks!" Check out her full blog post!
Additionally, student-led conferences (SLC's) can be a great way to engage both students and parents in reflection. In an SLC, a student might not only explain what progress he or she is making, but why it is that progress is occurring. This Edutopia post has a great set of resources on SLC's, sourced from articles like this Atlantic piece to protocols and videos of SLC's in action.
To learn more about how these examples build on the core four elements of personalized learning, check out our white paper.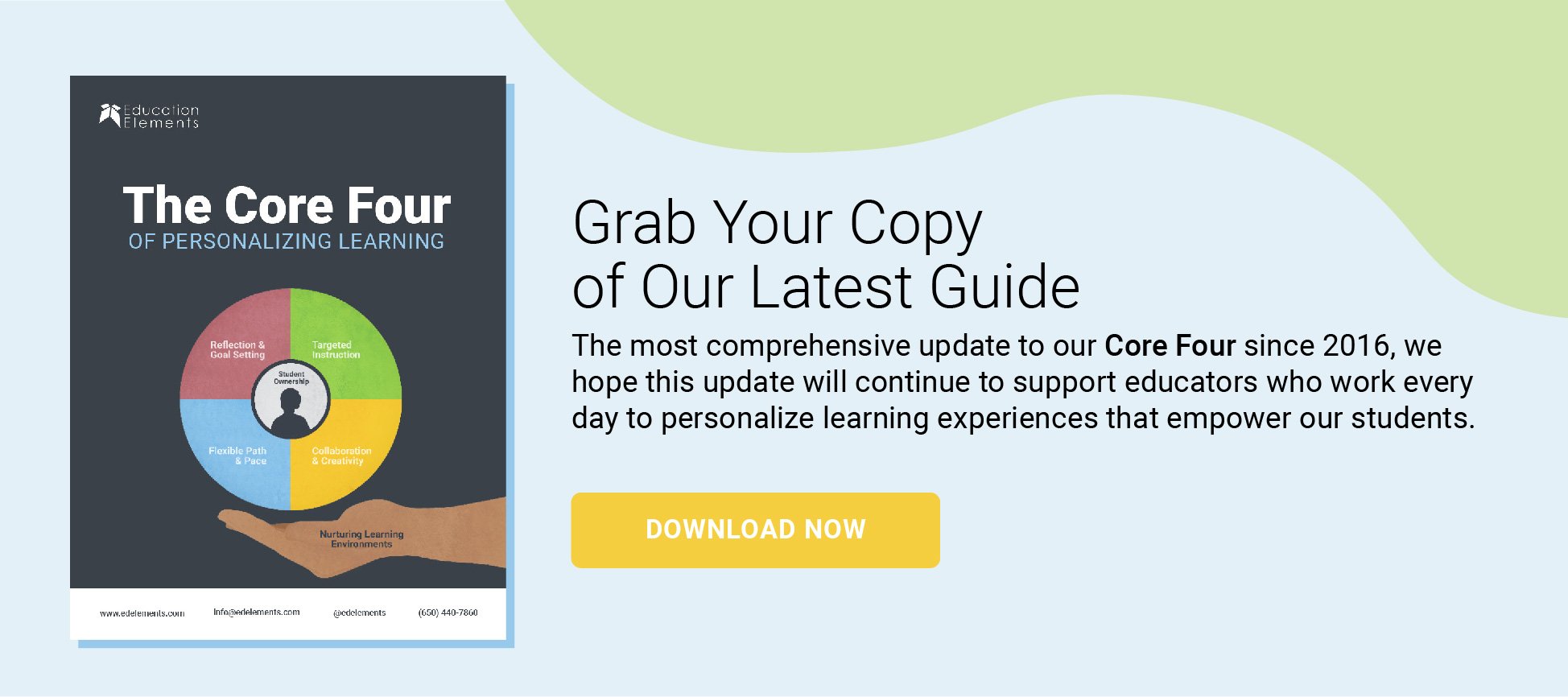 ---
More Personalized Learning reading
Blog: Personalizing Learning: Getting it Right
Blog: Personalizing Learning: Reflection and Goal-Setting
Blog: How to Pick the Right Instructional Model for Your Classroom
Blog: Personalizing Learning: Flexible Pace & Path
Blog: Personalizing Learning: Targeted Instruction