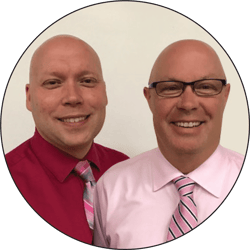 Names and Roles: Edward McFarland, Area Superintendent, and Shane Barham, Founding Principal of Rogers Lane Elementary School
District: Wake County Public School System (NC); 160,000 students
Years in education: Edward, 22; Shane, 18
Years district has worked with Education Elements: 1
About Shane and Edward: Shane and Edward led the work to develop a new school model that addresses community needs and prepares students for the future. The process included rethinking hiring procedures, classroom instruction, school scheduling, and staff support structures. The result is a school model based on an ambitious vision with time dedicated for personalized learning experiences, student choice, relationship building, daily morning meetings, and integrated instruction. Rogers Lane Elementary School opens Fall 2017.
Thinking about this past year, what makes you most proud?
Edward: "I am most proud of our three guiding pillars—Agents of Change, Out of this World Learning, and Intentional and Reciprocal Relationships—but also that we have all really taken this seriously. We have not left any stone unturned."
Shane: "We are really proud of the fact that we are doing what's best for students. We always say we want to do that, but we are making decisions based on it."
What are each other's superpowers?
Edward: "Shane's superpower is the ability to see what's not yet there."
Shane: "Edward has this knack for bringing people together of all different talents and gifts and uniting us for a common vision in where we need to go for students."
Follow Edward on Twitter: @emcfarland11
Follow Shane on Twitter: @ShaneBarham1976
"Both Edward McFarland and Shane Barham are dynamic leaders who always have the students' best interest at the heart of every decision that they make. They listen and are receptive to the ideas of their staff and colleagues, and, in return, are respected by those that they work with. They both are able to look at the big picture, keeping in mind the students of Wake County and what will best prepare them for the future." –Donna Pippen, Lead Secretary, Rogers Lane Elementary