The systems that teachers and leaders design and implement in schools are all impacted by the biases of their designers. We have to design explicitly for our marginalized students and to do this, we need to first understand the way our own power and privilege impact what we believe is best for kids. As my colleagues wrote in Capture the Opportunity: Steps to Redesign School-Level Systems for Equity:
School Leadership | Teachers | Virtual Learning
A known unknown is a question we are certain exists, but whose answer we are confident we cannot answer. This paradox pretty accurately sums up how many educators entered into this school year. We knew we might return to distance learning and we knew that no one could say whether that would happen, and if so, when. As COVID infection rates and hospitalizations rise across the country, the unknown answer becomes clearer; for some of us, returning to distance learning for some amount of time will happen. AND there is good reason to assume that distance learning will be significantly better today than it was last year. This is not a new experience for educators, students, and families. Our understanding of best practices, expectations, and support systems put us in a good position to ensure learning continues regardless of the physical distance between students and teachers.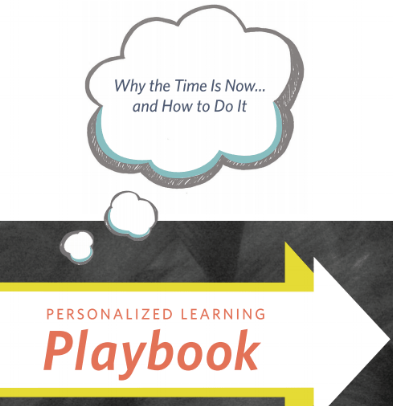 Interested in Personalized Learning But Don't Know Where to Start?
Subscribe to the blog to get your free copy of our Personalized Learning Playbook. A Playbook that will help you make the case for personalized learning, and reflect on the important elements to take in consideration.
Data | District Leadership | School Leadership | Teachers
As a new mom, I cared deeply about two things: my baby's well-being and my sleep. I could go without showering or hot meals, but I was NOT well equipped to deal with the lack of sleep. And I was fairly lucky - my son slept about as normally as you can expect a newborn to sleep. However, any disruption in that pattern, and I immediately scrambled: "He didn't sleep last night. I MUST try these five new things to get him back on track." Sometimes they worked, and sometimes the shift in routine actually made things worse. My hyper-focus on the short run cues meant that I was super reactive to one piece of information but failed to take a look at the big picture. Conversely, there were times I didn't have the energy or brainpower to try new things – I ignored the information my son was giving me because I simply didn't know how to use the data or what to do.
District Leadership | Organizational Leadership & Change Management | School Leadership
The Education Elements team, like the rest of the world, has been adapting to life-during-COVID-19, striving to serve our partners and our mission with a set of unplanned-for constraints. In short, we have had to walk the walk – living by our own New School Rules and practicing our best New Team Habits as we have tried to find ways to connect as a team and with our partners through times that, on a good day, could be described as turbulent. We've experimented with how to best operate in a virtual world, and want to share with you five lessons that we've learned in adapting to life during COVID-19.
Communication | School Leadership
This is a special blog post because not only am I interviewing an expert in family outreach but I am interviewing my mom, Aleida Goetchius, who is truly my first mentor and forever hero. This is a translation of a conversation she and I had about her role as a Parent Liaison in Northern Virginia. Aleida has been a Parent Liaison for 16 years supporting all families with a specialty in supporting families from international backgrounds who are navigating the American school system for the first time. Aleida was named the 2017 Region 4 Outstanding Hourly Employee and one of five finalists for this year's Outstanding Secondary Teacher Award in her district. In this conversation, we talk a lot about support for families in general and most specifically for international families whose first language is not English. I hope you enjoy reading this conversation as much as I enjoyed having it.
District Leadership | Innovative Leadership | School Leadership
At Education Elements, we know that a leader is critical in navigating a school system through change. This has become abundantly clear as we've navigated the COVID-19 pandemic - schools and leaders have undergone and continue to experience a period of immense uncertainty and change. School and district leaders have to rise to the occasion and lead their schools through previously unconceived circumstances almost daily. We have seen leadership emerge in the creative ways you all are celebrating students, connecting with families, and adjusting to new norms and methods of instruction.