Competency-Based Education | School Leadership
Time is weird right now. Hours can feel like months, weeks can feel like days, and a year into a global pandemic feels both like an eon and a few seconds at the same time. Regardless of how we perceive time or how much time has actually elapsed since school days shifted from 3D to 2D learning, we know that our students have coped with this complex time in a myriad of ways. Some have thrived, others have been barely keeping it together. Still others we might have lost touch with altogether. And that variety and variability of student experiences since March 2020 make it challenging to imagine how to teach when the next normal begins. The question we must ask ourselves becomes: when we open our school doors to all students again, will we revert back to standard operating procedures? Or will we take this seismic shakeup in the status quo to shift our practice to something more responsive, more equitable, and more student-centered? Let's opt for the latter.
District Leadership | School Leadership | Strategic Planning
What's the first word that pops into your head when you hear "strategic planning"? What word did you think of? Common responses we hear are boring, painful, old-school, far-off, or even just a simple, "ugh."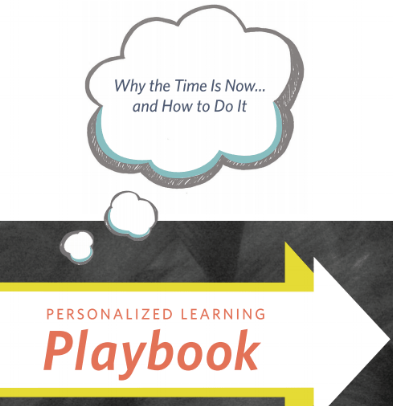 Interested in Personalized Learning But Don't Know Where to Start?
Subscribe to the blog to get your free copy of our Personalized Learning Playbook. A Playbook that will help you make the case for personalized learning, and reflect on the important elements to take in consideration.
Knowledge is Power! Measure what Matters! If our cliches are an indicator, we all know that data collection, review, analysis, and understanding is important. We all hear of data-driven decisions, and the importance of data in education and educational systems, but we are often challenged to incorporate data review and the next steps into our everyday lives. As we've been exploring the Essential Elements of a Data Culture, we've been considering how an organizational culture can shift from a culture in which data is in the periphery, pulled to the center for high stakes discussions and decisions, to one in which data is an integral part of every day, informing the small moves that reinforce the vision, clarify decisions, and advance progress. This is where our love of habits comes in…
New School Design | School Leadership | Virtual Learning
To support the planning of opening a virtual school, leaders can be overwhelmed with the volume of questions to consider — logistics, strategy, and purpose to name a few. To guide the planning process, we offer the following table with phases of implementation with related questions. While the guide is set up sequentially, each phase may trigger a deeper articulation of previous phases to refine or reimagine the virtual school.
District Leadership | School Leadership | Teacher Retention
A few Fridays ago I got a message from my colleague Kelly. She asked what I wanted for lunch, said she would order it, and that we would eat together during our Zoom meeting later that day (where we would begin to reimagine what summer school could look like). This simple and thoughtful act changed my mood in the moment and for the rest of that day.
District Leadership | Equity | School Leadership
In September of 2020, Education Elements announced the first cohort of the "Systems for Education Equity Development," or SEED, Fellowship. The fellowship is an exclusive, multi-month, cohort experience for educational leaders to redesign a system within their school district that is contributing to creating inequity in the student experience. The inaugural SEED Fellowship cohort is a powerful group of educators made of leaders across 7 states including the District of Columbia, Georgia, Illinois, Missouri, Pennsylvania, Texas, and Washington. Individually they are amazing, and together and through the SEED experience, the fellows will have an additional set of tools as well as a network of support to address their local, systemic challenges around equity.