District Leadership | Virtual Learning
Fenestration, in architecture, is the way windows, doors, and openings are placed and arranged on a building. In medicine, fenestration refers to a new opening in the body made through surgery. There is another meaning of the word and it is used to describe openings in the leaves of plants. Where I live in South Florida, there are a number of plants with leaf fenestrations, perhaps the most common of which is the monstera deliciosa. Some of you might have it next to you, as it has become a very popular houseplant. Here in the subtropics, it is planted in many people's landscapes including my own. Some people believe that the leaves have formed holes to help the plant survive the strong winds of tropical storms and hurricanes, a common occurrence in this part of the world. Others think the leaf fenestrations exist to let sunlight filter through to "understory" leaves so that they can grow and thrive (in its natural habitat, the jungle, monstera grows like a vine up very tall trees). Each of these is a theory to explain the adaptations, but no one knows for sure. Right now, in our reality of unknowns, students, teachers, and school communities across the country are adapting too–so that the sunlight of new ideas and concepts reach every learner and the turbulent wind of changing pandemic conditions, stress, and anxiety do not prevent learners from growing and thriving.
On January 28, 1986, the space program experienced one of its most catastrophic events to date when the Space Shuttle Challenger broke apart just over a minute after launch. All seven crew members died, including Christa McAulliffe, a school teacher who would have been the first teacher in space. If you're familiar with the event at all, you know the accident was caused by a failed O-ring seal in the solid rocket booster. What's less widely known is that, according to the recently released Netflix documentary, Challenger: The Final Flight, NASA and the company that manufactured those O-rings had information available to them that day that could have led to a different outcome. For example: The O-rings were a known problem. In many of the successful launches using solid rocket boosters prior to the Challenger, there was evidence of damage to the O-rings during launch. The temperature the day of the launch was much colder (by at least 20 degrees) than typical launch days. More than one expert at the O-ring manufacturer voiced concern that the part had not been tested at that temperature and could fail. NASA made choices about the data they used that day. They went into their decision-making process with a bias (they were motivated to launch after a series of delays), and they failed to see how that bias motivated their choices and in turn influenced their behavior. In education, we make choices about our data, too.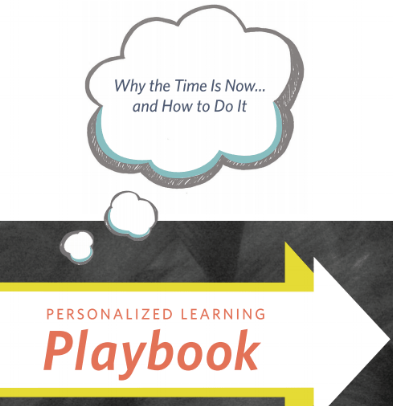 Interested in Personalized Learning But Don't Know Where to Start?
Subscribe to the blog to get your free copy of our Personalized Learning Playbook. A Playbook that will help you make the case for personalized learning, and reflect on the important elements to take in consideration.
District Leadership | Organizational Leadership & Change Management | Strategic Planning | Teachers
When I was studying research methods as part of my doctoral degree, the running joke among our professors was that they would answer every question with "It depends." My favorite professor would answer an either/or question with "Yes." Should I use a survey to answer these research questions? Or would interviews be better? "Yes." So when school district leaders ask me if their data should drive their strategy, or if they should define their strategy (goals, priorities, actions) and then make decisions about data based on their strategy, my favorite answer is "Yes." Because honestly, it's both. Here's what I mean.
District Leadership | School Leadership | Strategic Planning
Across the country, students have returned to school, whether it's in-person, virtually, or in a hybrid model. The work districts and teams did over the summer is now in action: you're following new protocols for safety, implementing curriculum changes, and leveraging new systems for instruction and communication. Whether it feels like things are going smoothly or you're barely keeping your head above water, now is the time to pause and reflect.
District Leadership | Innovative Leadership | School Leadership
Typically in times of uncertainty, organizations tend to shift their focus to getting results fast, maintaining order, and ensuring safety. These actions make sense to avoid the complexity that's being thrown their way, however, it prevents organizations from using the time to lean in and learn from the experience. In June 2020, a team at Education Elements outlined how they were seeing their team and district partners increase agility and heighten their ability to prioritize a culture of learning even while navigating the unknown.
District Leadership | Innovative Leadership | School Leadership
"We all get caught up in the business of doing, and sometimes lose our place in the flow" (O Magazine, August 2011). Recently, we were spinning in circles trying to figure out a new process for an internal role we stepped into when Jason shared a way we might reframe our conversation. Shifting from trying to brainstorm as many solutions as possible or uncovering the perfect idea, we instead focused on the simple, yet powerful question: "What do we know for sure?"