Equity | School Leadership | Teacher Retention
This year has exacerbated the national crisis of staffing in schools. Attrition was already a looming challenge, but with all of the changes in education this year alone teachers are leaving schools and the profession en masse. That, combined with the racial reckoning taking place this year has prompted many leaders to reflect on their hiring processes and look for ways to recruit more Black teachers. If you are looking to diversify your teacher workforce or are assessing your hiring process, here are 9 things you must consider.
Equity | School Leadership | Teacher Retention
We've talked a lot about the need to improve teacher retention. During the pandemic, teachers are feeling burned out, unsupported, and dissatisfied with their jobs and lack of recognition. A survey this summer showed that nearly 30% of teachers are more likely to leave the profession now due to the pandemic. To add to the problem, there's been a 35% decrease in the number of college students preparing to be a teacher over the past decade. So the supply of potential teachers is going down at the same time that the demand for teachers is potentially going to skyrocket. This happens for a variety of reasons that we could spend a whole week writing about. While that problem is enough to raise some eyebrows, we want to dig in beneath the surface a bit to talk about an even more pressing problem: equity, or the lack thereof, and its impact on teacher attrition.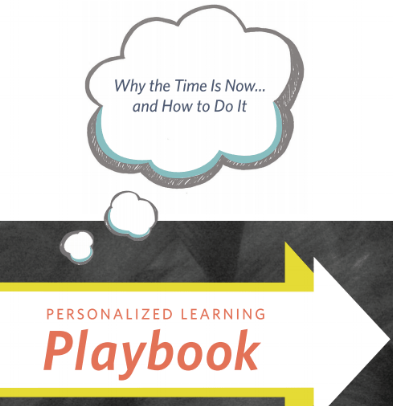 Interested in Personalized Learning But Don't Know Where to Start?
Subscribe to the blog to get your free copy of our Personalized Learning Playbook. A Playbook that will help you make the case for personalized learning, and reflect on the important elements to take in consideration.
District Leadership | Organizational Leadership & Change Management | Strategic Planning | Teachers
When I was studying research methods as part of my doctoral degree, the running joke among our professors was that they would answer every question with "It depends." My favorite professor would answer an either/or question with "Yes." Should I use a survey to answer these research questions? Or would interviews be better? "Yes." So when school district leaders ask me if their data should drive their strategy, or if they should define their strategy (goals, priorities, actions) and then make decisions about data based on their strategy, my favorite answer is "Yes." Because honestly, it's both. Here's what I mean.
Communication | Teachers | Virtual Learning
I moved a lot with my multi-cultural family as a kid. If you know me, you know this because I talk about it often. And this experience significantly impacted the way I view the world: I know what it means to be both a guest and a host, to speak the regional tongue fluently and not at all. If you've had a similar experience, then you know that it shapes you. I have seen my parents (and by extension, myself) be both locals and foreigners all in one day. These experiences have given me the gift of empathy.
School Leadership | Strategic Planning
At the core of innovation in companies leading the way in developing solutions for the future is a Research and Development team, more commonly known as R&D. This is where insight and inspiration are translated into creative and impactful solutions. In short, R&D is the process by which an organization obtains new knowledge to develop applicable solutions to present or future challenges. Companies leverage R&D for the following primary goals:
District Leadership | School Leadership | Strategic Planning
Across the country, students have returned to school, whether it's in-person, virtually, or in a hybrid model. The work districts and teams did over the summer is now in action: you're following new protocols for safety, implementing curriculum changes, and leveraging new systems for instruction and communication. Whether it feels like things are going smoothly or you're barely keeping your head above water, now is the time to pause and reflect.