Just a few weeks ago I found myself in the North Pole. No, seriously, this nice Jewish girl found herself up in the North Pole because when we say Education Elements supports districts across the country, we mean it. So in the middle of November, I found myself at 101 St. Nicholas Dr., in line to meet Santa and Mrs. Santa* after spending a great day working with Fairbanks North Star Borough School District. I didn't sit on his lap and ask for anything, but it did get me thinking a little about what I might want this holiday season and a lot about what I want to give others. Because while many of us celebrate different holidays this time of year (and not all focus on giving gifts) I always find myself looking back, looking forward, and focusing on being grateful for what I have while thinking about what more I can give to others.
A few years ago I found myself in the middle of an aisle at the home improvement store acquiring some tools I needed for a job around the house. In the moment, I didn't make the connection to my classroom, but I later realized how I don't usually go to the store to buy tools that I don't need. When a home repair presents itself I am willing and motivated to go find the tools I need to solve the problem at hand. This is typically the exact opposite experience that students have in our classrooms. Our students come to school every day and are sold tools they don't see the need for in the current moment. As I was realizing this, I was beginning to implement project-based learning experiences in my classroom. I'll admit I was struggling to get students to put forth the effort to solve real-world problems in addition to those skills built into my curriculum.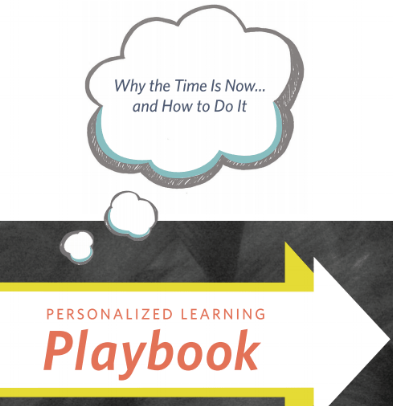 Interested in Personalized Learning But Don't Know Where to Start?
Subscribe to the blog to get your free copy of our Personalized Learning Playbook. A Playbook that will help you make the case for personalized learning, and reflect on the important elements to take in consideration.
A few years ago, Detroit Public Schools Community District (DPSCD) took a big bet on talent. Despite the city's legacy of divesting in educators, the District's new leaders believed that Detroit teachers have the power to chart a new future for the city's children. As part of an ambitious five-year plan, leaders sought to forge a new legacy for the District: one where teachers received the trust, compensation, professional development, and resources to achieve their highest aspirations, and to deliver the learning opportunities students need to succeed.
In an economically disadvantaged part of Charlotte, N.C., there is a public school with the highest percentage of Title 1 students in the district. Less than a mile away is a charter school that could have become its competition, luring away students and leaving the district school with fewer funds to tackle the same set of challenges. Across the country, that's how district and charter relationships often play out. They are competitive, rather than collaborative. But that's not what happened in Charlotte.
After selling our D.C. area home and looking for more than a year to buy what we would call our "forever home," my husband Mike and I finally closed on our dream piece of property. It checks off all of our boxes. More than an acre of flat, usable yard space for our kids. A pool with a diving board (my 4-year-old's only requirement). A Harry-Potter-esque cupboard under the stairs for our dog (my 3-year-old's only requirement). And room to grow. It's perfect. It's also stuck in the 1990s in terms of decor and layout. So minutes after closing, we did what any couple who watches way too much HGTV would do: we began making our list of renovation projects.
As Thanksgiving approaches and 2019 nears an end, I'm taking some time to reflect on what I'm grateful for this year. When I zoom out and think about the past 11 months, I realize that I am especially grateful for all the ways that teams have shown up in my life this year.