In Putnam County, Tenn., with 23 schools spread across 400 square miles, we share many of the challenges faced by our fellow rural school districts nationwide, including inconsistent attendance, long commutes, and a high "mobility rate" - the rate at which students are moving in and out of the district. Previously, Putnam County teachers had been using more traditional, often low-tech teaching methodologies. But starting eight years ago, we began to make a significant shift toward personalized and virtual learning with the goal of preparing students to be "future-ready," a term we use in Putnam County to encompass both college-and career-ready as a more flexible concept as students often work toward both at once.
Leaders | Personalized Learning | School Districts
The end of one year and the beginning of the next is frequently a time of reflection and introspection, writing lists, and making resolutions. In the spirit of the season, I've been reflecting on my time with Education Elements. I've been a part of the Ed Elements team since 2013 - not quite six years - and in that time, I've seen quite a lot of change in the work we do and the work schools and districts ask us to do. But, I've also been surprised and proud at how much has remained the same in terms of our mission, culture, and how we think about these challenges.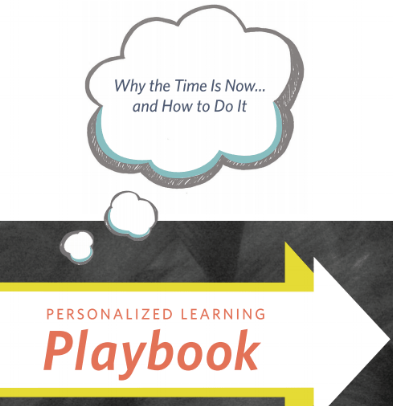 Interested in Personalized Learning But Don't Know Where to Start?
Subscribe to the blog to get your free copy of our Personalized Learning Playbook. A Playbook that will help you make the case for personalized learning, and reflect on the important elements to take in consideration.
Classrooms | Curriculum | Leaders | Personalized Learning | School Districts
Over the past year, we published 71 posts, and we'll probably manage to sneak in a couple more before the year is done! Here at the Bring Your Own Thoughts blog, it's always been our goal to create space for a wide range of perspectives and experiences so that as many educators as possible can find content which is useful and relatable to their own challenges and goals. We're proud to say that every year, the B.Y.O.T. blog includes diverse voices – from teachers to administrators to coaches and consultants – and this year was no different. With thought leaders from schools, districts, and education organizations across the country, as well as our own team, we talked about everything from PL to equity to curriculum to leadership to organizational practices and beyond, in the form of blog posts and multiple new blog series, podcast episodes, downloadable tools and resources, and comments from our readers! You can learn more about our work over the past year in our reflection on 2018, and today, we're sharing this year's most popular posts on the blog.
PBL | Personalized Learning | Project Based Learning
Recently, I had the opportunity to facilitate a workshop with our partners at Loudoun County Public Schools and the Buck Institute for Education to do some deep thinking about the connections between project-based learning and personalized learning. I am very passionate about these two pillars of instruction, and I'm doubly passionate about their intersection.
Are you a district or campus leader who struggles to find highly qualified or highly talented teachers? Do you find yourself losing out to other districts when it comes to attracting the best and brightest? Do you have a plan in place to recruit and retain those fantastic teachers who can not only impact student learning but help build the dynamic and innovative culture you desire in your district or on your campus? The National Center for Education Statistics reports 8% of the nearly 3 million teachers in the U.S. leave the profession each year. Additionally, over 41 percent of all new teachers will leave the profession within 5 years. Most alarming, 45 percent of all teacher attrition occurs in just 25 percent of all public schools: high-poverty, high-minority, urban, and rural. While attrition and staff turnover are common among all industries, the rate is noticeably higher in education than in other highly socially respected professions such as lawyers, engineers, architects, and several medical-related fields. Moreover, repeated staff turnover and teacher attrition can negatively affect a wide range of educational practices, including professional development, class assignments and scheduling, curriculum planning, and collaboration. Combined, these factors create a significant amount of disorder to schoolwide operations and potentially reduce student learning across a campus or district.
"I don't think I would have made it through that year without her." "His support and confidence in me helped me grow and achieve in ways I never had before." "She pushed me to change the way I think about my work and my life, and I am a better person for it." In a recent conversation with a group of district leaders, each individual reflected on key benchmarks in their careers that profoundly impacted their leadership trajectory. While there were many experiences, decisions, and opportunities discussed as moments that helped to shape their path, each individual credited a specific person, specifically a coach, as the most important contributing factor to who they are as leaders today. Based on the reflections each leader shared about a coach they have worked with, it is clear the impact that these coaches had is both powerful and lasting.