Aside from my family, Drew Brees, and my work in education, I have another great passion - photography. I fell in love with cameras and editing photos when I first set foot in a darkroom in high school. Up until that point, I would look at a picture and judge its impact based on my own personal interest or something of beauty that I saw in the photo. After nearly two decades of refining my skill set in the field of photography, I've learned that the photos that leave the greatest impression on the viewer actually follow very technical photography rules. A talented artist, like a talented teacher, brings much more than technical skills to their craft, but for a teacher just beginning their journey in say, a personalized learning approach to teaching, the technical skills can be instrumental in creating a classroom that leaves an impression on its students. Enter composition.
It is an exciting trend that educational agencies across the United States are launching regional initiatives to create deep, enduring models of personalized learning in an effort to adopt a new vision of public education that addresses our nation's diversifying student body. One such agency is the Puget Sound Educational Service District (PSESD) near Seattle, Washington. PSESD is one of nine regional educational agencies serving school districts and state-approved charter and private schools in Washington. This service district is deeply committed to becoming an Anti-Racist Multicultural Organization in order to eliminate the Opportunity Gap (check out their racial equity tool!). One of their core tactics to close this gap is personalized learning.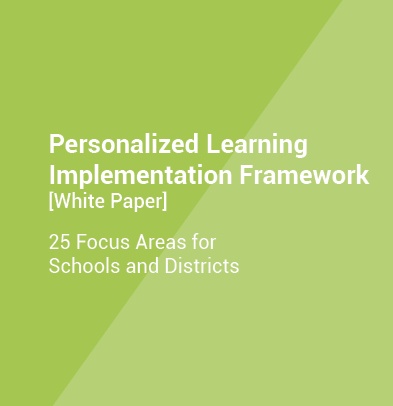 Considering Personalized Learning But Don't Know Where to Start?
Subscribe to the blog to get this resource to find out the essential areas to effectively launch, support and sustain personalized learning.
Classrooms | Personalized Learning
It was about a year ago that I took the plunge and implemented personalized learning in my classroom. That decision turned out to be one of the best I've made in my sixteen years as an educator. Under the guidance of and support from Kelly Freiheit at Education Elements, my traditional third grade classroom has evolved into a personalized learning classroom that has changed the way my students learn.
Personalization is everywhere you turn today - from your online shopping recommendations to your daily coffee order. Some districts have realized the power of personalization and begun to tailor the way they interact with families and students. But the power of personalization for family and student engagement is just beginning to be tapped and requires more than a customized parent portal or individualized lesson plan to truly engage diverse families and students. And in our current state of national affairs, finding ways to deeply connect with students and families is more important than ever.
Classrooms | Personalized Learning
Selecting the right instructional model to personalize learning is a bit like cooking dinner for my family. It's an art, not a science. To better understand this analogy, it is important to be familiar with the three base models that teachers have in their proverbial pantry: station rotation, playlists, and flipped lessons. To learn more about each of these in the elementary and secondary settings, check out these infographics: PL models for elementary classrooms & PL models for secondary classrooms. Let's first explore where each model is most useful:
As we continue to progress through the 21st century we are compelled to ask whether current models of schooling are well designed for the world beyond classroom walls. In particular, it's worth reflecting on 3 essential questions in school model design, a term we use to refer to how schools are organized to deliver instruction to students.