PL Summit | Personalized Learning Summit | Professional Development
It is hard to make something better each year and yet, somehow, as I reflect on the Education Elements Personalized Learning Summit 2018, it feels like we have done it. It's five days since the Summit ended and I am still energized by the energy and passion of every one of the 750 people who attended. I am still excited about the ideas I heard and looking forward to talking more to the people I met. I am still amazed that we pulled it off. 750 people is a lot of people for a conference that four years ago had less than 150!
Stories compel us: Last week Education Elements hosted our 4th national Personalized Learning Summit. The event included more than 750 leaders from schools and districts across the country. Our opening session featured George Couros, author of The Innovator's Mindset. His sixty-minute keynote was jam-packed with ideas and inspiration, but one idea stood out to me the most: we need to get better at telling stories.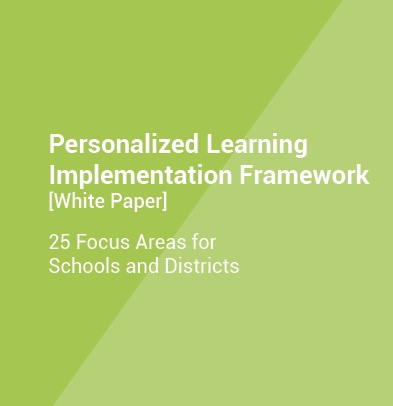 Considering Personalized Learning But Don't Know Where to Start?
Subscribe to the blog to get this resource to find out the essential areas to effectively launch, support and sustain personalized learning.
Leaders | Personalized Learning | School Districts
The Education Elements team logs thousands of hours on the road through snow storms and hurricanes, mechanical issues, and flight delays. We travel across the country (and around the world) to work with amazing school and district leaders. Because of our nomadic lifestyle, we get a lot of questions. "How many rewards points do you have?" "How do you stay fit?" And the dreaded, "Do you know what time zone you're in?"
Last week I heard a district leader say, "In God We Trust - everyone else, bring data." I chuckled - because we talk out of both sides of our mouth when it comes to data. In the same breath we demand "data driven instruction" instruction in our classrooms but it's also clear that we don't understand (and many times don't trust) the technology that captures this very data needed to drive instruction. Also last week, Ed Week highlighted this dichotomy in the survey results of school leaders on the use of technology with their students. A majority (57%) believe that 'digital technologies are an important supplemental resource used to personalize the learning experience based on each student's strengths, weaknesses, and preferences.' Yet an even higher percentage of school leaders still have valid concerns with how technology companies collect data and influence what and how we teach students.
Classrooms | Personalized Learning
In Harrisburg we have been implementing personalized learning for a little over 5 years. In our 5 years of implementation we have learned a ton and have started to create a solid roll out plan:
According to the US Department of Education, over six million students (14% of the population, or about one in seven students) missed 15 or more days of school in a recent school year. And the results on student achievement and future career opportunities are devastating. What are school districts doing to improve student attendance? In Education Elements' new infographic, we compiled seven steps to improving school attendance. Here, we will highlight three of those steps.