Blended Learning | Classrooms | Personalized Learning | Teachers
Victoria Fricke's Video Diary This March, I decided to participate in the Shadow a Student Challenge. The gist of the challenge is simple: enter the world of education through the eyes of a student in hopes of building empathy for students. When I saw the email explaining that the challenge was a month away, I quickly approached my department chair and principal with a proposal in hand stating why I wanted to participate. Lucky me, they said yes!
Classrooms | Personalized Learning | Teachers
Happy Teacher Appreciation Week! Being a teacher isn't easy. The hours are long, the work is challenging, and sometimes the job can feel thankless. But teachers have an amazing impact, and if anybody deserves appreciation for the work they do, it's teachers. At Education Elements, we have the privilege of working with exceptional teachers who strive to personalize learning for every student. Teachers inspire us all year round, but next week is a special opportunity for us to show how we feel. Tuesday, May 3rd is national Teacher Appreciation Day... but we prefer to take our cues from the NEA and the national PTA by celebrating Teacher Appreciation Week!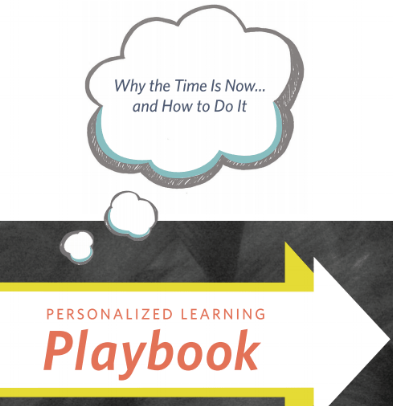 Interested in Personalized Learning But Don't Know Where to Start?
Subscribe to the blog to get your free copy of our Personalized Learning Playbook. A Playbook that will help you make the case for personalized learning, and reflect on the important elements to take in consideration.
Classrooms | Innovative Leadership | Personalized Learning | Teachers
This is not the blog post I intended to write. When I heard about the Shadow a Student Challenge I was excited. Last year I was among the many educators that read a teacher's account of what it was like to be a student for a day and felt despair rather than hope, and I'm pretty sure by 3rd period despair was high on the emotion list of that teacher and all of her "classmates" as well. So when this year's Shadow a Student Challenge opportunity came along I went for it: I downloaded the packets, set up the day and got ready to see what it felt like to be a student again.
Curriculum Strategy & Adoption | Personalized Learning | Teachers
If you went to ISTE this year you are probably not reading this blog right now, as you are still there or, having already left, are now in active recovery and trying to shield yourself from all external stimuli. ISTE is, in a word, overwhelming. With over 14,000 educators, what seemed like as many industry experts and vendors (don't worry, it wasn't actually that many!) and more panels, workshops and speakers than we could possibly count, there is an incredible amount to take in. And also an incredible number of things people might take away. And since my 21 hours there only included around 5 sleeping I thought I'd share just a few observations.
Inspired by the articles on education models in Forbes and Quartz. Two of my middle school students hard at work into the evening at a 3-day entrepreneurship event, building a mobile app that is one day set to compete with Google calendar for the benefit of students, teachers, parents, and their learning community. I will never forget the time in my short yet sweet teaching career when I got to teach "morning math," a series of 45-minute, optional classes that started at 7am on a school day. I had just begun teaching middle school math after spending numerous years in the petroleum and biotechnology industries as an engineer, and I was finding myself increasingly agonizing over how 'boring' my math classes were becoming… even to me, the teacher! The world's fast-moving out there, yet here were my middle school students, suppressing all of their creativity in a math curriculum from that (tried but) didn't provide them with connections between learning and what it can do in the real world. My students thought my background in industry was cool and often wanted to hear about my experiences; however, they couldn't think on their feet about how they, too, might one day work in interesting fields. Their textbooks weren't made to spark their curiosity. I started thinking a lot about how to change this environment. When did I first find true love and purpose for learning subjects like math and science?
Personalized Learning | Teachers
As an English major who graduated into the recession of 2008 with little work experience, I learned a lot about the value of failure. I had taken one class in web development my senior year and decided on a web-based future career. With the tacky blue-and-orange portfolio site I created in my class, I applied to hundreds of jobs over the next couple of years, learning as much from failed interviews as I did from brief internships and freelance gigs with companies that couldn't afford full-time staff. Little in my formal education had prepared me for this learn-by-failure approach.