Classrooms | Leaders | Personalized Learning | School Districts
There are even more ways to tell a story than there are to bake a cake. A recent article in Edsurge told a story about million dollar consultants (us) and some of the districts we support in their efforts to transform teaching and learning through personalization (including Charleston County SC and Fulton County GA). It was one version of the story, with one set of facts and data, and we'd like to take this opportunity to re-tell that story in a way we feel more accurately captures the work, and accomplishments, of those districts, as well as others across the country.
In the three-plus years since introducing Personalized Learning (PL) in individual schools within a large public school system, the Imaginarium, Denver Public Schools' (DPS) innovation lab, has been studying the conditions that help and hinder the implementation of PL at scale.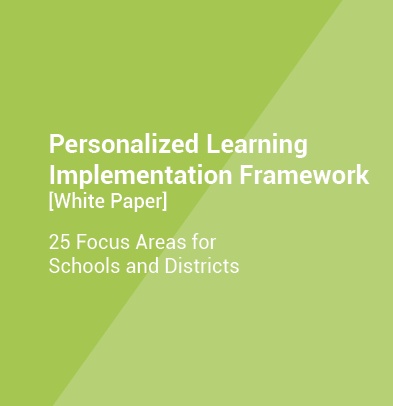 Considering Personalized Learning But Don't Know Where to Start?
Subscribe to the blog to get this resource to find out the essential areas to effectively launch, support and sustain personalized learning.
Stories compel us: Last week Education Elements hosted our 4th national Personalized Learning Summit. The event included more than 750 leaders from schools and districts across the country. Our opening session featured George Couros, author of The Innovator's Mindset. His sixty-minute keynote was jam-packed with ideas and inspiration, but one idea stood out to me the most: we need to get better at telling stories.
Leaders | Personalized Learning | School Districts
The Education Elements team logs thousands of hours on the road through snow storms and hurricanes, mechanical issues, and flight delays. We travel across the country (and around the world) to work with amazing school and district leaders. Because of our nomadic lifestyle, we get a lot of questions. "How many rewards points do you have?" "How do you stay fit?" And the dreaded, "Do you know what time zone you're in?"
Classrooms | Personalized Learning
In Harrisburg we have been implementing personalized learning for a little over 5 years. In our 5 years of implementation we have learned a ton and have started to create a solid roll out plan:
Imagine you're exploring a new place. It's exciting, but unfamiliar and so remote that you've lost cell service. How do you get where you're going? Chances are, you'll seek out an expert - someone who knows the lay of the land and can give you directions. Once you've found the corner gas station and asked for assistance, what will your expert guide tell you?