Leadership | Personalized Learning
As we work with schools and policy-makers to successfully implement student-centered learning models, we often hear concerns around building community support. Time and again we come back to the idea that communicating to others the why, the how, the what, and the when is key to a successful and sustainable transition to new, innovative learning environments. We also nearly always come back to the challenge that knowing communications is important is one thing, but doing it effectively is another thing entirely.
Blended Learning | Digital Content | Personalized Learning
As a learning organization, we are always improving and iterating School leaders often ask us: "How do I select the right content for my blended classroom?" To help answer this question, we've developed an infographic and guide to "Selecting Curriculum to Support Personalized Learning".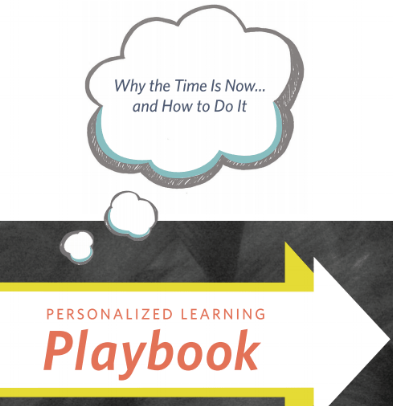 Interested in Personalized Learning But Don't Know Where to Start?
Subscribe to the blog to get your free copy of our Personalized Learning Playbook. A Playbook that will help you make the case for personalized learning, and reflect on the important elements to take in consideration.
This blog post was originally published on the CompetencyWorks website, based on data from former Ed Elements team member Mike Wolking. Mike Wolking, currently completing an Axford Fellowship, sent me a summary of a short investigation he completed in how a student spends their day. He followed a student in a New Zealand secondary school for a day and tracked her activities. As I read through the summary, I thought it might be a helpful way to begin to think about the quality of personalized, competency-based education. This type of data could be useful for reflection and opening up conversations about where there might be opportunities for strengthening instruction, assessment, and learning experiences as well as identifying where operational policies or organizational habits are getting in the way. One would have to also consider the question: How do we think a student should spend their time in order to optimize learning and development?
In his book Striving for Equity: District Leadership for Narrowing Opportunity and Achievement Gaps, co-author and former Arlington County Public Schools Superintendent Robert Smith provides the following explanation of educational equity: "You don't have equity in conditions in which all students are receiving the same amount of support, ... You are getting equity if you have a situation in which every student is getting the amount of support to be successful."
Personalized Learning. Two words that at the same time inspire hearts and minds, and leave our pragmatic minds wandering. If you are anything like the educators and leaders in the schools and districts we at iTeach support, you are already a 'believer' in the promise of a learning experience that is personalized. You might even have your own working definition for what it looks like in your instance, and that definition may well be informed by the good work of organizations like Education Elements, iNACOL, Learning Accelerator, and other thought leaders. For us, here in Georgia, we were all so caught up in igniting the spark of this new paradigm, that we created some confusion, or at least some incongruence across the state. Some early-adopting districts spending money on redesign and consultation, create and communicate their own vision with their own language, leaving smaller or less-resourced districts unable to shoulder the financial burden of such work to pick at the bone and create Frankenstein models of their own.
Leaders | Personalized Learning | School Districts
Everyone is an innovator Within the last two decades, the barrier to entry to be innovative has dramatically decreased. Today, people can have multiple careers and innovations within a lifetime. Innovation has become so frequent that it's part of everyone's vernacular and a topic in many industries including healthcare, auto manufacturing, and education. Who doesn't want to be innovative? It's cool to be considered innovative and disruptive. Clayton Christensen wrote several best selling books on innovation and Clayton and Michael Horn put out a seminal book which in many ways shaped changes we have seen in education, "Disrupting Class: How Disruptive Innovation Will Change the Way the World Learns". This book made innovation cool even in education. Inspired by the practices of responsive organizations in other industries, Alexis Gonzales-Black and I co-wrote the book, "The NEW School Rules: 6 Vital Practices for Thriving and Responsive Schools", to help schools and districts become more innovative and agile.