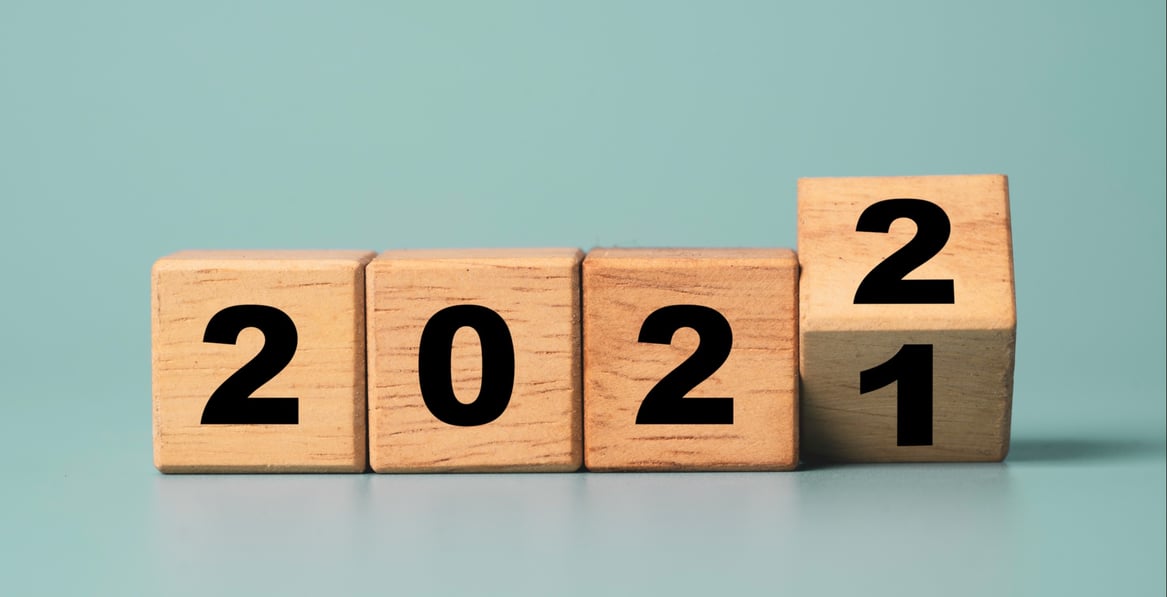 Subscribe
5 Major Predictions for 2022
Education Elements | Organizational Leadership & Change Management
In 2021 we navigated a lot of change and ambiguity. Life felt at times, hectic and unpredictable, but there was also a slowing down. There were shortages; so we waited longer for everything from household supplies to PCR tests. We saw inflation creep up, and so we waited to buy things; and, we changed our purchasing habits. Stores and restaurants reduced hours due to staffing issues and lowered demand. So while there was great uncertainty, this slowing down also made many families question everything from where they wanted to live, to the types of jobs they wanted to have, to their values and how they want their children educated.
In my 2021 predictions, I anticipated the following:
Most in-person conferences will be canceled until late 2021 - True for me and the in-person events I wanted to attend.
75% of our meetings will continue to be on Zoom in 2021 - True, though probably more like 80%.
Greater focus on effectiveness vs efficiency - True, when everything got turned upside down and we were questioning what would work, we had to adapt. We had to focus on effectiveness vs getting efficient at something that didn't work.
The need to establish trust across our teams & communities - The need to establish trust is even greater now. While many still function in a remote environment, it's still really hard to build new relationships and trust in this modality. So we have to put in the same number of hours that we would in person or more.
Parents will ask districts for more options - Still true and growing. Homeschooling has grown from 2.7 million students to over 5 million. Some say it's even closer to 9 million. Families and communities have gotten more deeply involved in education over the past 18 months because of the direct impact it has had on them.
Coming into 2022, we are still in the midst of constantly changing conditions. The dynamics are different from city to city across many fronts: from vaccinations and masking, to political policies and the polarization of local communities. And, in an effort to understand this, I've been reading Ray Dalio's new book, The Changing World Order, which talks about these macro-economic, historical shifts in nations, and I see similar patterns in our local communities; and in recognizing these cycles we may anticipate what may be in store for us. Check out his free site, economicprinciples.org.
When I look back, almost a decade ago, the country was focused around Common Core as a way to standardize education across the country. This failed, and states took it upon themselves to develop more state focused standards; after all, education is generally controlled by the Departments of Education in each state. Over the last 2 years, I've seen a greater shift to even more localized control. From the push to more locally, culturally relevant content, to policy disagreements between the state and community – the COVID-19 pandemic further highlighted the misalignment between the state and local communities.
In fact, I believe we are going to swing further from where we are with public education by disassembling the vision of the Common School by Horace Mann. The whole country experienced the possibility of technology enabling learning with both good and bad experiences, but it opened the minds of many. Those families with resources totally changed their thinking and many formed their own micro-schools. (In fact, I'm on the board of Nevada Action for School Options, one of the leading non-profits that has enabled micro-schooling and seen the momentum first hand.)
So given this, my five predictions for 2022:
Engagement over assessments. While we will need to assess students to get a better understanding of where they are at, these assessments will not have the same kind of weight around grades, failures, and graduation. As we see in other sectors that are re-examining employee engagement, school systems will need to consider teacher and student engagement more deeply. Stakeholder perception tools like

Tripod

, Youth Truth and Thought Exchange have been increasingly used to understand relationships and engagement over assessment.
Customization over standardization. Communities and school boards are divided on many levels. Through all this change, individual families are demanding customization based on their specific needs and interests. There's outrage when one approach is provided for curriculum or instructional programming. Fixed curriculum or static textbooks will not satisfy the diverse needs of communities.
Outsourcing of more core functions over in-house. There's a heightened shortage of educators in the workforce caused by a variety of factors including the stress of teaching which has become overwhelming for many; fewer people are becoming educators, they are retiring early, and some are shifting to adjacent careers in edtech or going into other professions. This has caused significant reorganization in school systems. Across the country we see educators put in completely new roles for the first time with limited professional support. In the meantime, school systems not only need to continue to perform the functions they've performed in the past, but are having to adapt to new modes of operation due to COVID-19. There could be a shift to outsource routine functions that districts perform every year, or on cycles, like curriculum adoptions, professional development planning, and data management to organizations that do this work on contract quickly and with aggregated expertise. Similar to how organizations outsource payroll, human resources, and even product development, I can see school systems exploring opportunities to outsource some core functions traditionally maintained in-house.
Homeschooling & microschooling over traditional education options. With the Omicron variant on the rise, a number of schools and colleges either closed early for Winter break or are opening remotely in January. For example

Havard announced they will be remote

most of January and

Prince George County Public Schools said they will start the first 2 weeks

of January with remote learning. Many companies are announcing they won't require a return to work in the office right away as well. So this creates situations where families will take control over the schedule of their child's education again for a second year. This has rapidly increased the shift to homeschooling, microschools, and learning pods started by parents and enterprising teachers, who also want flexibility and the ability to leverage their skills. At the same time, as the world braces for potential lockdowns, and accumulating supply chain issues; it's likely that toilet paper and other maintenance supplies will be limited, preventing school systems from opening or providing full services. Right now traditional school systems and charters are held back by some policies and operating procedures designed for more predictable conditions.
More pressure to allow funding to follow students over seat-time or attendance zones. Last June,

Joseph South from ISTE

and I wrote about the "

K-Shaped Education Recovery

". In December, McKinsey also published "COVID-19 and education: An emerging K-shaped recovery" which digs deeper into the data and reinforces the idea that upper income families might have experienced a renaissance in education, while lower income families are faced with a depression. At the same time, there are seismic shifts in demographics into suburban and rural communities from white collar workers moving their families into new markets. Cleveland, Texas is one such suburb of Houston that is seeing fast growth, where the housing market is having a hard time keeping up with demand. Similarly, areas of the Hudson Valley, outside of New York City are seeing an influx of New Yorkers establishing residence now that their workplace remains closed in Manhattan. As more families relocate, and as schools try to address our "K-shaped recovery" we should see more support for funding to follow students.
Going into 2022, let's not spend our energy hoping things will go back to the way things once were. COVID-19 has created a global shift in everything we do and has changed the trajectory we were on. It's pretty obvious at this point that we will have to adjust to another year of the pandemic with the impact of the Omicron variant. By the end of 2022, we will have been adapting to changing behaviors for over 2.5 years. At that point, the ripple effects caused by the pandemic will have reshaped how we live and work with some degree of permanence. I believe we will be able to plan better if we scenario plan and anticipate how things will change vs trying to resist the change. We are in the midst of a sea change. When you are swimming in the sea, you can't fight it, you have to ride it's waves to reach your destination.