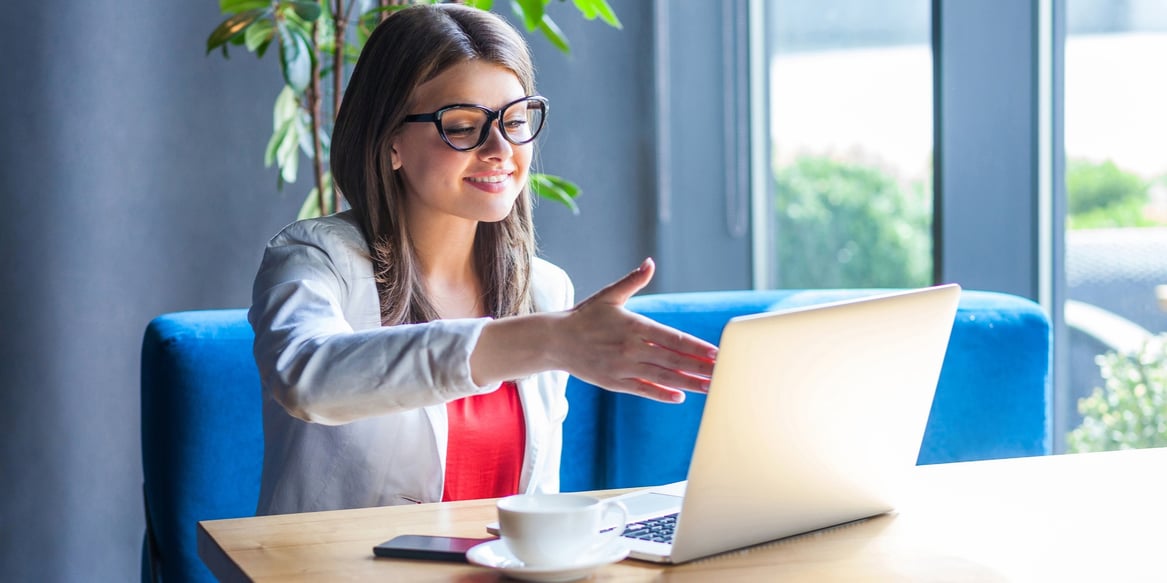 Subscribe
Virtual Recruitment Through COVID-19 and Beyond
Teachers | Teacher Retention | Remote Work
The worldwide response to COVID-19 is creating unforeseen challenges and virtual changes for every aspect of our education system. Long-standing pillars such as curriculum and instruction, operations, and accountability, among others, are all being tested under the weight of the pandemic response.
Not only is the crisis exposing cracks in traditionally stable foundations, but the effects are also increasing pressure on already vulnerable components. One critical area facing immediate challenges is districts' and schools' abilities to recruit for an already understaffed workforce. Social-distancing, an endless list of competing operational contingencies, and an unknown timeline for a 'return to normal' all create new obstacles for human resources, and ultimately, our collective goal to better serve our students.
In particular, the current context poses new challenges and opportunities to the ways in which we staff our classrooms. Fewer opportunities for in-person recruitment may shrink an already depleted candidate pool, shifts from in-person to virtual interactions may change the way we assess candidates, and new demands on access or resources may introduce new biases and/or obstacles to efforts to develop diverse candidate pools.
In order to help flatten the potential recruitment dip, schools and districts should review their candidate journey map to determine impact and adjustments in a shift to virtual recruitment. What is the current state of your virtual engagement? What in-person structures can be adapted and which no longer work? How will the 'new normal' and our immediate shift to virtual instruction affect the skills we assess and develop? And while we recognize that this is an ever-changing situation, we offer the following suggestions as you consider each step along your candidate's roadmap.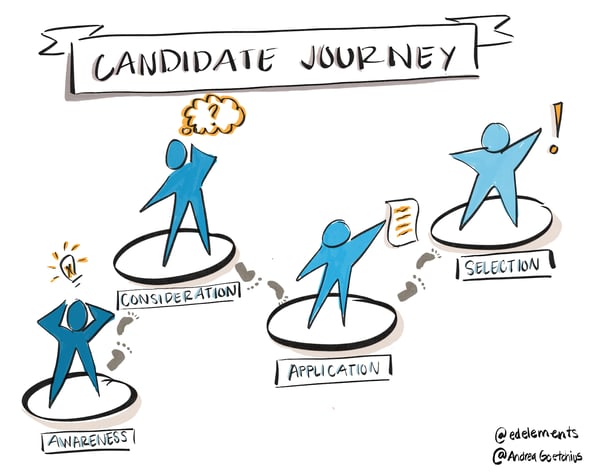 Candidate Awareness
Long before social-distancing was a household term, social-networking already reigned as the supreme venue for organizations to build their brand awareness with potential employees. In a 2019 Glassdoor report, more than 86% of younger job seekers used social media in their job search. With fewer opportunities for more traditional, in-person recruitment efforts and events, the ability for schools and districts to virtually market themselves to prospective employees is more important than ever.
This is a good time to consider the venues and status of the platforms used to build virtual awareness. How up-to-date and user friendly is your website? What platforms do your ideal candidates use and how are you creating two-way communication with these demographics? Where do they live and would an investment in virtual direct marketing be feasible? The shift to building virtual awareness can feel less overwhelming once targeted around specific candidate profiles.
Building these profiles presents an opportunity to examine potential inequities of candidate access that may limit the diversity, equity and inclusion of your hiring efforts. To better understand these barriers, your local or regional School of Education department within colleges and universities might offer key insights into the capabilities and workarounds for your candidate pool. You might also consider partnerships that can be formed with libraries or community centers to provide devices or space for virtual interviews. The shift to virtual must be connected with a commitment to decreasing the digital divide.
Candidate Consideration
Getting noticed is a first step, but hooking candidates without opportunities for face-to-face interaction is challenging for all industries. In a 2019 international study across 445 employers, 63% of job-seekers were disappointed with the generalization of content on career websites. In a virtual environment, it is essential that schools and districts communicate a convincing, unique and tangible employee value proposition to build on initial awareness.
As a first step, teams might revisit and clarify their employee value proposition (EVP) - the unique sum of the benefits that your employees receive. One simple way to develop this EVP is to ask your staff three questions about your school or district: 1.) Why did you join? 2.) Why do you stay? 3.) What would make you leave? The collective answers can be used to form the headlines you should amplify, as well as vital feedback on concerns you must address.
The next step is to audit your marketing materials using these headlines. Where and how do these messages live on your website, social media and other recruitment materials? By conducting this audit, you can brainstorm ways to incorporate your EVP headlines. You might have your team (employees) film short testimonial videos, create a hashtag and share examples, or revamp your career page. At Education Elements, we created a one-pager and Day in the Life video to explicitly communicate what new team members might expect. In the absence of in-person moments for candidates, schools and districts must determine opportunities to bring the best parts of the job to them.
Candidate Application
For prospects that become official applicants, the true shifts in candidate experience may not be noticed until the click of the word 'Apply.' It's at this point that formal two-way engagement is established, and research suggests that there is a lot to be gained or lost in this transition. According to LinkedIn, 83 percent of job-seekers report that a negative interview experience can change their mind about a role or organization they once liked. And while the situation is ever-changing, schools and districts will need to create a virtual candidate experience that matches, or even improves, what they can offer in-person and ensure this is consistent across departments, schools, and hiring teams.
The transition to virtual interviews provides an opportunity to revisit your candidate profile and how you evaluate positional and organizational competencies. Start by revisiting the specific skills and attributes needed for the role and your organization. How has your definition of teacher readiness changed in a post-COVID-19 world? What demonstrated experience or preparedness around digital platforms need to be included in this assessment?
Crosswalk these with your hiring rounds (application, phone, video, etc…) and identify what question(s) or task(s) will be used to assess each competency. Ensure that your candidate profile and any new requirements around on-line presence or digital competence are included in your job requisites, and communicate what the interview process will look like (how many rounds, timeline, and other logistics).
Candidate Selection
As you outline your virtual evaluation process, look for questions or demonstrations previously evaluated in person that may need virtual adjustments. For example, are there more predictable questions that a person might be able to answer based on scripted notes? Would utilizing a custom browser that restricts other windows be appropriate for any part of the interview? Could an in-person demo lesson be substituted with a virtual lesson with real students or the interview team playing this role?
Despite the loss of many traditional in-person components, the virtual interview presents new opportunities to get a sense of candidates' virtual readiness. You might include tasks that require your candidate to engage with a district platform like Google Classroom or Canvas in ways that will be expected of them as a teacher. Not only does this give you a sense of your candidate's base and what support they might need, it also communicates the capabilities your district will expect of the candidate which can be probed on during open question and answer.
Lastly, it's equally important to consider how these shifts may affect the candidate. Amazon, one company seeing an increase in hiring as a result of COVID-19 response, is sharing virtual interview tips with their candidates. Considerations like internet connection, choice of phone vs. computer, and audio testing, are important reminders for both candidates and members of interview committees. Timing is also different in video, lag or even short periods of silence can make otherwise fluid conversations more difficult. Establishing roles such as a facilitator, and assigning specific questions, can help ensure things stay on track.
Closing Thoughts - System redesign for a post-COVID world
In times where the only constant is change, the responsiveness of our systems, habits and mindsets will be a significant variable in our success. And while the demands on human resources teams to market, engage and evaluate virtually are more immediate in the midst of the worldwide pandemic, the shifts we see today will likely remain in a post-pandemic world. By focusing on the changes we must make to address an ever-changing "new normal," we can design new solutions, retrain and refocus our recruiters and hiring teams, and improve our long-term approach to human capital to better meet our collective goal - to best serve our students in an ever-changing world.
This article first appeared on the blog for American Association for Employment in Education in 2020