Subscribe
The "It" Factor with Running Team Meetings
Innovative Leadership | Teams & Culture
Think back to a recent meeting you were in when you pondered why you were a part of the conversation. Or better yet, you thought about the 10 items in your inbox that needed your decision-making power but instead, you were stuck in a meeting where it wasn't clear what you were making a decision about. We have districts this year that have created the "it" factor for running meetings that tap into everyone's energy in better ways than ever.
While it may seem like these district teams "just have the right people," they have actually taken on a methodical approach to how to run team meetings. Based on The NEW School Rules, written by Anthony Kim, CEO of Education Elements, we have found over the last eight years that every leader wants to effectively make changes and create environments in team meetings that celebrate growth, excitement, and decision-making.
Before you head to your next meeting as a team, take note of a few benefits our district partners are gaining by using the team meeting protocol in their own practice.
All voices are heard
The team meeting protocol ensures that all voices in the team are being heard. Everyone starts out the meeting by checking in. Leaders in Lakota Local Schools share their commitments for the week during check-ins (see image below). They've used this process to engage ongoing professional development beyond their monthly principal meetings. The protocol has allowed them to leave the meetings feeling accomplished and valued because the district leaders are honoring their time and needs. After checking in, each member of the team is able to contribute to the agenda on the fly (generally speaking). Krista Heidenreich, a district leader in Lakota, believes, "The team meeting protocol has helped to strengthen our relationships as a leadership team. Everyone is heard and plays a role during the meeting." This protocol helps teams build trust and authority amongst each member immediately.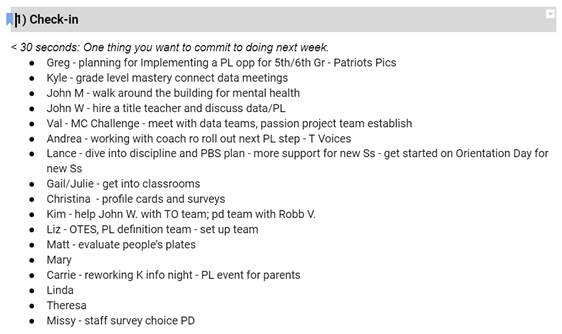 More agenda items and work are being processed during the meeting
The IDL team in Charleston County School District is reaping the benefits of getting work completed during their meetings. They've built in a structure at the end of the protocol that allows them to schedule time on their personal calendars to get the work done in the upcoming week. More than ever, their team is adjusting the meeting template to meet their specific needs as they encounter them as a team. Kendra Murphy, Digital Learning Specialist in Charleston, explains, "We could have a meeting and we might get through 4-5 agenda items, but by the end of the meeting we start talking about something unrelated and we noticed that all the agenda items no longer became active items. In order to remedy that, we added in a section at the end to build in time and insert a voice check that each team member looks through the agenda items and assigns time the following week to complete the actions needed to process the agenda item."
Deeper Dive: Check out our Innovative Leadership Development Guide for more resources related to managing effective teams, building responsive practices as an organization, and more!
Agenda items are intentional and purposeful
As team members add to the agenda, the process supports leaders in becoming clear, concise, and intentional around the item on the agenda. For instance, do you need a discussion? Time to brainstorm? A decision? For many, this can be intimidating at first and that's why we instill the mindset that this takes practice. Christina French, Director of K-6 Curriculum & Instruction at Lakota Local Schools shares, "It forces our team to think specifically about our needs and asks ahead of the meeting so that we are more efficient within the timeframe. It also forces me to think very carefully about the thoughts and explanation I need to share with others."
When it comes to creating an effective team meeting, remember that actions speak louder than words. Through practice, your team will master the process of the team meeting protocol which is meant to be used as a starting point for making a change in your team or across your organization.
To improve how your teams collaborate, make decisions, and achieve their goals, join us for the Team Habits Leadership Institute to build leadership skills and learn how to lead effective teams. Register today to save one of the extremely limited spots for you or a member of your team!