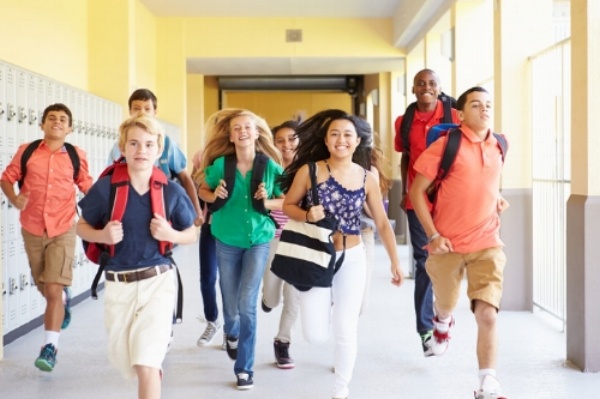 Subscribe
Jarvis Middle School Student for a Day
Personalized Learning | School Districts | Classrooms | Innovative Leadership
It's been awhile since my last blog post as I try to document many of the great things going on at Central Valley on my twitter account, @CVThunderSuper. A couple weeks ago I had the opportunity to live the life of a typical 8th grade student during the school day. I thank the student, Skylar, and the wonderful staff at Jarvis for not only being so patient, but also for inviting me into their world for a day. What follows is my account of March 23, 2017 as best as I can recall. It went by so fast, that some things are a blur.
So It Begins…
Not sure if I'm more excited or nervous to be an 8th grader for the day at Jarvis MS. It has been 29 years since I was an 8th grader. Time sure flies! Thinking back to 1988, the time of Roseanne and The Wonder Years on TV, Beetlejuice and Die Hard at the movies, and Faith by George Michael and Sweet Child O' Mine by Guns Roses - caused a few flashbacks. Mostly the memories were about the great teachers I had and my former classmates. I wonder what other memories will come flying back as I go through my day?
Off to School
The day is starting off a bit different than most. I've dropped the suit and tie for a pair of jeans and a sweatshirt. I'm also wearing my Thunder blue sneakers. No matter what I might do to try and fit in, I bet I will stick out. I haven't seen many six feet tall 8th graders with peppered gray hair. I remember Bugle Boy clothing being popular when I was last an 8th grader, but doubt I will see any today. I certainly would not be able to fit into my old jeans. I used to walk to school at Perry Central, but today I'm jumping in the car to make the short trip from Ilion to Mohawk. As I say good-bye to the family, my three oldest are getting ready to head to the bus stop and Fisher Elementary. My kindergartener asks me, "Why are you dressed that way?" I tell her I'm going to 8th grade for the day. With her hands on her hips, she tells me "You are too old to be in school." Nothing like a sweet child to tell the hard truth. I give them all a kiss good-bye and I'm out the door.
Meeting Skyler
I make my way to Mrs. Rowley's room for advisory to start the day. What we used to call homeroom is much more today, as the students check-in with the teacher they will end the day with. Each student also picks up his or her Chromebook that they left to charge overnight. This year is the first year of 1:1 implementation in grades 5-12, and the excitement and changes in learning that are taking place are unreal. Students are already collaborating and working on schoolwork before the first class. I get my first opportunity to meet Skyler. She tells me about her day and introduces me to a number of her friends. In no time, the bell rings and we are off to 1st period.
Studio Art
I have to be honest, art was my least favorite subject in school. I just didn't see myself as being good at it. This year 8th graders are able to personalize their course load by choosing a high school elective such as Studio Art, Theatre, or Drawing, Design and Production, amongst others. This allows them to take a class they may truly like, and hopefully unlock a passion for future learning. All the students in the 1st period class chose Studio Art as their elective for graduation credit. The students are between units as they made ceramic pots recently that will soon be fired.
Now they are working on drawing designs using circles and lines. Each one is different from the next based on the creativity of each student. Each student uses a pencil to create their designs, and then a sharpie to darken the lines. This is followed by watercolor. It seems each student is in a different place along the process. Mrs. Cooney is great and helps me get started. I have a chance to talk with the students while they work. There is so much excitement for what they are doing; it gets me excited too. The arts are a perfect way for students to personalize their educational experience and unleash their creative side. They work at their own pace on a common task that is different for each of them. I can see why they are so passionate about the class. I might have to reach out to my old art teacher, Mr. Bush, and tell him I finally get what he was trying to unleash in me so many years ago. Before you know it the bell rings and it's off to 2nd period.
Math 8
Mrs. Rachon greets every student with a hello just as Mrs. Cooney did. The boys settle to one side of the room while the girls head to the opposite. Definitely reminds me of my days in junior high school. Students have their Chromebooks open right away to go over using graphs to predict lines. One of the toughest concepts to get when graphing is making lines that fit the data and then interpreting the graph. The 8th graders are making it look easy. Mrs. Rachon reinforces that each of their lines might be slightly different but still tells the same story. She uses an analogy to get the message across, "It's like horseshoes and hand grenades, you just have to be close." This is a great lesson to show that there doesn't happen to be an exact answer. Each student's interpretation of the data is what truly matters. While the class is reviewing the information, each student has access to their notes and other resources on their Chromebooks. They can also collaborate with each other or the teacher. There are so many best practices going on in this classroom, it's hard not to be impressed. The class ends just before the bell with the students voting for independent practice as homework. They clearly want to master the learning. During 4th period they will come back to math to show how much they really understand in math lab. The bell rings so it's time for Spanish.
Spanish I
Skyler took off without me, but I had help to get to class from other students. As soon as the students enter, Ms. White has a warm-up in Buzz for them on their Chromebooks. Buzz is a learning management system where each teacher can put resources for their class, assignments, and videos. Students can submit their work digitally and the teacher can provide feedback. Everything stays in the system so there is no losing homework, assignments, or notes. I ask the students how they like using Buzz and the Chromebooks. They tell me it allows them to learn and work anywhere. It also makes it fun for them. Another plus is that they don't have a pile of books to carry. I can remember dropping my pile of books numerous times in the halls. After the warm-up, Ms. White uses Nearpod to help student learn the verb tense for tener or "to have". This causes an immediate flashback to taking Spanish at Perry Central. Thanks to Señor Heller, I remember how to do this. I even surprise the students with my basic knowledge. Ms. White then gives the students formative assessments questions on the Chromebooks to check for understanding. This allows her and the student to find out immediately whether they know the material and to get extra help if they don't. The small amount of time in class is left for individual vocabulary work along with an exit ticket each student must complete before the bell. Again, the exit ticket is a great use of formative assessment for both the teacher and the students. Wow, it's already the end of 3rd period!
Math Lab
Time to race back upstairs for math lab. This year, students in the middle school get an extra period of math and ELA every other day to reinforce and develop the critical literacy and numeracy skills necessary for success in high school and beyond. I'm glad I brought my own digital device as Mrs. Rachon is using formative assessment games, Quizlet and Kahoot, to reinforce learning and check for understanding. First up is Quizlet live with teams assigned randomly. I find my team and we are off competing against other teams on questions that pop up on our devices. Each student gets a couple of the answers, but must work as team to answer the question. My team wins the first game, but the teams are randomized again and the contest begins anew. There is so much excitement and collaboration happening in the room, it is awesome to see and be a part of it. Mrs. Rachon switches gears to use Kahoot. Now it's each student for him or herself. All students are engaged even when they get a question wrong. They make sure to learn the correct answer in case it comes up again. As I'm trying to keep up with the fast answering students, I make a couple mistakes and fall down the scoreboard. Skyler ends up winning the game coming from behind. The period flies by and the bell rings out of nowhere. So much fun learning just happened in a short time!
Science
Time to head to the top floor in Jarvis Middle School for science with Mr. Arcuri. Just as in every class so far, there is a bell ringer to get started. The class starts with Kahoot as a review on the topography unit. Even though I taught chemistry and biology, I better do well on this as a former science teacher. After a very close game, I emerge victorious. Some of the students give the "oldest student" in the class a hard time, but it's all in good fun. The class transitions with Mr. Arcuri modeling how to create a topographic map as part of the lab activity. Students are allowed to work alone, in pairs or in teams. This is a great example of giving students choice in how they learn best. As the students work, Mr. Arcuri answers questions and checks on all the students. He takes the role of facilitator instead of being at the front of the classroom lecturing. I've noticed the same approach in each class so far and the students are clearly benefiting from this instructional best practice. The period comes to an end.
Social Studies
Sixth period starts before the bell with Mr. Kearney in social studies. All the materials and the plan for the day is in Buzz and Google classroom. Mr. Kearney gets the class started with a bell ringer on the causes and factors that cause your (the student's) grade to be good or bad, and then rank them in order of greatest to least. Talking to Skyler and other students, they love being able to check their grades anytime and tell a parent how they are doing. This kind of feedback is critical and helps motivate students. Mr. Kearney uses real-life examples including his own learning disability to make the experience real. The students freely share their own ideas. This moves the class into an activity on the difference between causation and correlation as it relates to the Great Depression. Students work in teams to create a thesis statement that contains all the critical characteristics. This is an application of rigorous learning at its best. The students are fully engaged and able to make the learning personal. The teacher acts as a facilitator helping students explore the topic with deep questions and clues. Before I know it, it's time for lunch.
Lunch
I make it to the cafeteria and get my lunch from the line. Without my suit on, some of our great food service staff don't recognize me. I'll take that as a compliment because I must look so young. I have a chance to talk to students and hear some of the challenges students face today that we never had to worry about when I was in school. The ever-present social media is definitely an issue for them. It just seems to magnify the difficulty of fitting in that is already a challenge in middle school. A couple students talk about what they want to be when they graduate, but also worry about finding a job. It's four years away for them, but already a concern. Before we know it, lunch is over. Time for Chorus!
Chorus
Last night was a concert so the chorus starts off by doing a critique of the concert including what they thought was good, and what needs to improve. This is a great activity as it helps students to reflect on their own learning and helps set goals to do better. Ms. Reece transitions to a singing activity where the group has to copy the notes she sings. After this listening activity, she gives them a new piece of music from Newsies. The students ask me if I am going to sing with them. What they don't realize is that I spent much of my time in high school and college in the choir room. Some of my fondest memories from school are of Mrs. Bastedo, and Professor Jamison, or as we called him "Chief." Music was an outlet for me. It's unbelievably important that we provide our students with a variety of opportunities to find their passion while preparing them for the greater world around us. As class ends, many of the students ask me if I can come back to sing with them. I tell them anytime you want to invite me, I would love to!
English
I can't believe it's the last period of the day! Mrs. Rowley's ELA class starts with a bell ringer then right to students working on their research project. So much has changed from my day when we had to search the card catalog, microfiche, and put information on notecards. Students are now able to do most of their research online, take notes, and even color code their notes on the Chromebooks. Each student is researching a figure from history. Mrs. Rowley lets them know to see her with questions as she will be conferencing with each student on the progress of their research project. Research projects have been a focus for our curriculum chairs and writing committee. They provide critical problem solving skills we know our students will need to be successful in the information age. Mrs. Rowley reminds students to submit their introductions digitally so she can provide feedback. The feedback loop is critical as students learn to improve their work. I am amazed at the level of learning and work happening!
Final Bell and Takeaways
The bell rings and the day is over. It was a full day without question. I feel like a top as my head is spinning. The learning was non-stop with high energy from teachers and students alike. Our teachers and staff clearly challenge all of our students to learn and grow. They also provide a safe atmosphere where our Thunder can make mistakes and learn from them. The passion our Jarvis Middle School faculty and staff have for our students is undeniable. They are unafraid to try new ideas and strategies that might help our students. So many of them have dived into personalized learning and the use of digital learning, not because it's easy, but because they know that's the world our Thunder are in currently, and will continue to live in. As I walked the halls, at times I felt like a salmon swimming upstream. It didn't help that I was much larger than the flow of students. That analogy helps me understand what our students go through on a daily basis. They are growing up in an ever-changing world with the rapid evolution of technology. Even though they are still children, it seems like they are pushed to become adults at an earlier age. As each of them develop and learn at a different pace, it's critical that we provide them with learning that is flexible, but also challenges each of them. I believe our team at Jarvis is doing just that!
- Rich Hughes is Superintendent of CVSD, and is working with Education Elements to bring personalized learning to his school district.