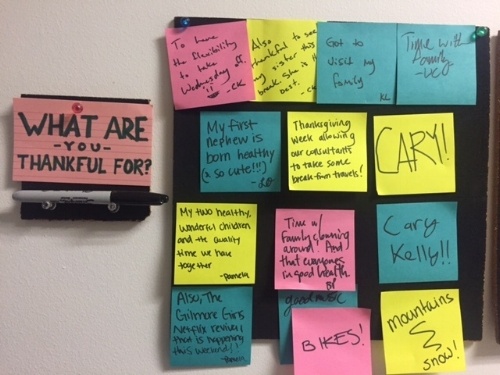 Subscribe
Finding Reasons To Be Thankful
Normally, this is the time of year when people write lists about what makes them thankful. In the wake of the election I have seen less of those and more lists about what is making people feel scared. And that makes sense -- I'm scared too. I am pretty sure for many of us 2016 will go down as a pretty bad year, full of numerous high-profile shootings, deaths of some pretty awesome people, and a divisive election. Yet there still remain so many things for which I am grateful. In the midst of such tension and fear, it seems like now more than ever it's important to reflect on what I am so deeply thankful for.
I am thankful that we are spending more time getting to know individual students, helping them feel recognized, heard and protected.
When we talk about personalized learning, it is not only about understanding a student's academic needs; it is also about getting to know each student as an individual -- learning what they like and don't like, what makes them unique, where they are from, and what matters to them. When we take the time to get to know our students at a personal level, we show them that they matter. In the days and weeks following the election, it has been more important than ever to show students of all different backgrounds that they matter and deserve respect. I am grateful to every educator and administrator who adjusted their lessons plans this week to address election topics and made a point to remind students that they are safe at school. For example, check out the actions of LAUSD leaders. I am grateful that we can better support our students by knowing them at a personal level.
I am thankful that each year more leaders are moving towards personalized learning.
This is hard work and the decision for this shift is a tough one to make. Yet across the country we are seeing districts large and small decide that each and every teacher should do their best to support the learning of each and every student. More districts are realizing that with the right support and tools, it is now possible to effectively personalize classroom learning at scale. I am grateful because every district leader that makes this decision positively impacts hundreds, thousands or even hundreds of thousands of students' lives.
I am thankful for every teacher that tries, fails, and tries again.
I have been a classroom teacher, and I know that we expect a lot of teachers. We want them to be bold and try new things, but with evaluations and other performance measures it sometimes feels like we are discouraging them from taking risks. Still, failing forward is so important. Every day we work in districts with teachers who are trying new strategies, re-thinking how they use time and space, and making new connections -- all to help students achieve their personal best. Sometimes this experimentation is amazing and works as planned; other times...it goes better on a second or third attempt. But I love that our teachers doing personalized learning try, try, and try again.
I am thankful for the Ed Elements team.
Did I mention this work is hard? It is. And yet every day everyone on our team gets out of bed driven by a desire to build and support dynamic school systems where we prepare the students of today for the future they will face tomorrow. My team does this with style, smiles, and grace. They put on music to pump people up but can still get serious and ask themselves the tough questions that challenge their own thinking and assumptions. Our Design and Implementation team rolls up their sleeves to dig into the weeds during district workshops, answers text messages and emails at all times of night, and prepares for every school touchpoint like it is the most important interaction of the year. Our Product team pays constant attention to the evolving needs of districts and works tirelessly to get their designs right. Engineering spends hours and hours coding and building, resulting in awesome new products like Touchpoint. Our Customer Support team aims for 100% satisfaction; our Operations team keeps all tech systems running night and day; our Partnerships team seeks the best for our partner ecosystem and districts; our Marketing and Sales teams -- don't even get me started on how grateful I am for them. The answer is ETERNALLY GRATEFUL. When you ask my five-year-old what she is grateful for, she says her family. Of course, I love my family too, but I hope the Ed Elements team knows -- you all are also my family.
So with Thanksgiving upon us, I am focusing on all that is good and worth fighting for. It's not just that the sun comes up each day -- it is that there are so many amazing people in my life that the sun is shining upon, and I am deeply grateful for that.