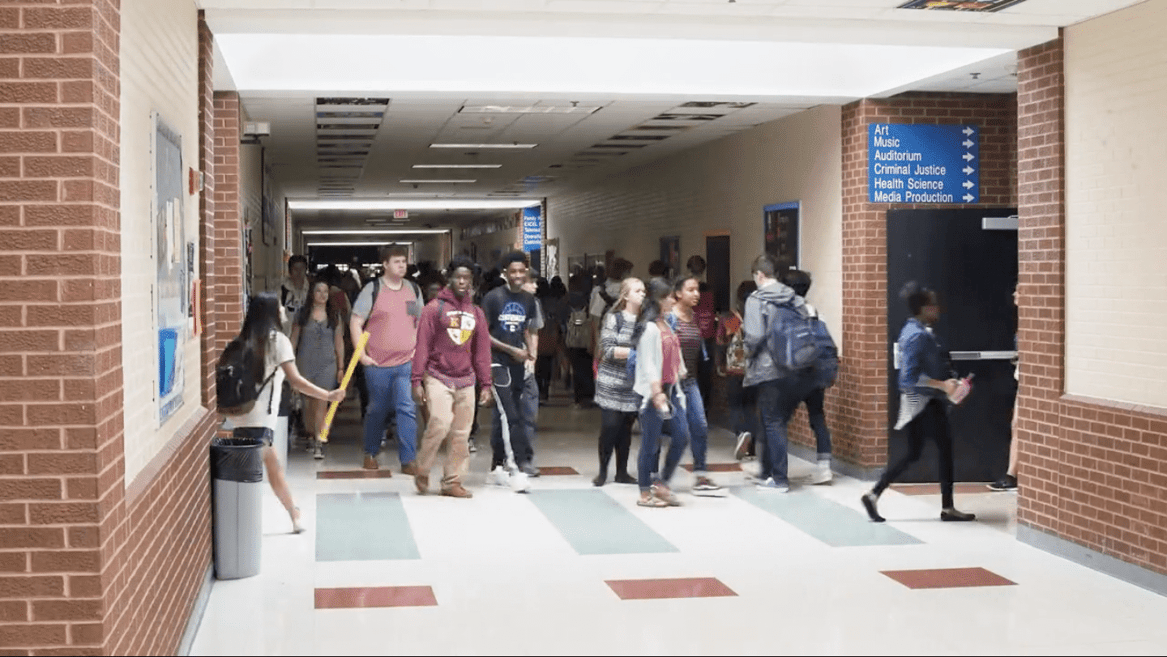 Subscribe
Million Dollar Advice: It's Worth it When You Want To Change Your District
Personalized Learning | School Districts | Classrooms | Innovative Leadership
There are even more ways to tell a story than there are to bake a cake.
A recent article in Edsurge told a story about million dollar consultants (us) and some of the districts we support in their efforts to transform teaching and learning through personalization (including Charleston County SC and Fulton County GA). It was one version of the story, with one set of facts and data, and we'd like to take this opportunity to re-tell that story in a way we feel more accurately captures the work, and accomplishments, of those districts, as well as others across the country.
Fulton County Schools in Georgia is the 4th largest district in the state, serving over 96,000 students with extremely diverse needs. The district strongly believes in the potential of each of its students to succeed and under former Superintendent Robert Avossa, laid out a plan to implement new instructional models and personalize learning in order to achieve the three main goals from its strategic plan: 90% of students will graduate on time; 85% will be eligible for admission to a Georgia college or university; 100% will be career ready.
When we began our work with Fulton County Schools in late 2015, we were selected through a competitive RFP among several providers to work to implement a plan in which successive waves of schools would collaborate with us, and each other, to design new instructional models, create professional development and communications plans, select and align digital content and tools and continually reflect and iterate on teaching practice. The district had a realistic set of goals in mind that would - over time - help it to achieve the goals from the strategic plan. At the same time, as a charter school district, each school set its own vision and goals with guidance and parameters from the district. Nearly every one of the Group 1 schools with whom we worked decided to focus on fidelity of implementation, changes to teacher habits and practices, and increases in student engagement. At the early stages, as in the early stages of nearly any transformation, the focus that these schools chose was on implementation and indicators, more than it was on outcomes like student achievement.
Data from the schools in Group 1 that collaborated with us was very positive - so much so that while our original contract was to support one group of 15 schools, the district changed course. Rather than spreading out support for their hundred schools across several consulting groups, they asked us to support all remaining schools. To date, we have worked with nearly all of the schools in the district while also building the capacity of the district team to provide sustainability.
Over time we have seen tremendous progress – starting with increasing examples of bright spots, then becoming entire schools in which teachers had changed their instructional approach and students were more engaged.
The headline of the original article in Edsurge was Million-Dollar Advice: The High Cost and Limited Return on Personalized Learning Consulting, and that is one way to tell the story. But that version leaves out the initial goals of Fulton (which were around implementation and engagement), their satisfaction, as evidenced by their decision to ask for our support for all groups of schools and finally, that version shows only some of the data.
The article pulled data from the state report card on every elementary school in the first personalized learning implementation cohort. The measure the article focused on was the percent of 3rd grade students reading at or above the grade level target between years 2015-2017, and it showed that 4 of those 8 schools saw a drop in that measure, and 4 saw an increase. Any decline in measures, from test scores such as 3rd grade reading to other factors, matters deeply to the schools and to us. However, if we expand the analysis to include 5th grade at those same schools, another measure included in the state report card, every school saw an increase from 2015 to 2017.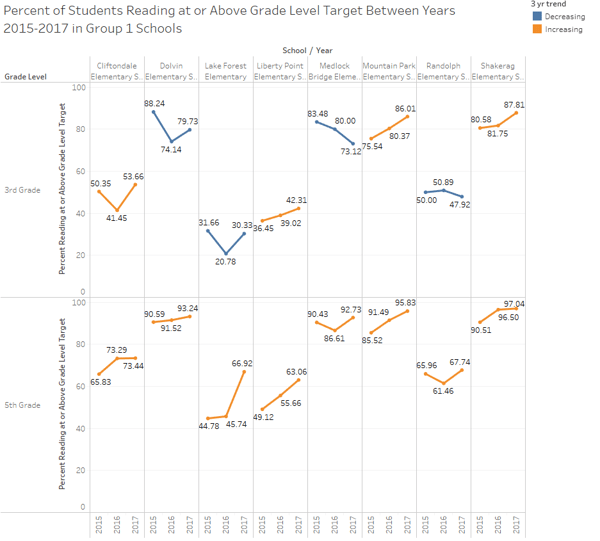 Image credit Nikki Mitchell. View interactive graphic here.
Moreover, if we look at other measures that the state report card uses to calculate CCRPI (College and Career Ready Performance Index), we find even more promising data. The weighted percent of students scoring at Developing Learner or above on the Georgia Milestone ELA & Math EOG takes into account overall student progress in a school by accounting for the portion of students who fall into the different proficiency levels the exam measures, Beginning Learner, Developing Learner, Proficient Learner, and Distinguished Learner. Because this is a weighted percent, it can range from 0, if all students score as a Beginning Learner, to 150, if all students score as a Distinguished Learner. This measure is informative because it captures movement across all proficiency levels for all students in a school, not just when students' scores exceed the grade level target in a specific grade.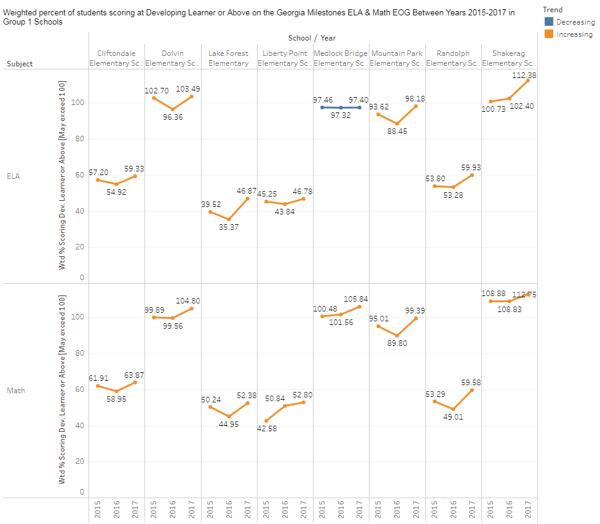 Image credit Nikki Mitchell. View interactive graphic here.
From 2015 to 2017, 7 of the 8 of the elementary schools in the first personalized learning implementation cohort saw growth on this measure in ELA (one elementary held steady, but did not increase), and all 8 saw growth on this measure in math.
The average increase across these 8 schools in the weighted percent of students scoring at Developing Learner or above in ELA from 2015 to 2017 was 4.26, compared to an average increase of 3.07 across all Georgia elementary schools. The average increase across these 8 schools in this measure in math from 2015-2017 was 4.89, compared to an increase of 3.73 across all Georgia elementary schools.
As the original article states, we started our work with Charleston County, SC recently. All of the Charleston data shared in the article predates our partnership with Charleston, so I won't be looking at those results here, but can confidently say that we are excited about the progress in the district and know that the data will soon reflect it. We also asked a principal in Charleston about the work.
"As a successful middle school within the Charleston County School District, we need to ensure that all of our students continue to grow and achieve at high levels. Incorporating personalized learning has allowed us to do this. Education Elements helped us to establish a vision for future instruction, develop a plan to get us there, and create communications and training for teachers and staff. This measured approach has allowed us to sustain what make us successful and intentionally improve our instruction in a way that benefits our students." - Sharon Randall
We know that not everyone will see an uptick in standardized scores within the first few months, but that this is not about a quick fix, this is about changing the trajectory for students and teachers. We believe in the impact of our work and we get to see it often: when we are in schools observing classrooms, in meetings and workshops with leaders, through survey analysis, data analysis and in calls and conversations. I personally am proud of the consultants on our team as well as the districts we support. From tremendous effort and deep collaboration comes big and positive outcomes.
There are no silver bullets and no simple stories. But there are good stories, of hard work and success, like this one from Fairbanks, Alaska from last week, and we are grateful for the opportunity to be able to celebrate those stories here and as frequently as we can. We are not changing headlines, we are changing lives.