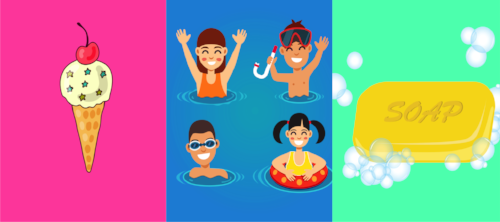 Subscribe
Indiana and the personalized learning DNA
Personalized Learning | School Districts | Classrooms | Innovative Leadership
Don't worry too much - this is not about cloning! Actually it's about totally the opposite - it's about how personalized learning approaches are unique and how what personalized learning looks like depends on what the district is like….it depends on their own DNA.
Two weeks ago, I got the opportunity to visit MSD Warren Township, in Indiana, during the Launch Academy for their second personalized learning cohort, lead by the Design and Implementation (D&I team) from Education Elements. It was an eye-opening experience.
I had the chance to see real personalized learning classrooms, real PD sessions for teachers and principals, and got to hear from all kind of people involved in the process of personalized learning, from teachers like Andrew Austin, to Kate Schwartz the professional learning coordinator, to Ryan Russell, the Assistant Superintendent, to Superintendent Dr. Cushenberry. Since I spend more of my time in the office than out in schools, this was a treat!
I learned a lot about the district, its strategy, its journey, its challenges and its personalized learning story (which is a beautiful one by the way - Stay tuned for a video to be presented at the #plsummit.).
The commitment and engagement I saw from the MSD Warren Township team were beyond the imagination. There was such a high level of energy and of enthusiasm. Everyone I met was working hard to make personalized happen everywhere in the district.
In fact, personalized learning at MSD Warren Township isn't just an idea anymore, it's a lifestyle. The entire district is aligned behind the same belief "We are all learners who deserve personalized learning experiences to become leaders who have the skills to be successful in life and create solutions for a better tomorrow."
At MSD Warren Township, everyone brings their own touch, and, it turns out, many of them also bring their own analogy. I loved how they used stories to make ideas stick, and I have three I want to share:
The vanilla ice cream analogy:
There are certain elements of personalized learning that all teachers, in all schools, will eventually do. This is the starting point. It is the vanilla ice cream. But it is up to each individual school to pick a focus area or sauce (they choose from the core four elements of personalized learning - Integrated Digital Content, Small group instruction/ Targeted Instruction, Student reflection and Ownership, Data Driven Decision). From there, individual teachers get to pick their toppings - their instructional models, specific tools, etc. In this model, schools, principals, and teachers are given a voice and a choice, and ideas come from everywhere and everyone. But consistency and rigor remain important and everyone starts with the same flavor.
The swimming pool analogy:
We all have had a first time experience with swimming. At Warren, the swimming pool analogy refers the first time experience with personalized learning. The district supports school by launching personalized learning in cohorts based on their on readiness and interest. Everyone is in the swimming pool of personalized learning, but going at different speeds and depths. Some may be ready for the deep end while others have their toes in the water and are still getting comfortable with the idea of getting in.. The district has a plan to get all of them to the pool, but not all at the same time.
Cohort 1 was ready to dive into the deep and was willing to go fast and learn first. They were the early adopters, eager to take part of the process (diving in the deep end of the pool). They didn't need a live vest.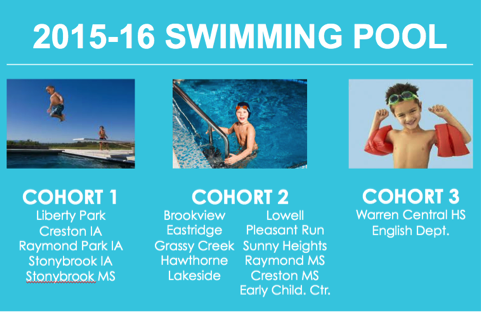 Cohort 2: These schools wanted to dive in the personalized learning pool but they are a bit more cautious and careful. They want to see what have others have done learn vicariously from their experience.
Cohort 3: These are schools getting their feet wet slowly. They are starting shallow but eventually they will be swimming along with everyone else.
The soap bar analogy:
You might wonder why in a school district, administrators would hand soap bars to teachers like they did in Warren.
The soap bar was a way for the leadership team to tell schools to embrace the messiness philosophy, to try new things, and to be comfortable with getting a little dirty, and failing the first time around.
Failing isn't necessarily a bad thing. Failing fast and failing forward helps us learn. This approach at MSD Warren Township made people fan the flame of innovation and be comfortable coming with new ideas, testing new things and thinking outside the box.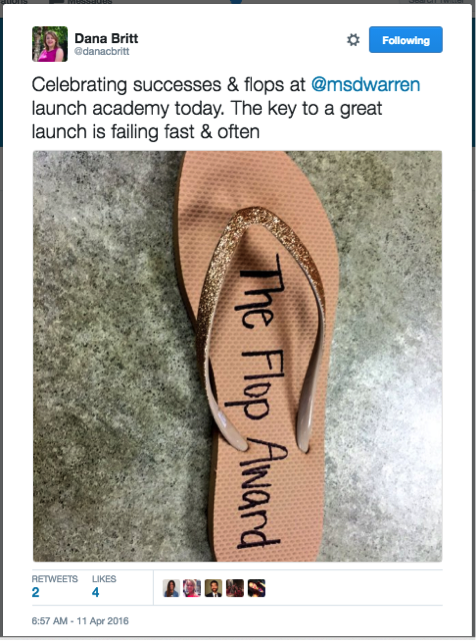 So what are the biggest takeaways for me from Warren's personalized learning work?
There isn't one way to personalize learning, there are many
Education doesn't have to be boring, and nothing is too cool for school. We can be innovative, creative, and have fun while learning and teaching
Nothing gets done without total contribution from all. Positive change happens when everyone is engaged
To implement personalized learning the change should happen outside the classroom first, and then inside it. The district has to change - not just the classrooms or the schools
Personalized learning has to impact the district at all levels - it doesn't work if you try to personalize learning for students but everything else is old school.
It's ok to get messy. We can always clean up, and try again.
Personalized Learning is about meeting students needs AND teachers needs
There are personalized learning musts: The core four elements of PL, innovation and creativity, that constitute the DNA of PL. All the rest can be personalized to each district's needs, style and vision.