Subscribe
Flexible Seating in Personalized Learning
Personalized Learning | Classrooms
It was about a year ago that I took the plunge and implemented personalized learning in my classroom. That decision turned out to be one of the best I've made in my sixteen years as an educator. Under the guidance of and support from Kelly Freiheit at Education Elements, my traditional third grade classroom has evolved into a personalized learning classroom that has changed the way my students learn.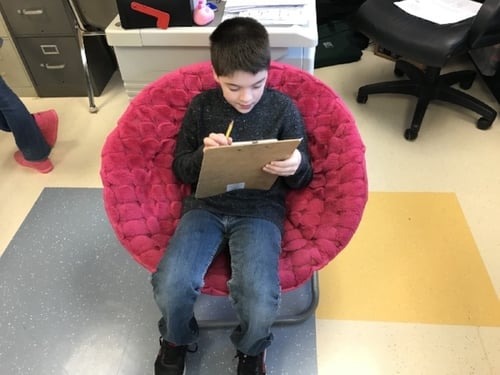 One aspect of personalized learning is flexible seating for students. After watching online videos on various seating options, I began to really ponder the idea of redesigning my classroom in order to offer kids choices (the basis of personalized learning) in the physical way they learn. Research shows so many benefits from flexible seating: it channels excess energy, improves metabolism, motivates learning, increases engagement, and improves posture, to name a few. Hard chairs and desks have been a staple in most classrooms since I was a student decades ago. Education is ever-changing...except the seating! What did I have to lose?
| | |
| --- | --- |
| | |
With the custodian on the lookout for abandoned tables, I quickly ditched my traditional desks and replaced them with tables of various heights. Financial support from the administration allowed me to order a couple of standing desks as well. Throughout the years, there were so many times during professional development sessions that I so wished to just get up and stand because my legs needed to stretch! Due to my being uncomfortable, I'm sure my attention level wasn't where it should have been. Now my students could have the option to stand when necessary.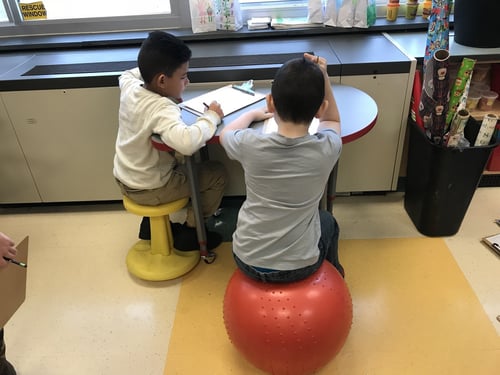 Next came all kinds of cool chairs to replace those same, awful hard chairs of my own school days. Wobble chairs, Ergo seats, stability balls, Vidget seats, Soft Rockers, peanut chairs, and garage sale finds allowed for plenty of choices, along with soft mats for working on the floor. Clipboards allow for work to be done on any chair in any position.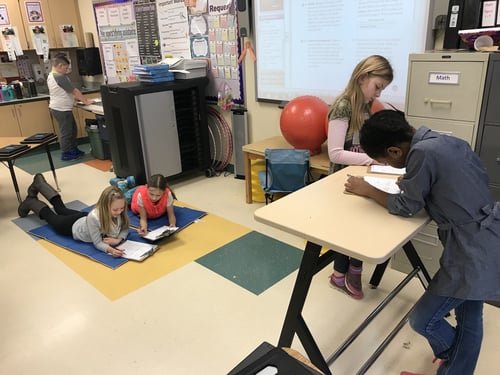 I realized there would be an adjustment period for the kids in using these chairs, but it was a much shorter timeframe than I anticipated. With a few class discussions on sharing and trading chairs, it did not take long for the kids to figure out their seating situation. Now, they have it all under control, and we're all reaping the benefits! Attention has never been better, and the kids just seem generally happy. As I write this article, I am not sitting on a hard chair. On the contrary, I am sitting in a comfy chair with my legs outstretched on an ottoman. I do my best work when I'm comfortable - and so do my students!
For more ideas on implementing Personalized Learning in the classroom, check out the Education Elements guide on Playlist Building 101.
This is a guest blog post from a teacher at Barringer Elementary School in Central Valley School District, NY.