Subscribe
Feedback for Every Teacher to Boost Student Engagement
Personalized Learning | Classrooms
Take a look inside a high school physics teacher's classroom. In her fifth year, Ms. Valdez is popular with nearly all of her students. They appreciate her energy and sense of humor. Her ambition is to engender in her students the enthusiasm for and wonder about physics that motivated her to devote her career to teaching the subject. She has told you that she wants to teach her students to think like physicists. Unfortunately, your observation reveals that Ms. Valdez is far from her goal. Students will do the work, but except for a few particularly eager participants, most seem to be soldiering through the course hoping to get good enough grades to get into the college of their choice. With student engagement and communication at the center of Common Core and Next Generation Science Standards, you ask yourself, "How can Ms. Valdez take steps to get more of her students truly engaged in physics?"
You might suggest to Ms. Valdez that she work with the school's coach or an assistant principal, both of whom could observe her classes and give her feedback on what they notice and how to improve. The problem for school leaders of course is that instructional coaches, while effective, are often costly and time-intensive, making it impossible for them to give more than a few teachers feedback at any particular time. As a result, those coaches will focus most of their attention on new teachers and those in real trouble—neither of which describes Ms. Valdez. But what if we could better support Ms. Valdez without requiring an observer in the back of the room? What if Ms. Valdez had a coach in her pocket that could be activated on demand to get rich instructional feedback on student engagement as often as she wished?
Related Reading: How School Leaders Can Empower Every Teacher to Be a Leader on Campus
New technology has made a coach-in-the-pocket reality for thousands of teachers like Ms. Valdez, through the use of an automatic feedback tool available on smartphones, tablets, or laptops called TeachFX. When turned on, the TeachFX app records audio of all or part of a class and when turned off, analyzes the recording to separate teacher talk from student talk automatically. I first experienced the potential of self-coaching through TeachFX when one of my former graduate students brought his prototype of an automated feedback tool using voice artificial intelligence into my graduate classroom. Fascinated by its potential, I started using TeachFX in my own classrooms and was amazed at how vividly the graphics depicted my classroom dynamics.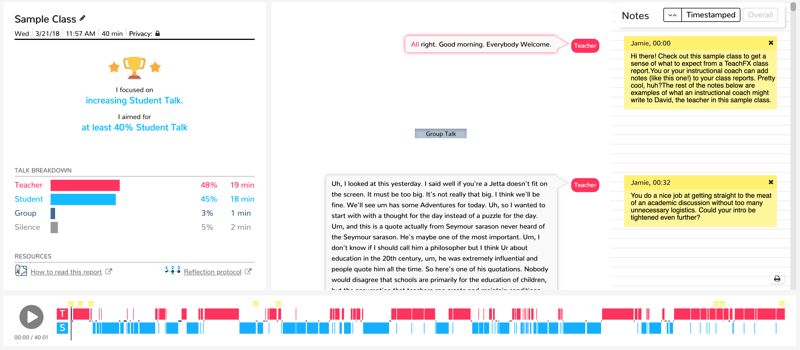 In just a few minutes of analysis, I saw when my talk stimulated or stifled my students, depending on what I said. I also found that longer wait time from me generated much more dynamic conversations among my students. Seeing this objective, personalized feedback privately made for strong reflection that changed how I was teaching. That was two years ago. Today, that student is my boss, and we've been working with dozens of district leaders, school leaders, and their multitudes of teachers to accelerate teacher learning and boost student engagement. The results have been amazing with an average increase of 88% in student talk in just a few short months among our partners.
Looking for more ways to boost student engagement? Check out this infographic with 7 Steps to Improving Student Attendance
Let's take a look back at Ms. Valdez's classroom now that she's regularly using TeachFX. Ms. Valdez has taken ownership of her own professional development through the use of the tool. She saw from the blue bars how much her students spoke during class, expressing the concepts, processes, and outcomes she wanted them to learn. By clicking around on the bar at the bottom and listening to short excerpts, Ms. Valdez saw which questions triggered thoughtful answers, which were answered with a word or a sentence, and which were met with baffled silence. She used this evidence to plan more stimulating questions, better scaffolding, and more effective monitoring of independent and group work. And in just a few short months, she doubled the amount of student talk in her classroom. By giving herself frequent feedback from the tool, Ms. Valdez was able to coach herself consistently and build her repertoire of practices that moved students toward her ideal—operating like physicists.
Are you looking to improve your school and classrooms, but short on resources? Apply for the Education Elements Grant for Personalized Learning Schools for the chance to earn your school $3,000, a 12-month subscription to the PL Toolkit, and 6 hours of virtual support with an Education Elements consultant. The deadline to apply is September 30th.