Subscribe
40 Ways to Celebrate Teachers and Impact Teacher Retention
Innovative Leadership | Teacher Retention
Do you ever have trouble falling asleep because you can't stop thinking about what you need to accomplish the next day? Maybe you're one of those people that has your best ideas for solving a problem while washing your hair? Have you found yourself half-listening to a loved one while saying, "Let me just finish one more email…"?
What do all of these experiences have in common? They are familiar territory for professionals who never truly stop working during their waking hours, which is especially true of passionate and committed educators.
| | | |
| --- | --- | --- |
| With a workday filled with incredible responsibility and often emotionally draining challenges, followed by additional working hours frequently tacked onto evenings and weekends, being a teacher is a difficult, taxing, and often thankless job. Despite their efforts and good intentions, district and school leaders around the country continue to identify teacher retention as a top challenge they face. | | Related Blogs: |
At Education Elements, we've identified 8 Elements For Improving Teacher Retention, and one of these elements is Consistent Celebrations.
Let's explore four key questions about consistent celebrations and their role in impacting teacher retention:
What impact can consistent celebrations have at my school?

What steps can I take to focus on consistent celebrations at my school?

What are some concrete ways I can celebrate teachers at my school?

When are some key times to celebrate teachers at my school?
What impact can consistent celebrations have at my school?
Teachers feel valued and appreciated

Overall staff culture feels more successful and positive

Individual and team confidence increase

Individual and team relationships are strengthened

Team identity is strengthened

Risk taking and a growth mindset are encouraged

Desired behaviors and outcomes are encouraged

Teachers feel this is a place they can achieve success

Teachers develop an increased sense of belonging

Focusing on success breeds more success!
What steps can I take to focus on consistent celebrations at my school?
Brainstorm some desired behaviors or outcomes that are observable or measurable. Focus on celebrating what you want to see more of.

Consider the desired behaviors and if they represent opportunities to showcase diverse successes, including living team values, impacting student achievement outcomes, and going above and beyond. Ensure all teachers can be celebrated for their unique contributions.

Think of additional team members to support the focus on consistent celebrations, such as administrators and team leaders, operations staff, or committee heads.

With your celebration team, brainstorm celebrations that already happen at your school, whether consistently or sporadically.

Brainstorm existing opportunities where celebrations can be infused (i.e. staff meetings, 1-1 meetings, newsletters, email communication, website, staff workroom, teacher appreciation week, etc.) Consider both opportunities that should happen consistently and sporadically.

Brainstorm many possible ways to celebrate individuals and teams, including how leaders celebrate teachers, peers celebrate each other, and individuals celebrate their own success. Include both options for both public and private celebrations. Suggestion: poll your team to ask what types of celebrations matter to them.

Consider the authentic culture and identity of your team and individuals and plan celebrations that fit this narrative. Are you more of a "strobe lights, loud music, announcing a superstar" type of team or a "personal words of affirmation on nice stationery" type of team? Or, are you both?

Put planned celebrations on calendars or schedules to ensure follow through. Treat planned celebrations as sacred rituals and prepare as you would for any other important commitment.

Create a celebrations tracker. List individual teachers and teams, and consistent and sporadic events. Schedule times to periodically review and update this tracker, with the goal of ensuring every teacher feels personally celebrated for their learnings or successes every 7-10 days.

Get started with your first celebration, and celebrate your own efforts working to impact teacher retention through consistent celebrations!
What are some concrete ways I can celebrate teachers at my school?
Food. Find out what snacks, drinks, catered meals, etc. your teachers like and give it to them during a team meeting or as a surprise individual celebration of an accomplishment.

Public praise. Celebrate specific accomplishments through shout-outs during a team meeting, in a newsletter, posted in the staff lounge, on your website. Public praise can come from teachers and leaders.

Private praise. A handwritten note, email with only positive feedback, call them to your office or pop into their classroom, tell them compliments you hear others share about them. Private praise can come from teachers and leaders.

Custom swag! T-shirts, water bottles, supplies w/ your logo, etc. Use swag to build identity and pride, whether it's for the top achieving department for that grading period or a teacher demonstrating a focus value for the month. Give out swag people will wear, use, and want to earn.

Time. Extra planning time, cover their lunch/recess/arrival/dismissal duty, extension or exemption from a non-critical deadline.

Team bonding event. This could be pre-planned and known or a surprise. Bowling, team retreat, party at a leader's home, happy hour, group experience, team competition.

Brief interruption. A smoothie/coffee/ice cream cart, that rolls to each class, cover each class while teachers get a 10-minute neck massage, have a student deliver a card with a balloon.

Trophy. Any item that has significance to your team can serve as a trophy to be awarded on a consistent and rotating basis to teams or individuals that achieve a particular success.

Celebrate personal accomplishments/life events. Baby/bridal showers, organize staff to attend the game of the team they coach, get a birthday cake once a month to celebrate all those born that month, congratulate them for running that marathon.

Praise from a student. Film a video, take a picture, capture student quotes, prompt students to share gratitude. Include students in celebrating teachers' successes to emphasize the impact they have each day.
When are some key times to celebrate teachers at my school?
Before or after a stressful assessment window. Consider a celebration that brings joy/relaxation.

During a specific time of year where a morale boost is most needed (like October! Winter months when teachers rarely see the sun!). Consider a celebration that gives teachers more time or relieves them of a non-critical responsibility.

When the team or an individual has faced particularly challenging situations. Consider celebrations that demonstrate deep appreciation and bring the team together.

Right before a break. Consider a group celebration that fosters a sense of team identity, personal belonging, and celebrates successes of the whole school.

Teacher appreciation week. Even though teachers may expect some form of celebration, make this more meaningful with new or unexpected celebrations that highlight specific successes.

Mondays. Celebrations at the start of the week can help teachers shake a case of the Mondays.

Wednesdays. Celebrations on Wednesdays can provide teachers much needed fuel to bring their best selves to school the rest of the week.

Fridays. Celebrations on Fridays demonstrate appreciation for many hours of hard work and send teachers into the weekend on a positive note.

Sundays. Sending out an email to individuals or the team with minimal logistics (we don't want teachers to feel like their weekend time is diminishing) and maximum celebration can chase away the Sunday Scaries and remind teachers why they do what they do and choose to work at your school.

Any day that ends in Y. Because being a great teacher is incredibly difficult and incredibly important, every single day of the week.
The role of a teacher is one of the most impactful jobs out there, and finding and retaining great teachers is central to the success of a school, district, and most importantly, our students. Leaders–run, don't walk, to consistently celebrate your teachers and ensure they know they've found a school that truly values their impact and contributions.
If you haven't already, make sure you read our last blog post on teacher retention, How Clear Communication and Defined Career Pathways Can Boost Teacher Retention, and stay tuned for more posts full of ideas for each of the elements!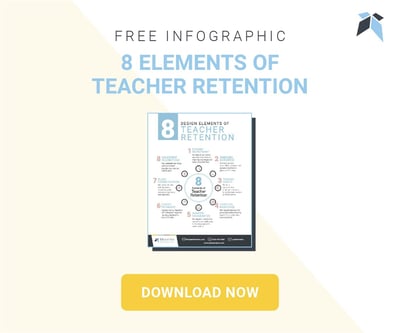 ---
More Teacher Retention reading
Blog: Upskilling and Reskilling for the 'New Normal' of Education
Blog: Prioritizing Teacher Voice to Recruit and Retain High-Quality Teachers
Blog: How to Onboard Teachers Better
Blog: Three Strategies to Support Our Teacher Workforce in 2022
Blog: What Does Teacher Agency Look Like in a School?