Subscribe
Minute to Win It: Practices for Impacting Teacher Retention Through Consistent Celebration
School Districts | Teacher Retention
At Education Elements, we believe that sparking learning through creativity, reflection, and play is key to adult learning. So, let's start here by playing a game. The rules are simple. Read this list of things that real people have done and determine what these actions have in common.
Ready? Go!
Eat 65 M&Ms with chopsticks
Travel 100 meters while seated and hopping on a large bouncy ball
Complete 98 'around the world' soccer ball juggling tricks
Clap your hands together 1,103 times (apparently this is a phenomenon known as speed clapping)
Run nearly half a mile (if you are Usain Bolt)
So, what do all of these impressive and/or bizarre human talents have in common? Each has been completed in 60 seconds or less. Before you reach for the M&Ms and chopsticks, there are important steps that you can take as a leader right now to impact teacher retention in 60 seconds or less. That's right – in under 1 minute today, you can impact teacher retention at your school.
By focusing on consistent celebrations, there are small actions that leaders can take on a daily basis to consistently celebrate the successes and learnings of teachers in their school. Not only do these actions increase the sense of appreciation and recognition teachers feel from their leaders, they can also create ripple effects of kindness and gratitude that can impact the entire school culture and community. Here are 6 ways leaders can impact teacher retention in 60 seconds or less: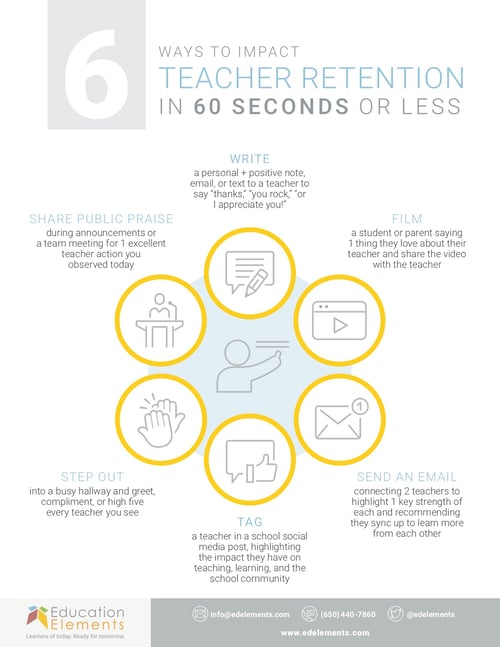 Click to download the PDF 6 Ways to Impact Teacher Retention in 60 Seconds or Less
If you were to start today and spend 1 minute per day taking these small actions to consistently celebrate teachers, you will have completed upwards of 90 steps to impact teacher retention by winter break. If you bring other leaders into taking these actions, the impact continues to amplify into hundreds of opportunities to celebrate the successes and learnings of teachers in your school.
Related Resource: Learn about effective leadership traits and how to grow yourself, as well as those around you, into innovative leaders at your school or district.

The Ultimate Guide to Innovative Leadership Development for School Districts
You can measure a year in 525,600 minutes. Do you have 1 of those minutes to spare right now? Can you add this as a 1-minute recurring agenda item to a leadership team meeting? Do you enjoy doing things that make others feel appreciated? Spend 60 seconds to impact teacher retention at your school starting today!
To learn more about teacher retention strategies, check out our blog posts, 40 Ways To Celebrate Teachers and Impact Teacher Retention and How Clear Communication and Defined Career Pathways Can Boost Teacher Retention, and familiarize yourself with the 8 Elements of Teacher Retention.
Interested in utilizing play to impact adult learning? Check out Shut Up and Play: The Case for Adult Learning for more reasons this approach is worth the time. To get started using play with your staff, include your own Minute To Win It challenge in an upcoming meeting or PD. It's amazing the energy we can build and what we accomplish in one intentional minute! Close the staff meeting by taking 1 more minute to celebrate a teacher for their successes and learning and continue your impact on teacher retention every day.
Join us at the Teacher Retention Leadership Institute in November for two days of learning with experts, based on best practices from inside and outside the education sector. In a targeted, small-group environment, you'll learn how to improve the way teachers are recruited, trained, and retained in your organization!