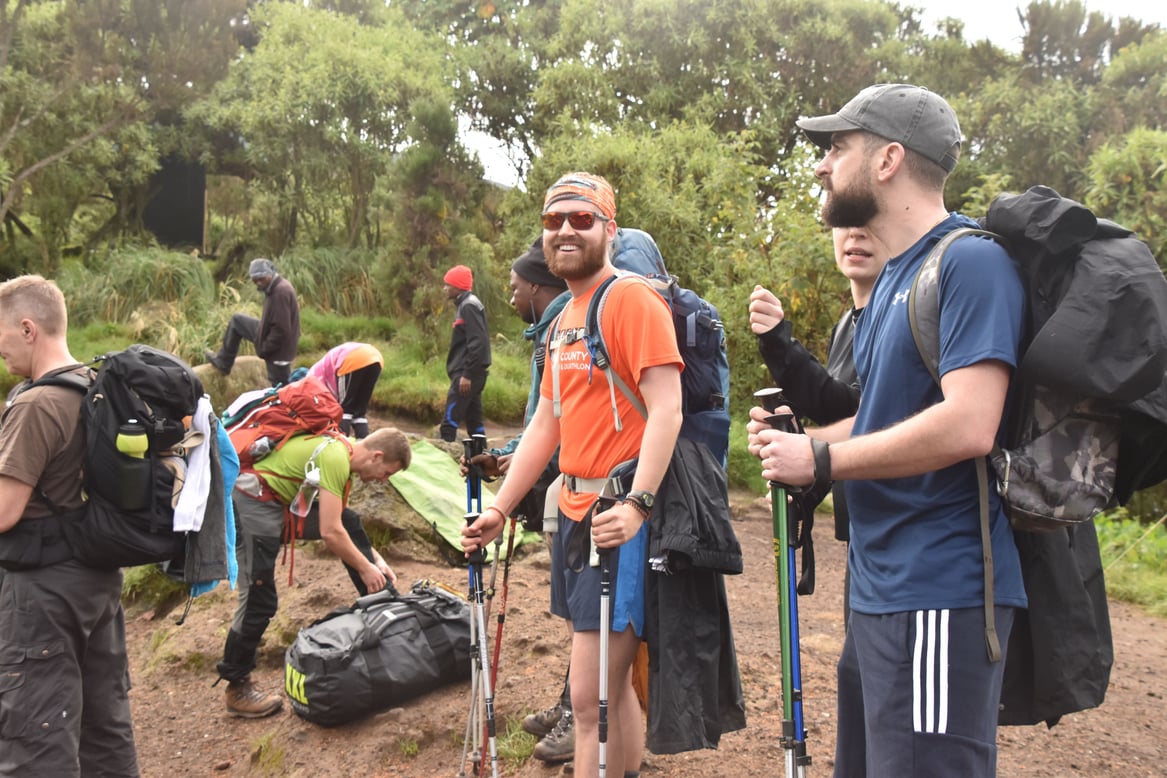 Subscribe
What I Learned About Teams from Climbing Mount Kilimanjaro
Education Elements | Innovative Leadership | Teams & Culture | School Leadership
There has been a lot of research done on what makes teams great. Google committed an entire research team to answering the question: What makes a team effective? Daniel Coyle explored the ins and outs of some of the world's most successful teams in his book The Culture Code. And, leaders right here at Education Elements have compiled some of their learnings in The New Team Habits.
I have found – ever since I started thinking about how teams work and what makes certain teams great – that I haven't been able to stop thinking about this question; even when I was 7,620 miles from home, 5,895 meters (or 19,341 feet) above sea level, on the trip of a lifetime.
I was lucky enough to travel to Mount Kilimanjaro in Tanzania and returned home fixated on what made the team that led our climbing party so successful. This blog highlights some of the best practices I observed and continue to reflect on in my own work since.
Set Goals
Defining success is the first step in identifying successful teams. The strongest teams define success for themselves and help those connected to their work to do the same. Silvano, our lead guide, communicated this to us early and often over the course of our 6 day hike. Our collective goal was to safely begin and end the trek and our individual goals were to ascend as close to the summit as each of us were safely able to.
Asking everyone how they connect individually with the group goal increases trust the and centers the shared why for their teamwork.
Additionally, having each individual name their own goals heightens investment, while also providing an opportunity to reflect on the larger picture of oneself. As the line between our professional and personal lives continues to blur, it's particularly important to set our goals within a broader awareness of our more complete lives.
I will never forget Silvano's advice in the hour before we began our summit attempt 1) Mount Kilimanjaro was here a long time before you came to look upon the peak and it will be here a long time after you have passed away 2) consider that perhaps the viewpoint you came here for is not the perspective you'll find most valuable 3) and no matter how close you come to Uhuru Peak (the top) you leave the mountain ready and able to pursue your next summit. This message underscored the importance of goal setting more holistically for myself and highlighted the added investment and value I saw in my new goals when I did so.
How do you prepare to set goals?
Source Feedback
Reaching goals requires effective feedback. Silvano's team collected feedback in three primary ways: real-time observations, low-stakes testing, and retrospectives. The four guides positioned themselves at the ends of our trekking line and immediately behind the hikers struggling most at any given time (usually myself). The guides that weren't leading the hike, studied the balance and footing for each trekker and analyzed the data as a group each time we stopped for a break. That allowed them to check in with each of us as needed and offer additional supports that were mutually agreed upon to heighten the likelihood of helping anyone reach their goals (sectioning off into a slower group, carrying part of our packs, etc.). A few parts of the trail were a bit more technical, think beginner rock climbing. For these, Silvano's team would ask members of our party to test their approach; this protocol offered immediate feedback before the stakes were raised. Lastly, the team ran retrospectives with the hiking party each night before dinner. We reviewed the day in detail, listing what worked and what didn't, answering why we thought that, and committing to any specific changes before the next day.
What protocols does your team use to implement meaningful retrospectives? Consider trying the After Action Review from the Navy SEALs.
Build Culture
Teams are improved and sustained through culture, not outcomes. Silvano's team designed their culture around 3 key elements: connection, rituals, and celebrations. Every morning started with checking in on every member of the party. Longer breaks included sharing snacks with one another. Hiking games took our minds off of our backpacks and focused them on learning about or laughing with each other. Ginger tea signaled both that we were halfway through our hike for the day and that Maria was about to bestow our daily superlatives. A nightly card game ended with star gazing and wondering about the same view from the summit. These elements led our team to function more cohesively (pointing out how we navigated tricky portions of the trail), share information more openly (like when we felt were sick or needed the pace to slow down), and support one another in a way that was personally valued (not everybody wants to be cheered for when they reach the campsite last).
What rituals and check-ins do you use to create culture and create safety?
Baltazar Benavides at the top of Mount Kilimanjaro!

Baltazar Benavides at the top of Mount Kilimanjaro!

Climber and Education Elements Design Principal Baltazar Benavides with team leader Silvano.
All six members of our party reached Uhuru Peak, adding to Silvano's unprecedented 85% summit success rate for his trekkers (compared to the average summit success rate of 65% from Climb Kilimanjaro Guide). Silvano's team is in a league of their own. Climbing Kilimanjaro was one of the most humbling adventures I have ever been on and it was also a masterclass in teaming that I continue to learn from and apply to my work. I invite readers to reflect on the ways you set goals, source feedback, and build culture with your teams and to share some of your own practices with me on twitter @baltobenavides or to continue the conversation below.