Subscribe
What Does Onboarding Look Like in our New Normal?
Teacher Retention | Teams & Culture
What makes people stay at their jobs? What makes people leave? At a time when 20% of teachers say they're leaving next year in response to the COVID-19 pandemic, we need to hold on to as many great teachers as we can. Onboarding is an effective way to increase retention of new employees and enhance their productivity in the first year. However, Gallup found that only 12% of employees strongly agree that their organization does a great job of onboarding new employees. Not surprisingly then, 50% of employees leave in the first 18 months of a new role. This is both expensive and time consuming for employers to constantly fill vacancies.
Teacher onboarding is among the many things we're having to reimagine for the coming school year. Where new teachers previously came together for a week of learning, sharing, and culturizing, current conditions find schools rethinking whether and how we bring groups together.
As we grew at Education Elements, we had to shift our onboarding experience to accommodate the needs of our remote teammates. While there are some pieces that we try to maintain in person, we've been able to do some of the thinking around how to make remote onboarding successful. We hope to share some of those lessons learned here.
We have found a few principles that make onboarding successful, whether in-person or remote:
Foster a sense of belonging

Build job-specific knowledge and skills

Cultivate growth and reflection
Below we share our approach and provide some ideas for how you might enact each into your virtual onboarding process this summer.
Sense of belonging
While compensation and job location are important to individuals as they choose a job, they are often not the most important factors. Developing relationships, being aligned to and inspired by the organization's mission, and connecting with the team culture are most important in encouraging workers to stay at their job.
At Education Elements, we purposefully foster a sense of belonging for new hires right from the start. Below are a few examples of what this looks like:
Introduce your core values. We introduce our core values early and provide a few meaningful experiences for new hires to see them in action. In a remote onboarding, we use a webinar to introduce these core values initially and then share how they are purposefully embedded into several existing structures. For example, during our weekly status meeting (on Zoom) we carve out space for shoutouts that align to our core values. Teammates can shout each other out for bringing joy to our work, innovating and iterating, investing in each other, celebrating success, and continuously learning.

Foster meaningful relationships. During your first month at Education Elements, you have many opportunities to connect with people informally and formally, individually or in a larger group. Your first thirty days are thoughtfully planned and prepared so that you meet the people you will be working with most closely. For example, for our remote employees, we set up "coffee chats" via Zoom with other teammates. This is an informal space to ask questions, hear what is going on with others, and a place to share stories. Some of these initial conversation partners have turned into my closest friends in the company and helped me learn names of who to go to even far away. We also host company wide opportunities to connect virtually. We have regular HappEE Hours with games (have you seen our post on creating culture virtually?) and one of my most memorable moments was during a virtual gratitude circle where we sent every person in the company slack messages notes of gratitude.

Create affinity groups. Meaningful relationships can also be built through affinity groups. They create space for our teammates to share their experiences with others they identify with.

Use a cohort model. We have recently tested using a cohort model for new hires. Those in the most recent cohort of hiring met weekly to check in on lessons learned, ask questions, and share funny stories. They shared that this weekly Zoom meeting was a time that they looked forward to and found the presence of one informal mentor (an experienced EE team member who facilitated) to be very helpful.
Feeling disconnected from the team is one of the most common reasons people leave their jobs. During onboarding, developing a sense of belonging can help mitigate this tension and help folks feel plugged into the moral purpose, connected to the team, and ready to hit the ground running.
Job specific knowledge and skills
As we prepare to bring new teammates to our organizations and districts, we have to be very intentional about the knowledge and skills we prioritize. This has always been the case, but now we are operating under new and different constraints. For starters, there is no more day long professional development. Also, what it looks like to teach, or do pretty much any other job, looks different.
If you are planning and leading new teacher orientation -- good luck! While you are at it we recommend taking the time to first reflect on and adjust the competencies that you value in your teachers (for more on that, go here). From there, prioritize what you feel is most critical, then create and curate a set of learning experiences to guide the development of these competencies. Below we share a bit about what building knowledge and skills look like at Education Elements:
1. Build knowledge and skills. In many organizations, onboarding is often compared to drinking from a firehose. At Education Elements, we might have heard a few new teammates say that too. We're working on it though -- by prioritizing and chunking information. For example, at the most recent new hire onboarding we prioritized sharing information that answered a few critical questions (these might be helpful to you too):
Who do I go to for help? Starting with our Office & People Operations Manager, Pam, is always a great move. From there we give each new teammate their own support team (and a visual, complete with faces and names), so they know who to reach to and for what (see image below).
What tools do we use to do our jobs? Laptop; Trello for project management; google drive, definitely google drive; Zoom for meetings; and Slack for group and individual messaging. We try to start with the essentials, before branching out to fancy stuff like Chrome browser extensions.
What do we do and how do we do it? It starts with how we do it -- by diving into our values and what they look like in action. Then, we move into an introduction on how we partner with district and school teams to design personalized learning models. The rest is a secret.
What should I do tomorrow?

Great question. Rather than letting people fend for themselves once onboarding is over, we scaffold the building of new knowledge and skills. This is a mix of checklist type tasks (like, subscribe to our CEO's YouTube channel), a recommended playlist of learning experiences to guide the next 30 days and a six-month onboarding roadmap.

Why am I doing this?

We believe it is very important that each teammate is clear on their "why." It's so important that all new hires prepare and deliver a 5 minute presentation to share their "whys."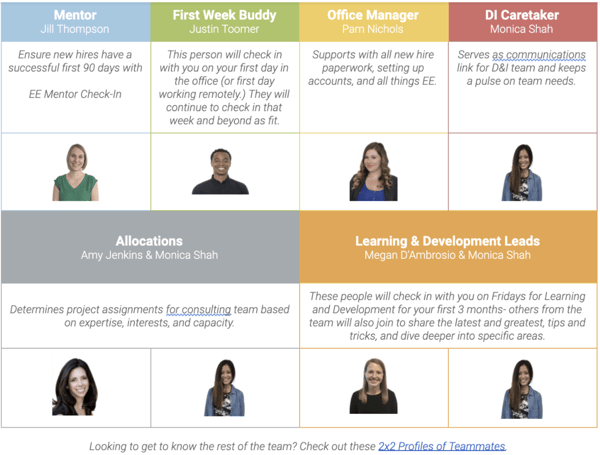 2. Curate learning experiences. At Education Elements we try to curate learning that builds practical knowledge while also considering the emotional experience of taking on a new role, in a new organization. This happens through taking a gradual release approach, but also by carefully organizing learning activities into an experience tracker. We had this in place before COVID, to help our teammates be clear on specific knowledge and skills to build, but also so that they had a structure to guide their own self-directed learning (which, in the current conditions is more critical now than ever). In the tracker, we outline a range of activities from self-guided playlists, to joining meetings as an observer, to planning and delivering a virtual workshop. We also use this tool to guide informal check-ins with new hires to better understand where they are thriving and where they need more support.
Cultivate Growth and Reflection
Reinforcing opportunities for purposeful reflection to support growth is an important part of the onboarding process and one that can easily translate to a remote work context. Self-reflection can help new employees get clarity on their goals and roles within an organization. At Education Elements, we think about cultivating growth in two parts: mentorship and reflection.
During your first week at Education Elements, you meet your mentor. A mentor is someone who has been with the company for some time and has filled a similar role. You meet your mentor during your first week at Education Elements and connect bi-weekly for the first 90 days you are at the company. Your mentor is the person you can go to for quick questions, advice, and to set goals or intentions for the coming weeks. They help you seek out learning opportunities to set you up for success and familiarize you with the competencies you need to master to be successful in your role. These conversations happen via Zoom and continue for new hires even when remote.
After 90 days of learning and reflecting with a mentor, each new teammate completes a 90 day reflection. To prepare for this, you self-evaluate your performance on the competencies for your role and you also receive evaluations from three peers. Then, using the compiled feedback, you prepare a presentation where you reflect on fit with the organization, how you are connecting with the team's core values, your performance to date, and the goals you wish to set. The 90 day reflection has some component of evaluation but in execution, our organization's leaders have created more of a celebratory atmosphere for the meeting itself.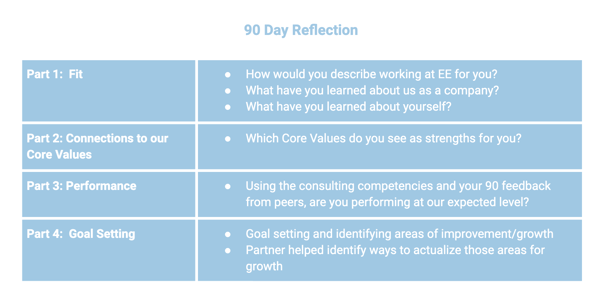 After the 90 day reflection each teammate receives a professional development advisor and joins the regular feedback cycles within the organization. We wait 90 days to make these matches because we know more about our new teammates' interests, goals and working style and are better able to connect them with someone they can grow with.
As you continue to plan, lead and facilitate onboarding, make an effort to think about how you will help new hires feel a sense of belonging. From there, reflect on your competencies and prioritize the most important knowledge and skills needed for the first few months of school. Finally, make sure that you have a clear system in place for cultivating growth through reflection and ongoing learning opportunities.