Subscribe
I Have Found My People – at the National Leadership Institutes!
"I found my people!" "This is like church!" "I feel so energized!" "Can we do this in our district?" These are just a few of the exclamations we heard at our National Leadership Institutes in 2019. We envisioned these events as a place to bring together leaders from across the country focused on similar problems of practice, but never imagined the depth of collaboration, learning, and friendship that would result.
In total, we hosted four national leadership institutes in 2019 on topics ranging from innovative leadership to strategic planning, team habits, and teacher retention. Here are five of my favorite moments from these events, in the words and pictures of participants themselves.
"The Toilet Paper is Clean"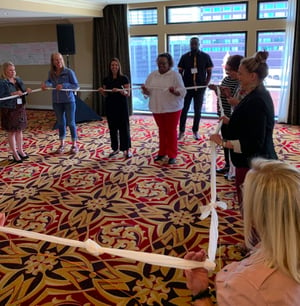 At our Innovative District Leadership Institute in September, we asked leaders to grab onto toilet paper, close their eyes, and make shapes. The activity caused some anxiety, led to more than a few laughs, and sparked new insights about how we build coalitions of trust and collaboration. It was one of the many "sparks" that helped leaders connect with content emotionally before they build knowledge intellectually. These sparks, inspired by the research of Dan Heath on engaging the heart to make lasting change, are often one of the attendees' favorite parts of our institutes. We're constantly sharing resources for sparks that leaders can take back to their school and district teams.
"I Know Who I Am As a Leader"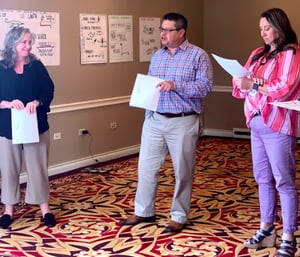 At that same Innovative District Leadership Institute we asked leaders to go through a series of activities to understand their persona, strengths, and gaps as a leader. One assistant superintendent shared, "I have done many different leadership protocols throughout my career, but I feel like today I really know who I am as a leader...it clicked today and I am thankful for it!" Our goal for these institutes is always a blend of self-discovery, knowledge-building, and national collaboration.
"Who Knew Strategic Planning Could Be Fun?"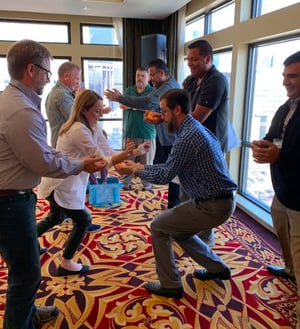 Our first few institutes were focused on teams and leadership, topics that the institute team is particularly passionate about and ones that we believed would naturally lend themselves to creating communities of practice with leaders who just met. Our team wasn't sure we could produce the same "magical community in two days effect" with strategic planning. The attendees were, admittedly, a bit more reserved during our check-ins on the first morning. However, by the end of the first day leaders were sharing openly, creating inside jokes, and exchanging contact information. A highlight of this institute was hearing an attendee say, "Who knew strategic planning could be fun?"
"We Are Team Princess Banana Turtle of the Mountains!"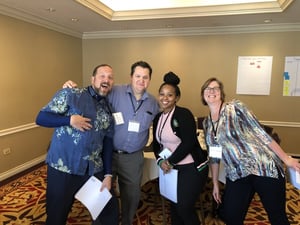 In November we hosted The New Team Habits National Leadership Institute (based on the book I was lucky to write with Anthony Kim and Kawai Lai). The institute was for leaders who wanted to improve the way their teams worked and it was profound to hear the self-reflections leaders shared about their role in creating psychological safety, what it means for leaders to make mistakes, and the effective and ineffective habits of their teams. We also had fun with secret handshakes, silly sounds, and sing-alongs. Team Princess Banana Turtle of the Mountains (pictured above) won our Top Ten Race. Here is a video highlight reel from the institute, courtesy of @Anthonx.
"You Got the Giraffe!"

At our last institute of 2019 we were lucky to work with district leaders from across 10 states focused on teacher recruitment and retention. We grounded our work in the 8 Design Elements For Teacher Retention, talked about messaging, employee value propositions, career pathways, teacher agency, recruitment pipelines, and celebrations. In one session on appreciation, the group shared dozens of practices for consistently celebrating and showing appreciation to teachers. One of my favorites was a tradition from a weekly staff meeting – each week a stuffed giraffe was given to one person for living the district's values. The next week that person got to choose who to give the giraffe to. During the days in between the giraffe would sit on the recipient's desk and colleagues passing by would shout the compliment, "You got the giraffe!" This is a practice I plan to steal for both my EE team and my family in Colorado :)
In 2020 we'll be hosting five National Leadership Institutes in locations from Denver to Dallas, Raleigh to Houston. We'd love for you to join us! And if you can't come in person, follow along on Twitter or join one of our free webinars.