Subscribe
How a Prioritization Matrix Can Help Your School District (and Your Next Home Renovation Project!)
After selling our D.C. area home and looking for more than a year to buy what we would call our "forever home," my husband Mike and I finally closed on our dream piece of property. It checks off all of our boxes. More than an acre of flat, usable yard space for our kids. A pool with a diving board (my 4-year-old's only requirement). A Harry-Potter-esque cupboard under the stairs for our dog (my 3-year-old's only requirement). And room to grow. It's perfect. It's also stuck in the 1990s in terms of decor and layout. So minutes after closing, we did what any couple who watches way too much HGTV would do: we began making our list of renovation projects.
First on my husband's list? Finishing the basement complete with a bar. First on my list? Putting new flooring in the kitchen. Although, I'm not the handy(wo)man in our relationship, I immediately stated that we should prioritize the kitchen flooring. My husband had other ideas. And that's when a routine work exercise felt applicable to a real-life challenge.
I had recently collaborated with colleagues to practice using a prioritization matrix to help one of our partner school districts decide what initiatives from their strategic plan to implement first. Our matrix centered on two axes - one along "Ease" and one along "Impact." The goal was to consider what initiatives would be easier to implement and which would have the highest level of impact. Where the two intersected (the sweet spot) were the initiatives we would recommend prioritizing.
I brought this matrix to my husband and our renovation conversation. My prediction was that the kitchen flooring would hit the sweet spot of the matrix. Instead, both projects fell into that quadrant. The challenge? We defined "ease" and "impact" in two very different ways. For me, "ease" meant efficiency - what could we complete in the fewest number of man hours? For Mike, "ease" meant level of complexity - what could be done without hiring a contractor (he's a true DIY guy)? For the prioritization matrix to work, we had to first start by defining these terms and agreeing on one definition moving forward.
A district writing a new strategic plan is not unlike a family undergoing a home renovation. There's a "home" with many features to celebrate, but also areas that need some improvement. There are also different stakeholders who have different ideas for what could be and should be improved. A prioritization matrix, if defined using common language, helps to give districts a clear picture of what initiatives or focus areas to implement as they begin to execute on a strategic plan. To get started using it, follow the four-step process below.
1. Make a list of all of your strategic planning focus areas.
Gather a few sticky notes and a cross-section of your district for this first step. Consider having a small team comprised of teachers, administrators, and district-level personnel to start. You may already have a strategic planning team that fits this criteria. Either way, assemble your team and ask them to make a list of initiatives that align to strategic priorities, by writing one initiative per sticky note (for movability later). Set a timer for 5-10 minutes and agree to pause when the timer beeps.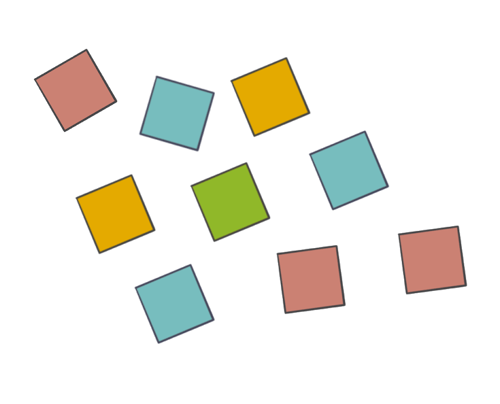 Make a list of all of your strategic planning focus areas...one per sticky note.
2. Define what "impact" means for your team. Then, distribute your post-its along a continuum of Impact.
How your team defines what "impact" means for your district depends on context. For a home improvement project, one might note that the kitchen is a high traffic area year-round. The basement is mostly a seasonal room bookended by the start and end of football season in Casa de Hewitt. Just as "impact" in a home improvement project is contextual, so will your team's definition of impact be for a strategic planning initiative. By definition, if an initiative is a part of your strategic plan, it is already considered important, but by defining impact in this way, your team will have a better awareness of which initiative to implement first. We encourage you to consider the following criteria to create your team's definition of impact.
Strategic Alignment: How will this initiative support a variety of strategic priorities?
Student Impact: How might this initiative directly drive outcomes with our students?
Return on Investment: How will this initiative provide benefits beyond those directly impacted?
Flexibility: Are we able to adjust our course with new information?
A team may decide to define impact using just one, some, or all of the criteria above. Once you've aligned on your team's definition of impact, you can use your post-its from Step 1 to populate the vertical "Impact" axis from more targeted impact to broad impact.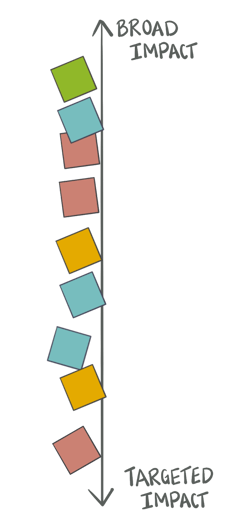 Define what "impact" means for your team. Then, distribute your sticky notes along a continuum of Impact.


If you're embarking on strategic planning in your district, it's important to have the right teams to support the work. Check out our guide to Strategic Planning Teams to help you build your team!
3. Define what "ease of implementation" means for your team. Then, distribute your post-its along a continuum of Ease.
How your team defines what is "easy" for your district also depends on context. Just like the Hewitt home renovation example, in a group of two, there were already two competing definitions for ease. It's important to align on what this means for your district, team, and overall strategic plan. Education Elements considers the following criteria when aligning on a single definition of ease.

Feasibility: How do our existing structures support this initiative?

Risk: How certain are we in our ability to implement this initiative?

Resource Availability + Support: Does our staff have the capabilities necessary to accomplish this initiative?

Cost: How will this initiative impact our bottom line and can we absorb the budget projections?
Similar to defining "impact," a team may decide to define "ease" using just one, some, or all of the criteria above. Once you've aligned on your team's definition, you can then shift your post-its horizontally according to difficult or easy implementation.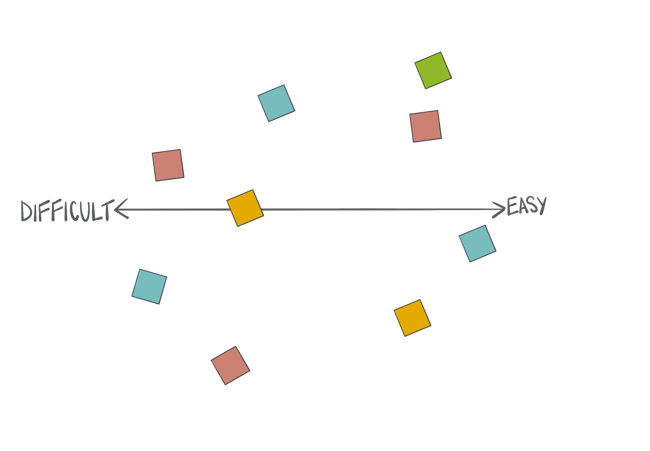 Define what "ease" means for your team. Then, distribute your sticky notes along a continuum of "difficult to easy" implementation. Be sure to only move sticky notes horizontally and maintain the same vertical plane.
4. Finally, select 2-3 initiatives to implement first from the sweet spot.
Now that you've moved your sticky notes along a vertical axis of "impact" and a horizontal axis of "ease," you will notice that your team has plotted initiatives into 4 quadrants.
EASIER AND OVERALL BROAD IMPACT - These initiatives are high priority and are relatively easy to implement. In the visual below, these are the sticky notes that landed in the "sweet spot." Consider how many you can take on in this first round of implementation (our recommendation is to start with 2-3).

DIFFICULT BUT OVERALL BROAD IMPACT - These are your bold ideas. In addition to the "sweet spot," some districts may consider taking on 1-2 initiatives from this category that really embody the change desired.
EASY AND WORTH IT FOR TARGETED GROUP - These ideas are likely easy to implement in the current structure of your district. Consider whether they need to be included in your strategic plan or can be left to other decision-makers to implement (schools, grade-level teams, etc.).
DIFFICULT AND WORTH IT FOR TARGETED GROUP - These initiatives impact a smaller or more targeted group of students, so they may not be as far-reaching, but important initiatives to consider given specialized needs. Similar to the "Easy and Targeted" quadrant, you may want to have sub-communities in your district (such as school teams, grade bands, etc.) lead the decisions and implementation for that initiative.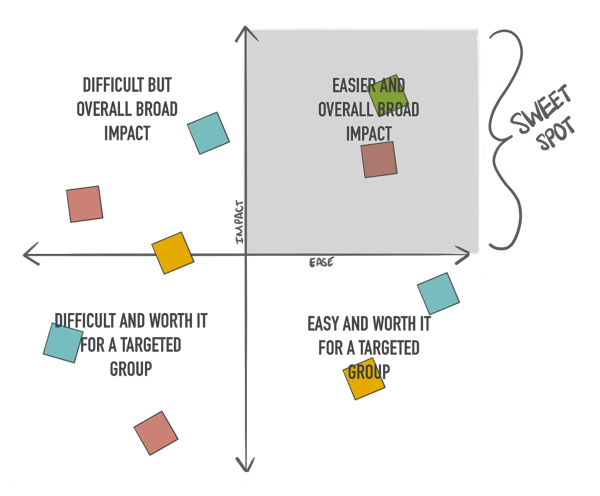 Now that you have your prioritization matrix, your strategic planning team can begin implementation with the confidence that you are starting with a manageable and high-impact list. Absent of this matrix, your team may have been tempted to fix "all the things" right away. But as I am learning with our home updating journey, the more successful approach to implementation is to take on the high impact and feasible projects first. It may not land me my own show alongside Joanna Gaines, but we, like strategic planning teams, can build in checkpoints and retrospectives to revisit additional quadrants and projects to execute along the way.
Want to learn more about how prioritization can support your school district's strategic planning implementation? Check out our full guide below - and the accompanying exercise sheet!