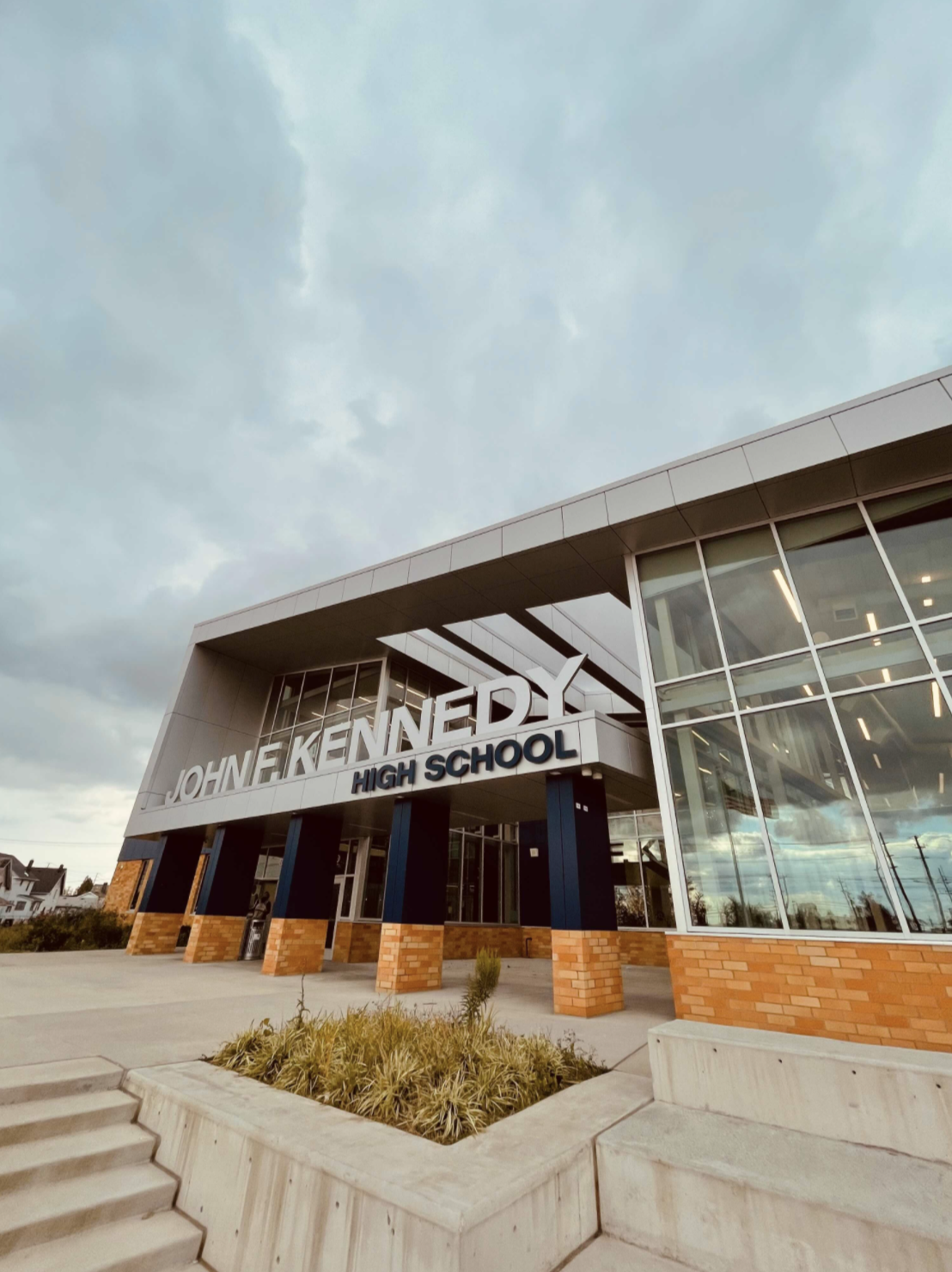 Subscribe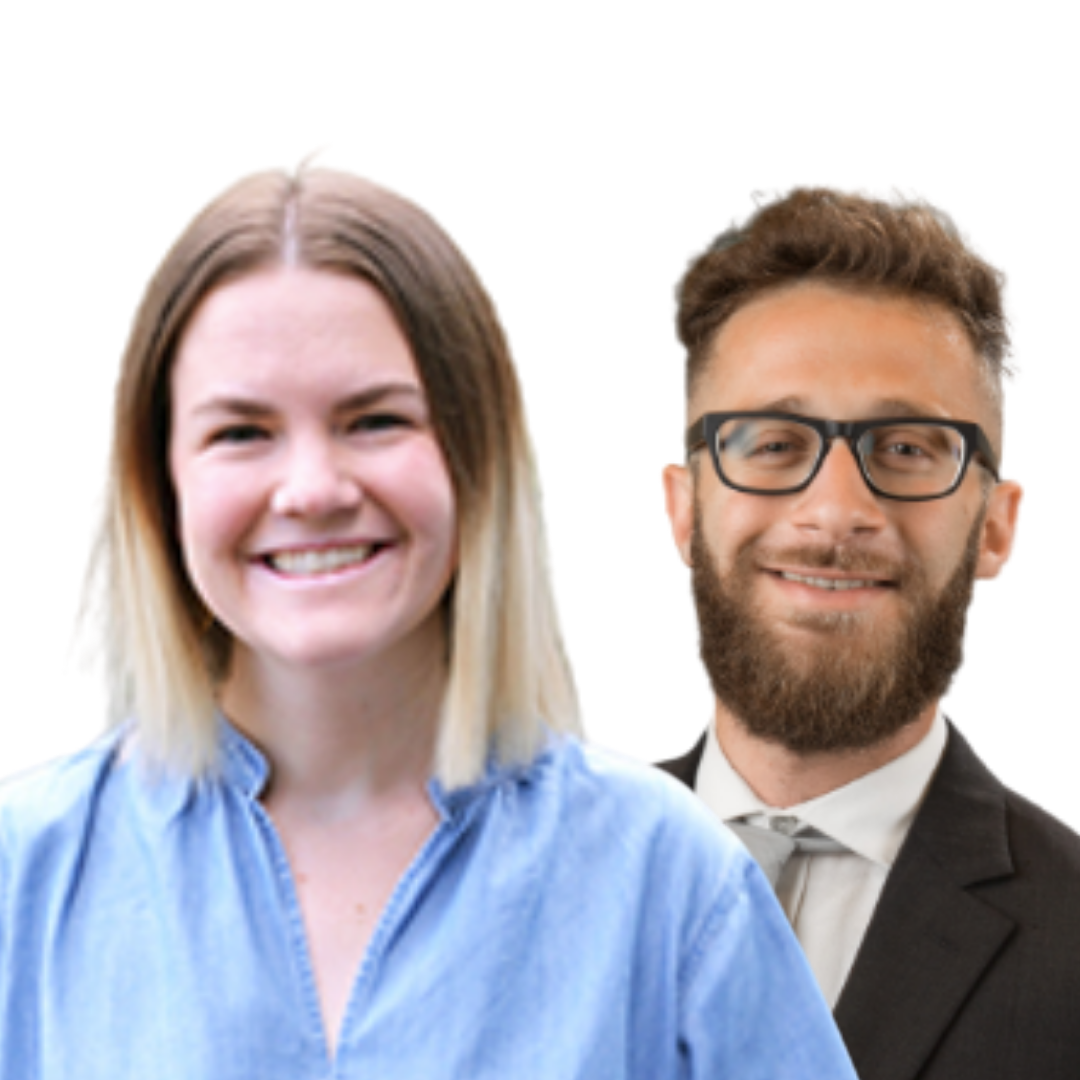 Go Slow to Go Fast: Blended Learning at John F Kennedy High School
Teachers | Blended Learning | Organizational Leadership & Change Management
"When you drive up to John F Kennedy High School in Cleveland, OH, you are immediately taken by the sheer scale of the building. Set against a backdrop of single-family historic homes, JFK is an imposing and beautiful modern structure. The vision of the school was simple: to combine the staff from 3 previous high schools, including the "old" JFK, to create the New JFK. Inside, the hallways are wide and bright, natural light streaming in from every which way. It is a dynamic and inviting space, with collaborative spaces carved out of the hallways outside classrooms and across balcony walkways from the second floor.The classrooms themselves are spacious, with state-of-the-art tech, and an opportunity at every corner to support new and innovative instructional strategies, like blended learning.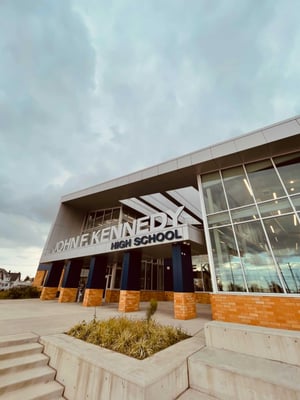 The school itself is brand new, but its people bring stories and experiences from three different schools. The first year it brought together its staff and began operating as a single school again, COVID shut the world down, and with it, the momentum that everybody was hoping would drive the innovation forward. Go slow to go fast. That was the mantra, despite the perfect storm of challenges that was about to hit.
In the fall of 2019, the team at the high school reached out to Education Elements to help with:
Developing the right strategic direction and vision
Finding the right people who could support the initial phase of work
Leveraging existing collaborative structures to move the work forward.
The school team wanted to invest in knowledge and capacity building to build long-lasting success – to build on a solid foundation — even if it took an extra year — so that the school community would be set up for success in the long run. Go slow to go fast.
Developing the right strategic direction and vision
In March 2020, Cleveland Metropolitan School District was one of the first major school districts to shut down. And, as a response to the pressing realities of remote learning, they began to shift their focus toward blended learning.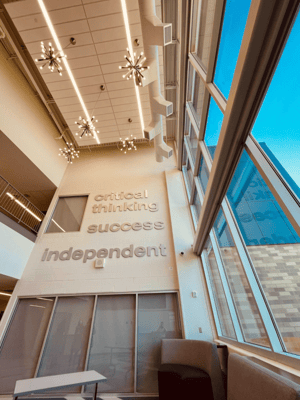 Around the same time, Dr. Terrance Menefee, the principal, and later Mrs. Lori Crum, the assistant principal of the JFK, spearheaded efforts to bring staff, from the three separate campuses into a singular, unified community. The JFK Leadership team worked with their new enlarged staff to craft a vision for their school, as well as their Academic Achievement Plan, or AAP, which in turn, outlined the scope and scale of Blended Learning successes during their first year.
By starting with a collaborative effort to define their goals, metrics, as well as the projected impact of this shift to blended learning approaches, the team had set the stage for the sustained, impactful work.
Identifying the Risk Takers
The JFK Leadership Team knew they had to be extremely intentional in their decisions around who would pilot this work in the first year. These teachers would be pioneers of blended learning at JFK. In fact, we believed that they could build a strong foundation for this work by starting with a small cohort of teachers, chosen from each of the original schools, including teachers from different grades and subject areas, both core, and electives. Teachers who would also be comfortable getting uncomfortable - and taking appropriate instructional risks.
Education Elements helped the school leadership decide on which teachers to include in this first cohort. Then we supported this cohort of teachers – building a common language for blended learning, using a design thinking process to empathize with student needs, design and deploy a "prototype" of a blended learning model in their classroom, and coming back together to reflect and iterate on their process.
We emphasized trying new strategies, and looking at what worked. Ms. Helene Vallery who already had years of experience under her belt, exemplified this "never stop learning" approach to bring innovation into her instruction. Recently she tried a new approach to form groupings: she collected live data, and formed the student groupings for the day right in front of her students. It was powerful to see students make the connection between the data collection and their experience for the day.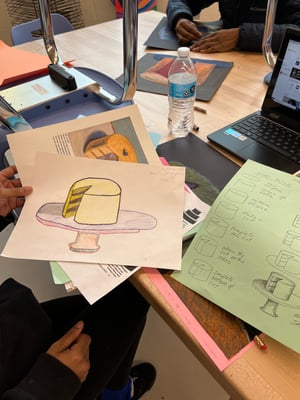 Another member of our cohort, Mr. Fadel, started using a station rotation model he had used in the past, continuing to push it through several iterations as he discovers what works best for his class. His geometry class is kinetic and energetic, and his classroom stations enable him to connect all of his students throughout the course of one class session.
Mr. Ransom, a member of the Metropolitan Cleveland Alliance of Black School Educators (METRO CABSE), is adamant about empowering students and uplifting their voices in his classroom. You can see this in the way he chunks his extended, high-cognitive tasks into individual "stations" which allow his students flexible pathways to engage with the content. His CIVICS 2.0 students presented issues and concerns at a Board of Education Meeting in December 2021 as well.
Elsewhere, down the hall, Mrs. Hughes, is putting the innovative space outside her classroom to good use, using foam ramps, golf balls, and plastic bottles as the setup for a lab about potential and kinetic energy. And, thanks to innovative planning around classroom setup and environment, Ms. Elia's art class now hums with intention and creativity.
Often, it seems, we want to wait until the moment is right to try something new, but both Mr. Ransom and Ms. Hughes, as well as the rest of the first cohort teachers, are of a different mindset: when so much else feels challenging, there is so much power in trying out one new thing — a 1% shift — in the way we plan for something we are familiar with.
This first cohort of teachers jumped right in. They were quick to develop, pilot, and iterate on strategies from our initial work together. In fact, they aspire to be a model for scaling blended learning implementation in the coming years, and hope to leverage the existing collaborative structures and professional learning communities to empower the rest of the staff to design and implement blended learning experiences across all classes at JFK. Together, these teachers and the leaders at JFK – Dr. Menefee and Mrs. Crum – are nothing short of trailblazers who have pushed beyond the challenges of moving into a new school culture and remote learning, and are now defining the legacy of the New JFK.
We are reminded of a moment during the closing of one of our first teacher professional learning sessions, when Mr. Ransom shared some gratitude and said, "The best days are ahead of us." They certainly are, at John F Kennedy High School in Cleveland, Ohio.
---
More Leadership reading
Blog: 6 Critical Issues in Educational Leadership and How to Address Them
Blog: 3 Pillars to Build On When Opening a New School
Blog: Cultivating Leadership Effectiveness & Wellness
Blog: How School Leaders Can Empower Every Teacher to Be a Leader on Campus
Blog: Innovative School Leaders Part 1: How to Become an Innovative School Leader
Blog: It's Elementary: Targeted K12 Leadership Development for Tackling Big Problems