Subscribe
Building the Connection Between Home and School — How Family Empowerment is Transforming Education
In an economically disadvantaged part of Charlotte, N.C., there is a public school with the highest percentage of Title 1 students in the district.
Less than a mile away is a charter school that could have become its competition, luring away students and leaving the district school with fewer funds to tackle the same set of challenges.
Across the country, that's how district and charter relationships often play out. They are competitive, rather than collaborative. But that's not what happened in Charlotte.
Back in 2018, we piloted an innovative partnership model intended to create a stronger sense of family engagement and empowerment across both schools and, in the process, create a learning community that would allow those institutions to work together, rather than in isolation. Based on insights and a collaborative creation process with families, the program consisted of a series of family nights — 10 data-based nights held at each school throughout the 2018-2019 school year — where families were encouraged to come, interact with teachers and school leadership, get information from community partners about job training and other resources, and get tools to help their children learn.
At the end of the school year, we saw some powerful results:
53% of families (483/918) attended at least one family night across both schools
90% of families felt more engaged and empowered as a result of attending family nights
88% of families who attended a family night would recommend it to another family
70% of families reported using resources or skills from family nights at home with their scholars or family
Part of that success involved working with parents' schedules, hosting the events at night, after work. Children are welcome. Dinner is provided. And Lyft rides are offered to those who need help getting to the school. We also used surveys to collect feedback, which has informed the planning of future events. For instance, in our pilot year, we hosted holiday-themed events in December, which saw some of the best attendance. However, feedback has shown parents would prefer more focus on resources, either for their scholars or for their families as a whole. Now, in the program's third year, we're able to shift course and provide families more resources based on their requests and feedback.
Successfully implementing change requires thoughtful engagement of a variety of stakeholders, including student families. Check out our Stakeholder Engagement Guide to learn how to engage with and effectively hear your stakeholders throughout the strategic planning process.
That doesn't mean it's all business. We've been able to work hand-in-hand with the schools to help families feel a deeper sense of connection and community with their school. There are door prizes and activities. Our sponsor, Wells Fargo Foundation, in partnership with the North Carolina Council of Economic Education, set up a number of interactive stations at a recent family night to teach children and families about financial health and management. One booth showed children how to determine if they could afford a dog. Another table taught scholars the value of quarters, nickels, and dimes.
The school's library was sectioned off as a meeting space between families and teachers, where the scholars were offered the opportunity to set their own educational goals and lead data-based conversations on their current grades. The hallway was lined with community organizations and professionals offering LinkedIn training, financial guidance, and access to coding classes. And then there were brief, interactive sessions to educate families on what it meant to be a Title 1 school.
As one parent described it: "Family nights bring people in that could help you on many different levels."
All of that is having a direct impact on student attendance, performance, and overall family engagement.
"It's that connection between home and school," one teacher told us. "When they're leaving us, they're not just going home and not thinking about school. They're going home and parents are working with them. And all it comes down to is the parents know what to work on. And that's so easy. It's so easy just to tell parents and to give them those resources."
Another teacher agreed, highlighting how the family nights give educators an opportunity to connect with families and offer guidance catered to individual students. "Not every scholar needs the same thing," the teacher said. "So it's been cool for those parent nights to really individually explain to parents what their scholar needs."
For the schools, it's also an opportunity to share learnings and resources, and to work together to support the community they both serve. In education, we all share the same goal: to teach, empower, and inspire the next generation of scholars. In that work, we are stronger together.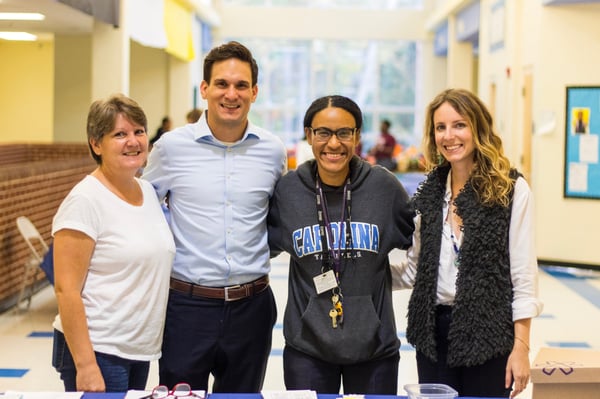 - - -
On December 16th at 3:00pm EST, Greg Schermbeck of SchermCo will join us for a free, informational webinar focused on Strategic Planning Buy-in Through Community Engagement. Join the joint webinar between Education Elements and SchermCo, where we'll cover:
The Education Elements approach to strategic planning
Strategies to engage families on an ongoing basis
How to review and synthesize inputs given from the community