EE in the news | Ed Elements in the News | Mentions
It is now April, and for many of us, the resolutions we set in January are starting to feel more like a memory than the habits we hoped they would be. Why is that? I think it is a combination of two factors: 1) We were not honest about our expectations — we shot too high or too low and didn't take into account what we could honestly do. 2) We focused on the wrong issue. For example, we wanted to lose weight but tried to increase our exercise rather than fix our diet. Right intention, but the solution didn't quite work because we didn't fully understand the problem.
From Sir Ken Robinson, films like Most Likely to Succeed, and campaigns like XQ Super Schools Project, we are constantly reminded of the need to change our schools from the model developed during the industrial era. Back then, we focused on developing a large workforce with common basic skills to prepare students for factory work. Our needs are so different today — yet our schools have not been updated.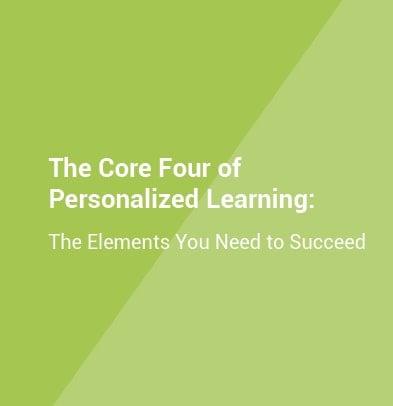 The Core Four of Personalized Learning
This white paper includes a framework, actionable ideas and insights from districts who have successfully implemented personalized learning, to help you get started.
Ed Elements in the News | Education Elements
Not too long ago, I took the opportunity to visit the Motown Museum in Detroit. In 1959, Berry Gordy founded Motown Records, which developed artists like the Temptations, Four Tops, Supremes, Marvin Gaye, Stevie Wonder and the Jackson 5. At first glance it seemed that Berry's success was because he had a knack for identifying superstars but a deeper look reveals more. Motown's success was actually built on an operating system which is similar to that of some of the most successful organizations today.
Baby Boomers were raised in an analog world and experienced the dawn of a digital domain. We Boomers grew up with limited access to information, and a greater appreciation for hierarchy and long-term career planning. Millennials and Generation Xers grew up with immediate access to information, with connections and comfort engaging online with people across the world. It's the difference akin to watching a movie on VHS versus streaming it on Netflix.
If you're an educator, the disruptive world of Silicon Valley probably couldn't seem farther from your local public school system. But what you may not realize is that the techniques that start-ups prize are already changing the way educators across the country implement changes in their school systems. In today's fraught political and educational climate, schools would do well to look for inspiration wherever they can find it—and one of the most important lessons educators can borrow is from Silicon Valley. In order to succeed, the lesson goes, you have to be willing to fail fast.
What millennials want in a workplace has already become the stuff of clichés. Beanbag chairs, beer on tap and a smorgasbord of free lunch options.