The Greeley-Evans School District 6 Board of Education heard the results of a study of the district's blended learning initiative at its meeting Monday night, showing some of the clearest data yet of the initiative's effectiveness.
District Partners in the News | Education Elements | Mentions
Call them millennials, call them digital natives, call them zombies, but the cliche is that today's kids can be identified by their hunched posture, their eyes locked on a screen and their tendency to communicate in emoji. However, this idea that schoolkids are perpetually plugged in isn't exactly true—especially not among kids from poorer families. In the USA, one third of schoolchildren (kindergarten through high school) can't go online at home, and most of these children are from low-income and rural areas. A decade ago, Larry Irving of the National Telecommunications and Information Administration (NTIA) called this digital divide a "racial ravine," and his language still rings true today....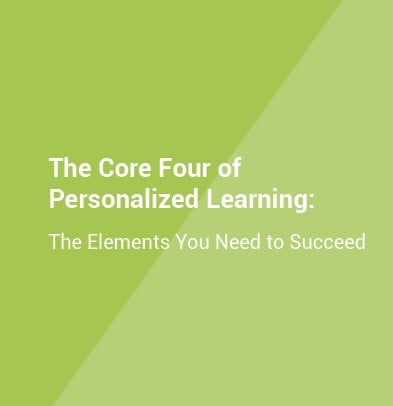 The Core Four of Personalized Learning
This white paper includes a framework, actionable ideas and insights from districts who have successfully implemented personalized learning, to help you get started.
District Partners in the News | Education Elements | Mentions
EVANSTON — Administrators and staff of Uinta County School District No. 1 met with officials from the Kansas Department of Education on Thursday, Sept. 7, to discuss the district's personalized learning program, including blended learning. Blended learning, a priority of the district over the past several years, combines traditional face-to-face instruction with the use of technology and online learning. Jaraun Dennis, UCSD No. 1 director of personalized learning, said, "As a district we usually talk about needing four components — small group instruction, integration of digital tools, the use of data to make data-driven decisions, and the idea of self direction." According to Dennis, blended learning is just a part of the district's move toward a personalized learning model that includes "some element of student control over time, place, path, or pace."...
District Partners in the News | Ed Elements in the News | Education Elements | Mentions
Indiana's Metropolitan School District of Warren Township is rapidly emerging as a personalized learning leader in the nation's heartland. The district, one of sixteen winners of federal Race to the Top District grants from the U.S. Department of Education in late 2012, launched its first cohort of five schools implementing personalized instructional models in January 2016. Superintendent Dena Cushenberry and her leadership team chose a deliberative strategy to retool their schools' teaching approach "to prepare their students for their future, not ours." They implemented new commitments to professional development for their teachers to master the new pedagogy, embracing participatory innovation and a willingness to experiment. Using short- and long-term goals around growth as personal development plans for teachers and students alike, Warren's classroom culture evolved into one where personalizing teaching and learning could thrive comfortably. Details follow.
District Partners in the News | Education Elements | Mentions
It has been said that "Success is led by the power of communication." We knew that if we wanted to be successful in our implementation of personalized learning in Yuma School District One, we would need to develop a communication plan tailored to different audiences within our community that rang with clarity. And it did indeed turn out that our approach to communication was critically important, even more so than usual when embarking upon a new initiative, in that we were asking our community to help support our personalized learning initiative through a bond election. Therefore, our messaging had to address the "why" around personalized learning, how it would impact our teachers, students and parents, and the benefits that we envisioned our community reaping. As personalized learning was a new concept for our community, clear communication and the understanding of our constituents was paramount....
District Partners in the News | Education Elements | Mentions
As the Kenai Peninsula Borough School District approaches the start of the 2017 to 2018 school year, administrators and teachers are starting to implement the early stages of a new educational approach: personalized learning. In conjunction with the personalized education consulting group, Education Elements, the district is shaping what personalized learning will look like throughout the different schools and classrooms that make up the Kenai Peninsula Borough School District. "We are very excited to work with Education Elements as a part of our strong investment in our staff," Superintendent Sean Dusek said in a statement on the district's website. "We are poised to make significant progress in personalizing the educational experience for all of our students and this professional development will help us fulfill our long term goals in this endeavor."...