Subscribe
What We Learn About Building Team Habits from Ripples and Basketball Movies
The start of a new school year often brings with it discussions about new vision statements, improvement plans, yearlong initiatives and sweeping changes in the name of increasing student success. Yet in our work with school districts across the country, we've learned that it's the smaller, individual leadership practices and team habits that lead to larger systems changes.
One of the greatest basketball movies of all time illustrates this concept in a pivotal scene. You immediately thought of Space Jam, right? Actually, this movie premiered a year later and centers around a golden retriever. In the movie Air Bud, a young basketball team wants the "sweeping change" of winning a basketball championship. Coach Chaney (portrayed by Bill Cobbs) decides first to instill some small shifts, or team habits, in his players. Before he gives them a real ball to practice with, he challenges them to use an imaginary one. By considering the larger outcome the team desired and backwards mapping the habits they would need to get there - verbal and non-verbal communication, eye contact, equal ball handling and sharing - Coach Chaney guides his team to a championship title. The golden retriever Buddy had a bit to do with this win, but so did the concept of the ripple effect illustrated in The New Team Habits.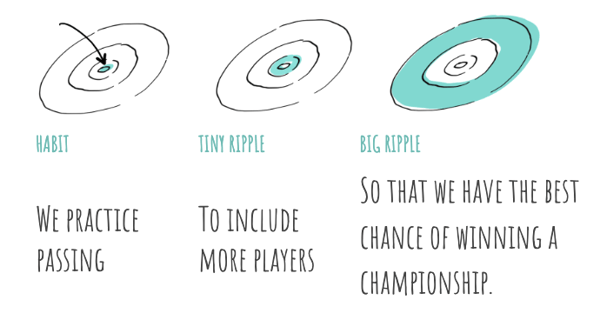 Source: Adapted from The New Team Habits
By practicing passing (team habit) to include more players (tiny ripple), the team created the big ripple effect of winning a title game. The same can be said about our school and district teams. For example, if you want open sharing and candor on your team, begin to practice asking check-in questions (team habit) to include more voices (tiny ripple) so your team feels psychologically safe to speak up more (big ripple).
Habits can be hard to change, and team habits even harder, but consider how these three education administrators applied the ripple effect to reach a desired outcome and make lasting change on their teams.
The New Team Habits is releasing this fall! Co-authored by Anthony Kim, Keara Mascareñaz, and Kawai Lai, The New Team Habits is the follow-up guide to the best-selling The NEW School Rules, created to help leadership teams transform the habits that keep them from success. Pre-order now!
Desired Change: We want leaders and teachers to be more visible with students.
Often, we hear Principals and their admin teams say they want to be more visible in their school building and with their staff and students, but they have so much paperwork to do. One principal and his team took on the challenge by trying to create a new habit. They started off with thinking about what happens when they need to get work done. They realized their first and only reaction was to go to their respective offices, shut the door, and get the work done. Together, we thought about a way to create a different habit. Instead of going to a closed-door office, the leaders would go to a classroom or the media center and work. This way they were still visible and also getting work done. After a few months, the principal realized he didn't really need an office and the school could use his office for a pull out/small group instruction area. All his files could easily go into the secretary's office and if he needed to meet with teachers, parents, or students, he could use the conference room. This started a new trend throughout the school building where teachers realized they really didn't need their teacher desks either, and gained more valuable square footage in their classrooms. In addition, they felt more supported by the administration.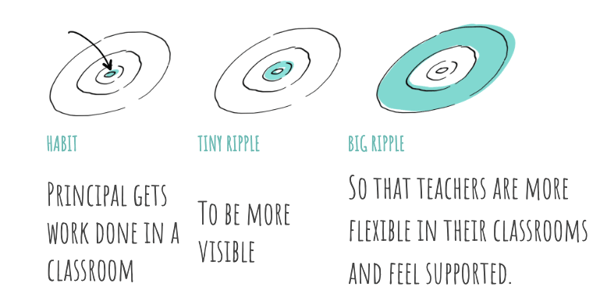 Desired change: We want more collaborative teams.
Administrative teams are often in meetings throughout the school day with IEPs, PLCs, and parents, etc. All these meetings are helping the school but none of these meetings give administrative teams time to reflect and move forward on school goals or indicators that they have set. One principal wanted to meet quickly every day with his team to provide time to check in with each other about their one school goal they were working on that month. They called these meetings "Stand Up Meetings" because no one sat down and they only met for about five minutes a day. The objective of the meeting was to make improvements on one focus priority by stating what actions they were taking toward that goal. To make this a habit they picked a time and place that they would routinely meet. This team chose the 10 minutes before morning duty in a central location - the hallway between the bus lot and car pool area. Each person spends one minute giving a status update on what they did the day before to meet the focus priority and what their plan was for the upcoming day. They discussed any questions they had about the focus priority before dispersing to their morning duty. They continued to do this each month, focusing on a new priority area, and while the morning stand up meeting was a small step, the habit translated into significant growth and improvements over time.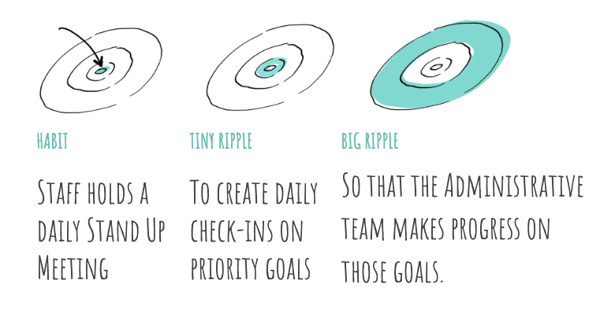 Related Resource: The New Team Habits – Fostering a Culture of Belonging Through Meeting Check-Ins
Desired change: Create a culture of sharing among teams.
We know based on Hattie's research of effect sizes; the biggest way to improve student outcomes is to improve teacher efficacy. Too often, teachers and leaders report that their staff meetings are boring and don't actually help to improve classroom practices. One principal wanted to change this perception and effect. Instead of staff meetings being only "sit and get" meetings, she built in 10 minutes to highlight best practices that she noted when visiting classrooms. After a few meetings, she started nudging teachers to share their own best practices by stating to them what she saw in their classrooms. For example, she would say things like, "Seydric, I really liked the routine you put in place for students to reflect on their assessment. How did you build that?" After Seydric reflected on his own implementation of the routine, the principal would respond with something akin to, "I think the staff would love to hear how you did that as many are interested in implementing goal-setting with their students. I'd love you to share at our next faculty meeting." This one practice provided the psychological safety for other teachers to begin sharing. Currently, this culture of sharing exists without Principal "prodding."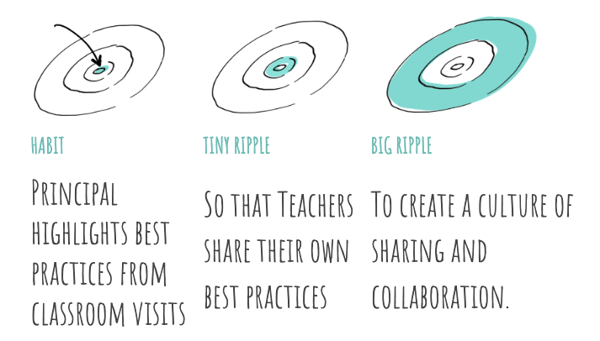 Change is difficult, and the desire for instant gratification can make us want to give up our efforts if we don't witness immediate results. Teachers and district leaders are not immune to this tendency, either, but by using and focusing on the ripple effect, lasting change is not only feasible...it's certain. About as certain as a Disney Movie about a dog having a feel-good ending.
Join the Team Habits Leadership Institute for a deep dive into team habits for more effective learning, meetings, and projects. The two-day institute with experts will leave you with new knowledge and specific habits you can implement with your team. Register to save spots for you and your team today!