Subscribe
What Does it Cost You When You Don't Set a Strategic Direction?
School Districts | Strategic Planning
The foam on the edges of the waves grazed the outside of my foot and I felt the sand catch my heel with every step. I was intently focused as I walked along the beach outside of my home in Jacksonville, Florida, considering my intention for 2020. It had been a few years since I had abandoned new year's resolutions in exchange for yearly intentions, which has proven to be a great decision. Gone are the days of abandoned gym memberships, replaced by a sense of wonder for new ways to move my body and build strength. This year, my intention has been to "be gentle," to myself and others.
At its core, telling myself to "be gentle" was a decision to embrace a strategic direction for my personal and professional life. When applied to an organization, a strategic direction can transform it by:
Inspiring your community to meet your aspirational goals.
Illuminating clear values and priorities that make decision-making consistent in order to decrease decision fatigue.
Building the capacity of your leaders to make decisions that align with a common purpose.
Take the example of a school district I was recently supporting to find ways to decrease the gaps in student performance. The leaders were deciding between a few rather different approaches: 1. focusing on school leader development to manage the change at the building level; 2. recruiting and hiring a workforce with specialized content skills; or 3. investing in the purchase of state-of-the-art technology to provide devices for every student. As we discussed these ideas, we realized that all of the options were both valid yet insufficient. The thing about strategy is that you are making the best choice based on the information you have, but you also have to know where you want to be.
Through this district's strategic planning process, they uncovered that their school leaders stayed in the district for ten or more years, and all of them had been instructional coaches prior to taking on school leadership. The common challenge leaders shared was that they felt overwhelmed by the volume of work that prevented them from honing their craft and coaching teachers. This, in turn, led the strategic plan to include "learning for all" as a priority. Ultimately, the clarity in their plan helped them to prioritize school leader development as a leverage point before implementing recruitment efforts on technology purchases.
You might be thinking: "I have a plan, and I am still making choices between equally important and valid options. It can't be the plan!" This was also the case in the district I was visiting. They had spent ten painstaking months meeting regularly to survey the community, interpreting trends and outlining an excruciatingly detailed plan to "inspire students to love learning in school and career." They had a plan – what gives?
At Education Elements, we believe "WHO you engage and HOW you engage people says more about your values than your plan ever will." This is why we make the distinction to focus on strategic planning instead of a strategic plan. When you do this, you move away from the resolution mindset and empower your stakeholders to operate towards a common intention. You create:
A plan that builds in time to reflect and pivot
A team structure that is representative of your community
The skills to prioritize between many valid choices
Sometimes we hear from districts that they don't believe in strategic planning or they don't see enough value in spending the time to bring together stakeholders to create a strategic direction. But in our work with over 150 districts, we've seen that there are many hidden costs to not setting a strategic direction.
Hidden Costs of Not Setting a Strategic Direction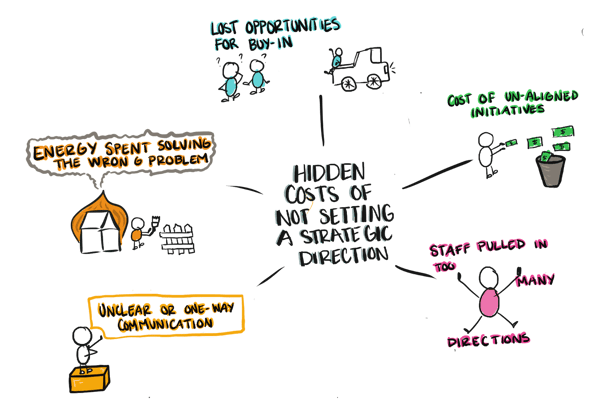 Lost Opportunities for Buy-in
By going through the exercise of developing a strategic plan, you become familiar with the intricacies of your organization. You get to know the historical context that has led to the results you are currently seeing, and it makes you highly aware of what needs to change, why it's important, and how to best achieve the change. The challenge comes when it is time to energize others around your plan. You may be confident in the direction you have determined, but how is this translating to your stakeholders?
Through our approach, we believe that you have to invest in including your stakeholders through the process rather than at the end so that you can save your energy for the real work it takes. On a recent call with a leader explaining her strategic plan, she said, "This is like running a marathon. It's easier to make the running plan than it is to execute on the runs." While planning is a crucial part of your training, we think it's important to save your energy for the main event: executing towards your direction. Wouldn't it be easier if everyone was on board at the outset?

Unclear or One-way Communication
McKinsey & Associates led a study in April 2015 that rings true today, exploring organizations that sustained change through the measurement of 24 key indicators. They found that the more the organizations took action towards these indicators, the more likely they were to make and sustain change. What was interesting was that they found that, "At companies where senior managers communicate openly and across the organization about the transformation's progress, respondents are 8.0 times as likely to report a successful transformation as those who say this communication doesn't happen." Translation: clear messaging that reinforces the story you are trying to tell can be one of the biggest indicators of sustainable change. At Education Elements, we recommend communicating a clear message throughout your process so that you don't find yourself catching folks up once your plan is complete. You can do this by:
Engaging stakeholders early for feedback. See: Stakeholder Engagement and Change: 4 Steps to Effective Engagement During Strategic Planning
Selecting a team that can provide a critical eye to your plan and who will, in turn, communicate back out to your stakeholders: Three Steps to Selecting Your Superhero Strategic Planning Team
Staff Feeling Pulled in Too Many Directions
It doesn't matter whether I am in Florida or Alaska, the thing I hear everywhere I go is that "we don't have enough time." A recent exercise with instructional coaches highlighted this: in an effort to implement personalized practices in classrooms, we enlisted coaches to serve as a support so that teachers didn't spend their valuable time finding materials. The district theory was that teachers didn't have the time to create new ideas and needed support from coaches to share ideas. To kick off our session, we asked coaches to sketch the different people teachers look to, to improve their practice. Their images looked a lot like this: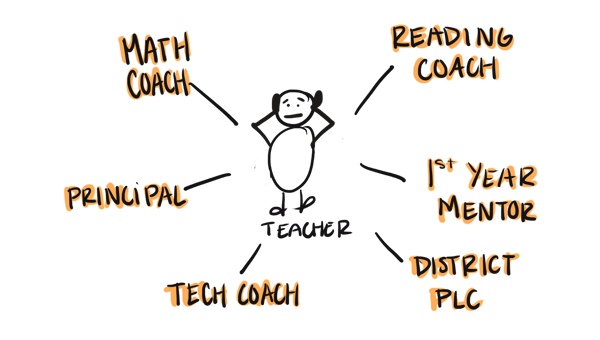 It was no wonder teachers didn't have time to innovate. It wasn't that teachers needed more support, it was that teachers needed less and more quality support to free up time for them to problem-solve and innovate.
Energy Spent Solving the Wrong Problem
Thomas Wedell-Wedellsborg from the Harvard Business Review shares an example in Are You Solving the Right Problems? The ASPCA receives 3 million dogs per year who are abandoned at a shelter. At first glance, the challenge facing the ASPCA is to find homes for the 3 million dogs. Instead, the ASPCA decided to reframe their problem and they created programs to help individuals who were at risk of abandoning their dogs due to lack of resources for food, shots, or veterinary visits.
Similarly, in the district I mentioned previously, the coaches referred back to their responsive strategic plan to "empower teacher leaders." The coaches determined that teachers would not be leaders if they were constantly playing the compliance game; the clear direction led them to rethink how they support their teachers. The coaches created systems to communicate expectations across all of the different supports by coordinating observations, sharing coaching conversation outcomes, and sharing resources more widely. This freed up teachers to focus on improving their practice rather than complying with the conflicting asks from their "support system."
Cost of Initiatives That Aren't Aligned With Where You Want to Go
Even though I visit school districts with vastly different cultures and contexts, I am often perplexed by how similarly most districts organize themselves. Most typical school districts in the US are made up of departments that have a leader who reports to a superintendent. Each department has its own norms, budget, and culture and often struggles to interact with others in their silos. Instead, departments would benefit from communicating more frequently because at best, miscommunication can cause frustration, and at worst it can cost millions of dollars.
As I wrap up my walk and look back at the imprints of my feet in the sand, I can't help but believe that every winding step led me exactly where I needed to go.
Join us in April as we gather district leaders from across the country to work with experts in strategic planning. The Strategic Planning Leadership Institute will prepare your team to engage in an effective strategic planning process. Spots are extremely limited - register for you and your team today!