I released my body weight and fell to the ground. My aching shoulders wouldn't let me complete one more rep, but as I looked over at my workout partner, who would have to complete every rep that I did not, I felt a surge of energy and picked myself up once more. In that moment, inspiration struck me. What we do will only give us so much momentum, but a community invested in why we do it will help us accomplish things that previously seemed impossible. This reminded me of the work districts engage in to achieve their own strategic direction: no one person can do it alone. How could we apply this concept to a greater philosophy of change management? It became my mission to find out! Since we are in the business of building strong responsive habits in schools and districts, we practice habit-building through company-wide monthly challenges. In the past, we have challenged ourselves to go plant-based, meditate daily, and practice moments of gratitude. We have learned a lot about how we operate based on the success and participation in each challenge. This seemed like the perfect venue to try a new, ambitious experiment: virtually travel from our headquarters in San Carlos, CA to our DC office (with a few stops to some remote teammates on the way)! Our goal? Collectively travel a total of 3,070 miles.
In The New School Rules, Anthony Kim and Alexis Gonzales-Black write that every district has experience putting together a strategic plan, and most follow the same process. "We labor over these plans—sometimes over the course of 12 to 24 months—dreaming up the path ahead and detailing the resources we'll need...Unfortunately, once we're set to go, we find the situation has changed before we've gotten started. Technology programs or platforms may have changed or been discontinued. People have changed—in districts with a high number of students receiving free or reduced-price lunch, teacher turnover can be over 22 percent (Di Carlo, 2015)—and the new team isn't up to speed. Policies have evolved and buy-in has dropped off." And with many strategic plans expected to expire in 2020, and many districts reporting that they did not hit their previous strategic-planning intended outcomes, we recommend you bring in different considerations for your next 5-year strategic plan.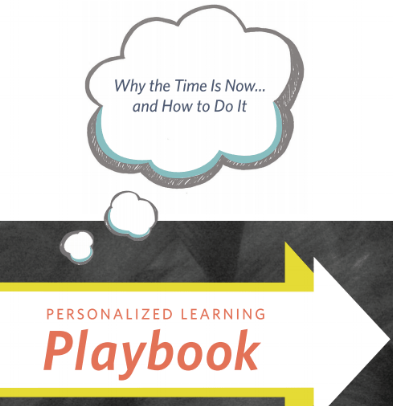 Interested in Personalized Learning But Don't Know Where to Start?
Subscribe to the blog to get your free copy of our Personalized Learning Playbook. A Playbook that will help you make the case for personalized learning, and reflect on the important elements to take in consideration.
"The more senior you are, the more important listening becomes. Once a leader speaks, most people stop listening to one another and start positioning themselves. But when the leader doesn't speak, then, just like a great choir, people have to listen and respond to one another. That's how and when distinctive work emerges. Knowing you will be heard creates space for thinking." Vicki Abeles, Beyond Measure We have been on a journey that began with personal reflection and then expanded to thinking about the way we work with others and develop teams and communities. In the final installment of our three-part leadership series, we will discuss how to use the Innovative School Leader Competencies to take the reins and drive innovation.
Ideas come to me at very random times: in a dream, on a walk, or during my commute. I think "Wow, this is it...this is the idea that will land me a TED Talk!" Following these inspirations, I usually text my colleague and warn her: "This is going to be big! We should carve out a whole hour to talk about it." Within the first five minutes of our conversation, she has completely blown up my idea in all of the best ways. She preserves the spirit of the inspiration while somehow making it better. We then conference in another colleague who amps up our idea by helping us consider new perspectives. He encourages us to share it with our team to accelerate our learning. What we end up moving forward with is always beyond what I alone could have imagined!
"Please see me in my office when you get a break." A message that is not for the faint of heart. It is also a message I received often from my principal when I was teaching. You read that correctly, I was regularly asked to visit the principal's office. Given my fear of being in trouble, this is not a message I would typically welcome from my boss but she was not a typical lady! Our entire staff received short and direct messages like these and if you can believe it, the strongest feeling it brought up for us was curiosity. Her emails could mean anything from selecting you for a new leadership opportunity, feedback on a lesson she popped in on, or simply a change in your duty assignment. We generally felt confident that Debra believed in us AND held us to high expectations so whatever she wanted to talk about was probably an opportunity to learn and grow.
If recent Halloweens have taught us anything aside from the absurd amount of money spent on candy for one day, it's that those involved in child rearing must address cultural sensitivity. The young white boy who wanted to dress as a Polynesian hero named Maui or the young white girl who wanted to dress as Princess Jasmine are caught in the middle of a debate on what is acceptable. Princesses and heroes that represent all races are important, but what does this discourse look like in the classroom? Left unaddressed, bias can lead to lasting harm. Consider this story shared by parents that I recently overheard at a dinner party.